One of the greatest things about thrifting is reveling in nostalgia. This month we're inviting you to share a thrifted find from your favorite decade for the 12 Months of Thrifting Challenge. New to the challenge? Each month we invite you to thrift or share a thrifted find on Instagram or Facebook using the tag #12MonthsofThrifting.
Take a walk down thrifty lane with us as we share some of our decade favorites over the years and tune in to Thanks, it's Thrifted podcast episode to hear more.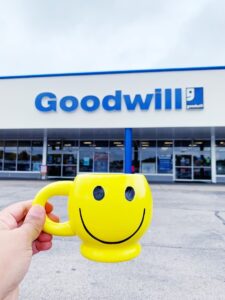 We saw a lot of the classic 1970s smiley face in the 1990s when FTD started to produce these mugs for their bouquets. I love collecting these mugs. I found this one at the Lakemore location.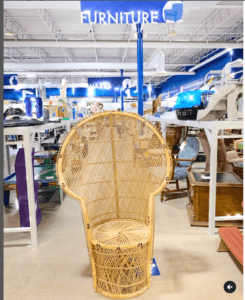 Can you tell that I love the 70s? I love finding vintage peacock chairs. Spotted this one at the Waterloo location.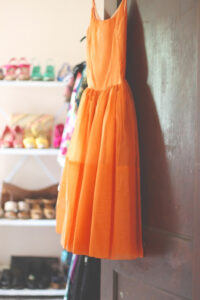 This 1950s-1960s era dress is an absolute gem of a find! I believe it might be handmade.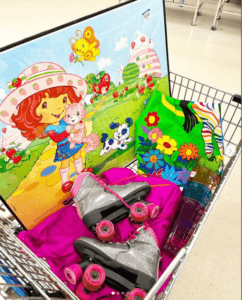 Roller skates, Strawberry Shortcake and other finds from our childhood are always a score! This entire haul is from the State Road location.
Share it!
We can't wait to see some of your favorite decade finds. Share them with us on social media using the tag #12MonthsofThriftingand tag @dinasdays and @goodwillakron on social media and tag @dinasdays and @goodwillakron on social media.