From dresses to bodysuits, velvet has been around for centuries. This woven tufted fabric has a distinctive soft feel and adds a luxurious depth to any look. It's also a staple both at thrift stores and on the runway. That's why we're featuring velvet as November's 12 Months of Thrifting shopping and style theme.
Not sure how to style velvet? Bookmark these tips:
Style Tips:
Pair velvet with different textures like silk, jacquard, leather, lace, embroidery or embellishments.
Black velvet is classic and timeless, but have fun with other colors like mustard, red, burgundy, emerald, fuchsia, or even teal.
Juxtapose velvet with tough pieces like combat boots, leather jackets, or graphic tees.
Velvet is often associated with fall and holiday and formal wear, but you can easily dress down certain velvet pieces with jeans, jackets, or sneakers.
Want more style and thrifting inspiration? Tune into the Allow us to Rethriftrodeuce Ourselves podcast and hear us discuss this month's thrift theme.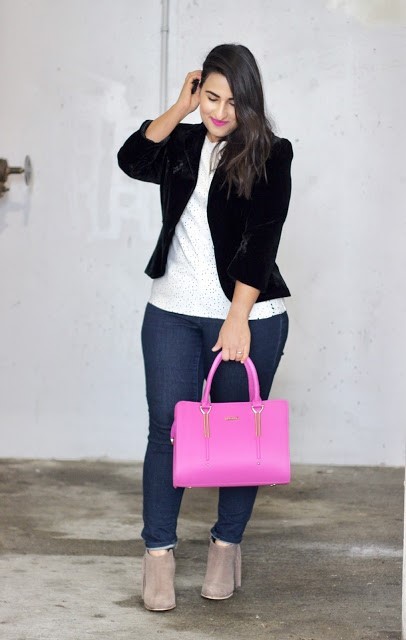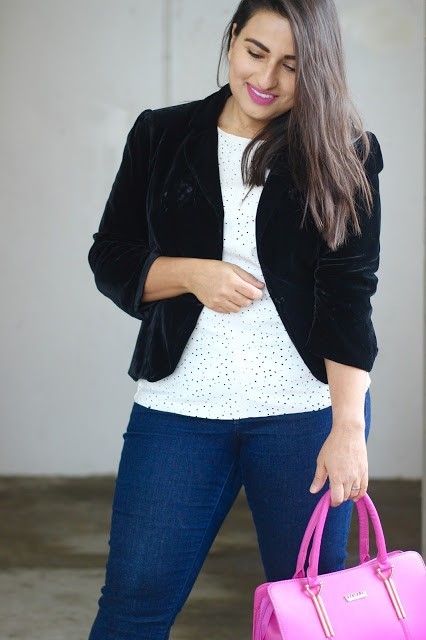 I found this faux velvet blazer at Goodwill several years ago and I still wear it as if I bought it yesterday. Here, I styled it with a faux leather top and jeans for a more casual look, and added a pink bag for a pop of color.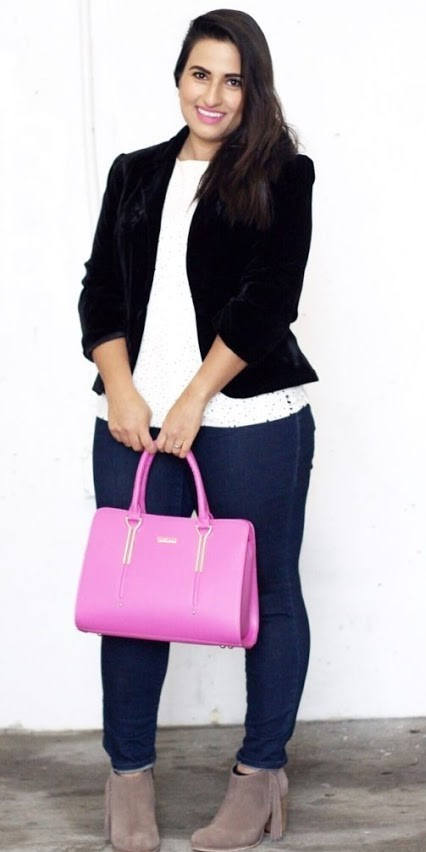 How to clean & care for velvet:
Spot clean with a brush and detergent. You can also try a mixture of and lemon juice and baking soda
Most faux velvet is machine washable
Dry clean luxurious expensive velvet
Use a brush to keep the velvet fresh
Hand wash
Ready to shop?
Every month we provide you with a handy shopping list so when you're out thrifting at Goodwill you can easily find this month's thrift theme.
Mild: Need time to warm up to velvet? Try searching for these items:
Boots
Mule shoes
Purses – look for interesting shapes and colors
Choker necklaces
Headbands
Medium: Ready to take your velvet up a notch? Add these velvet items to your thrift wish list:
Wrap-around dresses
Blazers
Maxi skirt
Bold: These bold pieces are sure to make a statement. Add these to your Goodwill wish list:
Suits
Pants
Jumpsuits
Shorts
Knee high boots