It is July, and now that the Fourth of July festivities are over, we can take advantage of all the Christmas in July sales and specials. I don't know about you, but I love decorating for Christmas, but holiday décor can get very pricey. Thrifting Christmas and holiday décor are some of my favorite things to thrift because it is a fraction of the price of retail and you can find some unique items for your home.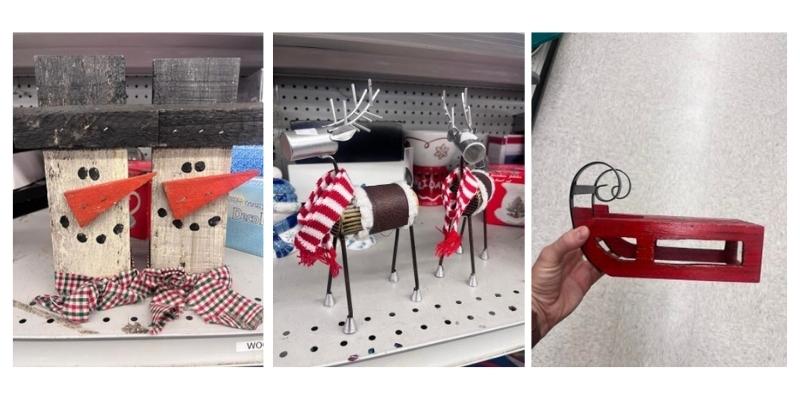 As you walk into one of Goodwill Akron's 14 stores you will find some fun Christmas in July items to stock up on this month. Stocking up in the off-season is a great way to collect items that fit your home décor style and theme. I like to look in the home section when I am thrifting to see if I can find any fall, holiday, or spring décor items that I can tuck away until I bring them out to decorate with that season.
Some Christmas and holiday items to look for when you are at Goodwill are:
• Christmas village houses- I love to find different shapes and styles and will spray paint them a matte white color. That way I can continue to add to my collection and they all have the same color paint.
• Christmas Trees and Stands- You can flock regular trees with flocking spray, or purchase a second or third tree for a different room in your home. This is also a great time to look at like-new tree stands.
• Christmas Wreaths, Garland, and Greenery- I love looking at the wreath section when I thrift. I often stock up on grapevine wreaths, and cute winter wreaths that I can take things off of or add my own items to.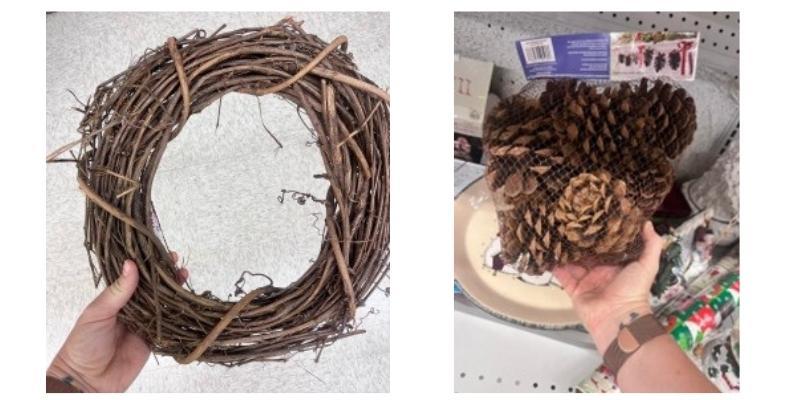 Christmas Art– Many times you can find wooden signs, prints, or Christmas scenes. You may need to spray paint the frame or you can use a frame you already have.
Christmas Candles – I love to collect white, red, and green taper candles and add them to my candle collection. Many times you can find the battery-operated ones as well for a great price.
Christmas Dishes– Now is a great time to stock up on festive Christmas dishes, mugs, and glasses for your holiday gatherings. You can find a variety of seasonal sets that are a beautiful and cost-effective way to entertain.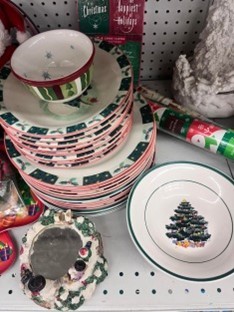 Christmas Books– Off-season is a great time to stock up on children's Christmas books, decorative books, and coffee table books. I also like to find beautiful pictures from old Christmas picture books that you can tear out and frame those for décor.
Brass– One of my favorite décor items to shop for are brass décor items. I am always on the lookout for brass horns, brass sleds, brass candlesticks, and brass animals.
Christmas Ornaments and lights- Goodwill is a great place to find unique and inexpensive ornaments to add to your main tree or an additional themed tree or a small tree for a child's room. Clear ornaments can also be used for a variety of DIY ideas to create ornaments for your tree or as a gift.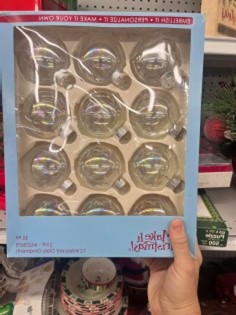 I had some time to shop at the Wadsworth Goodwill and found some items that I upcycled and DIY'd for Christmas 2022.
The items I found were:
A plain wreath- $1
A brass horn -$2.50
A brass sled -$1.50
An old church hymnal -$1
Wicker Christmas Bells- $1.50
Pine cone tea lights -$1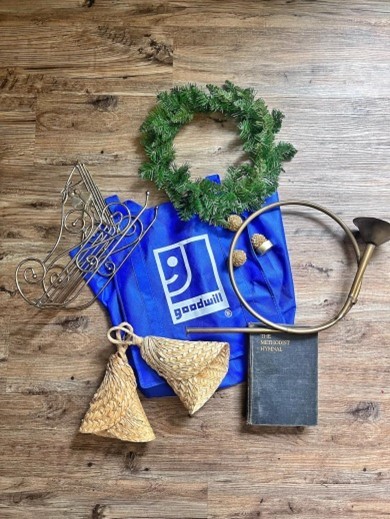 For the first project, I found the song Joy to the World in the hymn book I bought and framed it in a black frame that I already had. I can put this on a wall, a bookshelf, a mantle, or a shelf for a simple décor piece.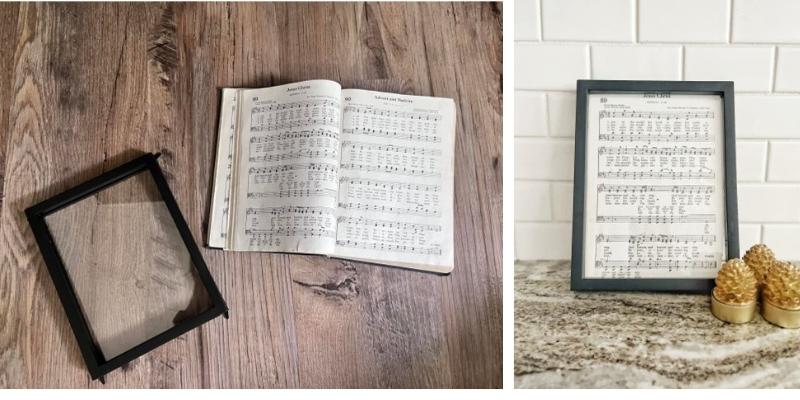 My second project was that I took some winter greenery sprigs and floral foam that I had with my Christmas décor and arranged my greenery sprigs to cover the foam. Once I liked how it was arranged I simply put the arrangement in the brass sled that I bought and it is a quick, easy, inexpensive centerpiece for my dining table, coffee table, a mantle, or shelf.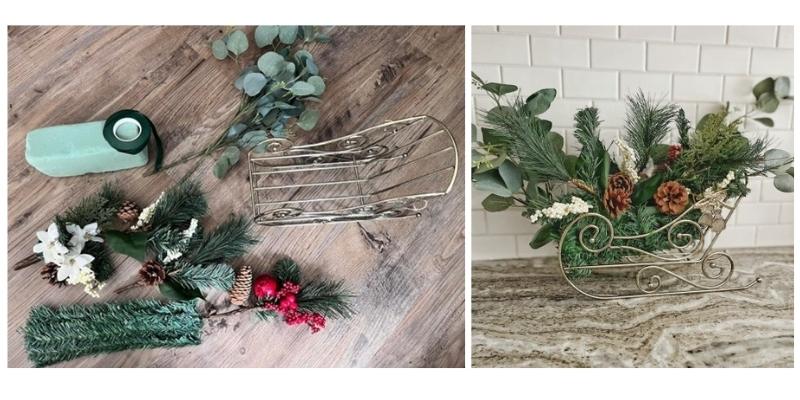 My third project was to deconstruct the wicker bells I bought; take out the faux fruit from the middle of the bells and take off the plastic greenery at the top. I attached the bells to the plain wreath I purchased with floral wire, added some pine cones I had and added a bow with ribbon I had on hand, and hung it up with some leather. I love how simple this is but how it also matches my home décor style.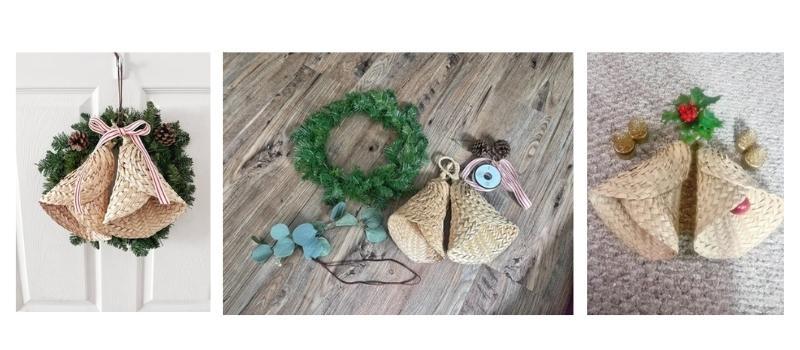 My last project was taking the brass horn I bought and adding some small sprigs of winter greenery, pine cones, and faux eucalyptus that I already had. I attached these with floral tape and floral wire. I added a leather string to hang and tied a bow with some ribbon I had on hand.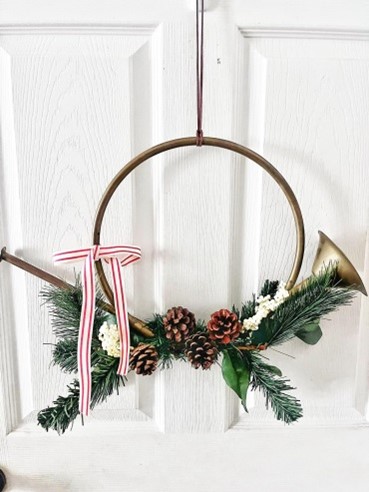 I hope these projects inspire you to see the potential in what you find on the shelves when thrifting and get creative with items you already have. Make sure to check out one of Goodwill Akron's stores near you during Christmas in July to find some unique, inexpensive off-season holiday items to upcycle or DIY for your home.
-Erin Walter