Do you ever look at a certain hue and think of a particular era? To me, it seems like there have been so many distinctly beautiful shades of green that were everywhere in vintage décor and clothing that you just don't see as much these days. Today, I'd like to appreciate those lovely tones by checking out a few blogs that show us how easy it is to shop Goodwill for this season's trends with vintage flair and thrift store prices. What could be better than that combination?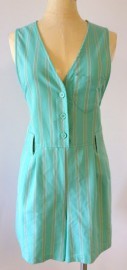 Image via fashionofgoodwill.org
Jumpsuits, rompers, one-pieces—oh my! A few seasons ago I would have thought these were going to start disappearing soon, but, to my surprise, they just keep dominating the summer style scene! This particular romper, which was blogged about by Goodwill of Greater Washington (DC), is the most perfect retro shade of mint green. Yes, mint is everywhere. But this particular shade has just a touch more blue and is not quite as muted as we're used to seeing right now which makes it a unique, but still on-trend, choice. Plus, these pinstripes, buttons, and wide belt loops triple its charm. Where can you find another outfit like this? Not at the mall, that's for sure. Check your local Goodwill!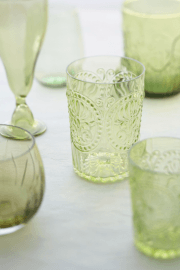 Image via Getty Images
Housewares and home decor aren't immune to beautiful greens either. Just look at dishware dating back to the 1930s! Between jadeite and depression-era glass (pictured above), hues from mint to moss were popular on kitchen shelves in the middle of the last century, but are still catching eyes today. In fact, Good Housekeeping named these as two of the items you should never pass up if you see them at Goodwill. Check out their list for specific brands you should be aware of and the rest of their don't-miss items. You may have walked by some of these a thousand times while browsing not realizing that they were Goodwill gold!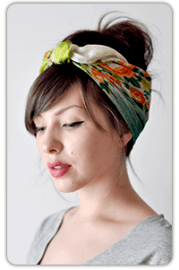 Image via keikolynn.com
This year, it looks like silk scarves are having (yet another) moment. Although they never actually went out of style, fashion bloggers and the sartorially savvy are once again embracing these billowy accessories as bows, as bracelets, and as the cherry on top of a perfectly messy bun. In this blog post, Goodwill Industries of Southeastern Wisconsin, Inc. (Milwaukee) showcases several different ways you could quickly add a scarf to your look, but I think my new favorite ways are tying them around a ponytail or at the neck like a 1950s poodle skirt-wearing gal. While silk scarves may cost anywhere from $25 to $300 brand new, Goodwill sells chic vintage numbers for just dollars allowing you to really bulk up your collection. To make yourself feel like a retro movie star, choose at least one with a gorgeous vintage green (like this scarf which combines teal and lime!).
Another thing I love about shopping at Goodwill is that I'm supporting their community-focused services. Goodwill knows that in order to be successful on the job, it is critical to have stability at home so that families are healthy and safe which means they look at the people they work with through a wider lens to give them a better shot at success. These programs are made possible when you shop for your latest color crush at your local Goodwill store. Happy Goodwill hunting!