New Year, New (to me) Storage // DIY Storage: Earrings
Happy New Year, friends! Abby here – Hope 2021 is off to a good start for you! With all of the unknowns of a new year, one thing that I try to keep constant is clearing out/up clutter. As much as I'd like to think I'm a Maximalist, I do very much love a clean surface. I've been meaning to clean off our dresser for a few months now, and finally took the few minutes to create a solution to help with some of the stuff clogging up the top of our dresser: my earrings.
2020 was the year of buying from and supporting local and/or small makers, and I've amassed quite the collection of statement earrings because of it. What better way to clear off some room on my dresser, and be able to see my beautiful collection than to display them!
When I was younger, my dad helped me make an earring holder out of an old picture frame and some chicken wire, but for this DIY, I decided to try something new (and WAY easier) with a secondhand bulletin board.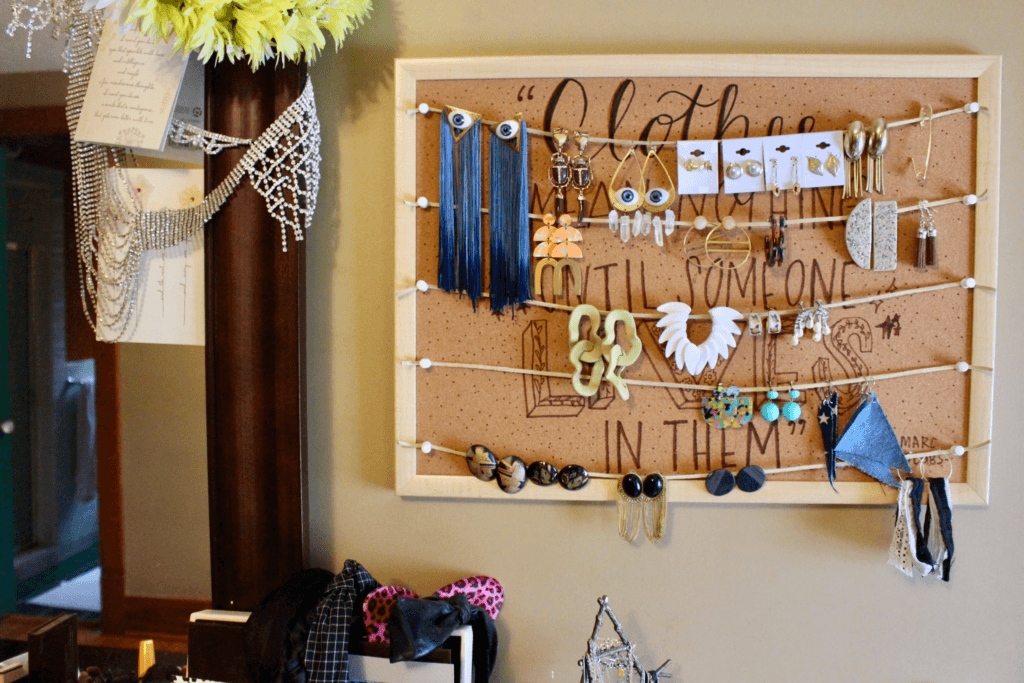 To create your own earring display, you'll need:
A bulletin board
Pushpins
Some kind of thread – I used a suede cord I had on hand, but if you have lots of post earrings, fishing line or a really thing string would work better.
Something to decorate with (or nothing!) – I used markers to write a quote on mine, but a spare piece of fabric or wallpaper would be super cool too!
Pencil
Ruler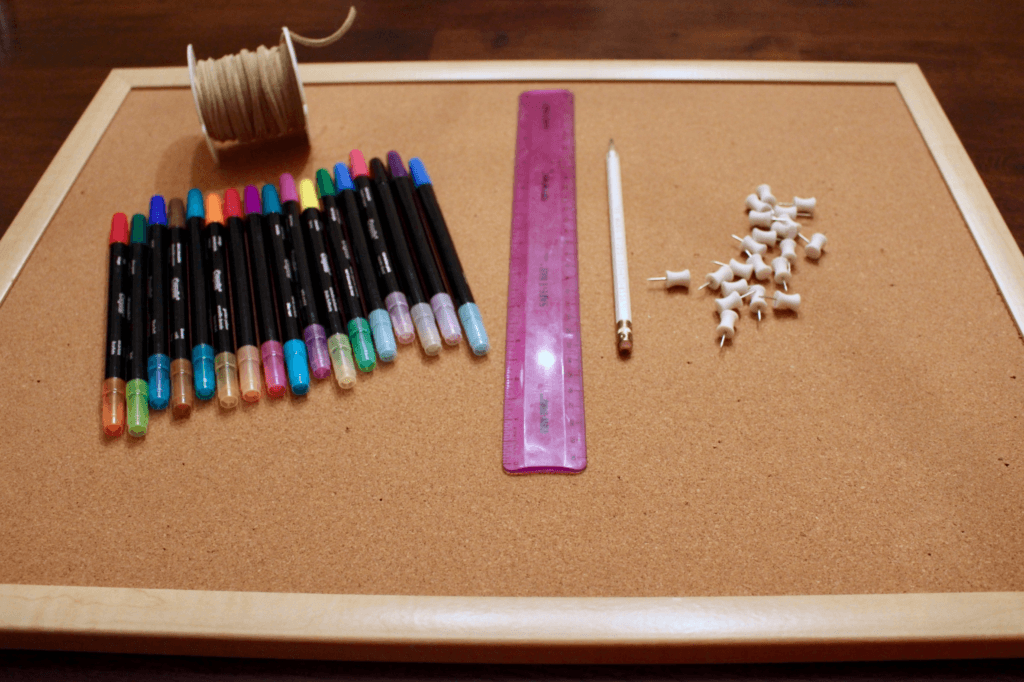 Let's start with inspiration! Because my earring board is near our dresser and our closet, I wanted to incorporate something fashion-related, so I went with a quote from Marc Jacobs: "Clothes mean nothing until someone lives in them." Seemed pretty appropriate since most of my wardrobe is secondhand, but there were some others that made the short list (in case you'd like some inspiration):
"Fashions fade, style is eternal," Yves St Laurent
"In difficult times, fashion is always outrageous," Elsa Schiaparelli
"Fashion is armor to survive the reality of everyday life," Bill Cunningham
"I like my money right where I can see it…hanging in my closet," Carrie Bradshaw
"I always find beauty in things that are odd and imperfect, they are much more interesting," Marc Jacobs
"The joy of dressing is an art", John Galliano
If fashion quotes and lettering aren't your thing, covering your bulletin board with scrap wallpaper, magazine cut-outs or scrap fabric would also work beautifully. Spoiler alert: I'm already planning an update to my board with some scrap fabric.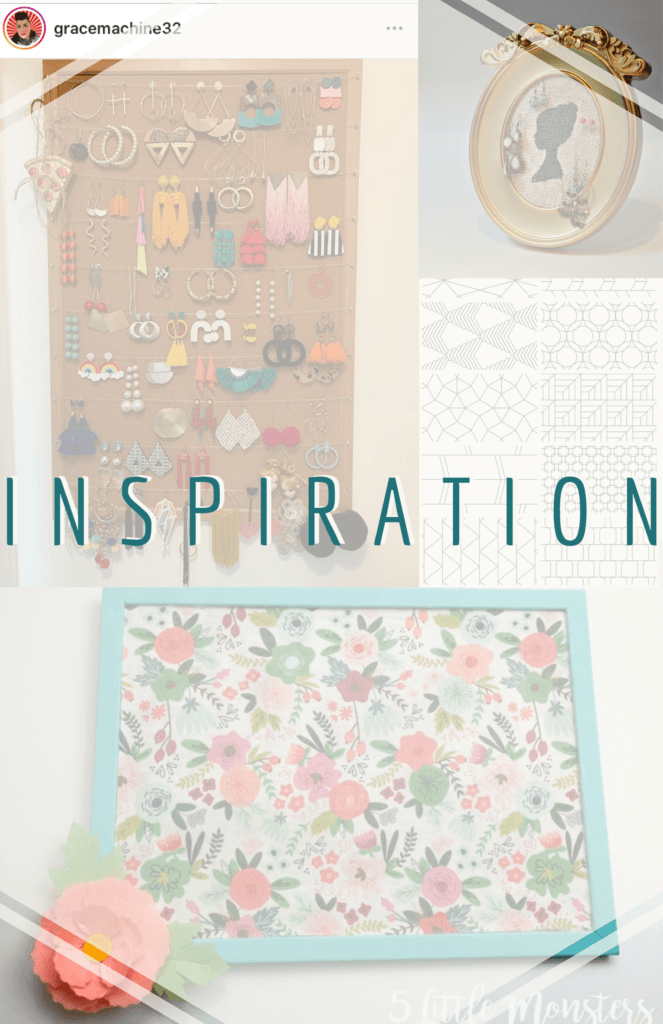 Sources (from top left): My friend's instagram page, Surbuble, Creative Market, 5 Little Monsters Blog
Once you've landed on your decoration, go for it! Since I did lettering and a quote, I pulled together all of my lettering inspiration/tutorials and scrap paper for practice. I measured out my lines for my lettering, as well as later for my pushpins. If you go this route, go easy with the pencil, since it's basically impossible to erase on cork-board.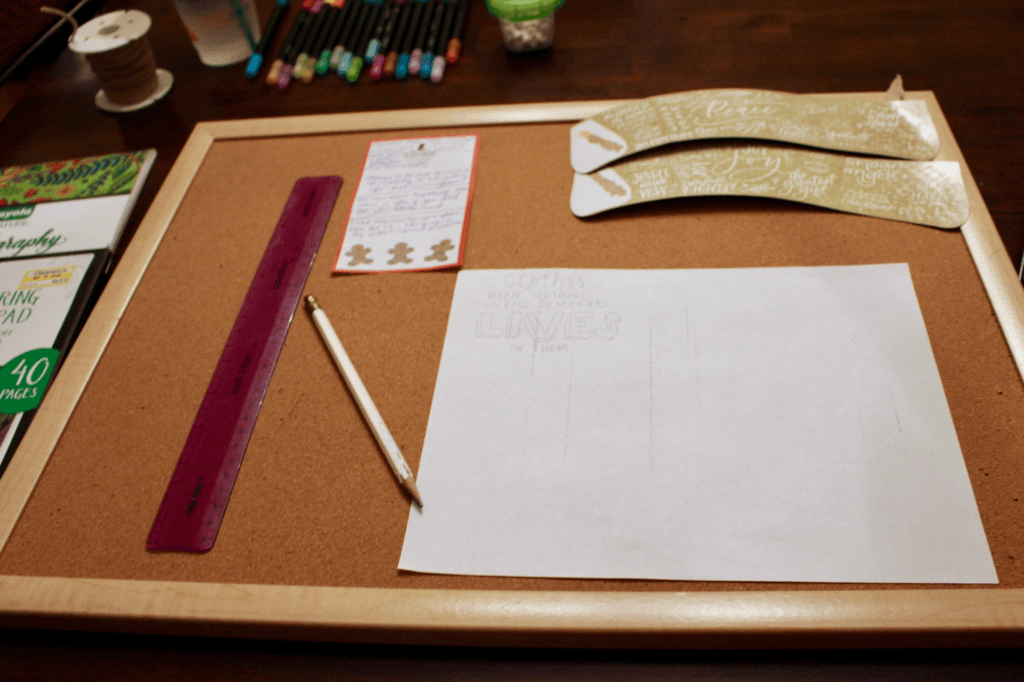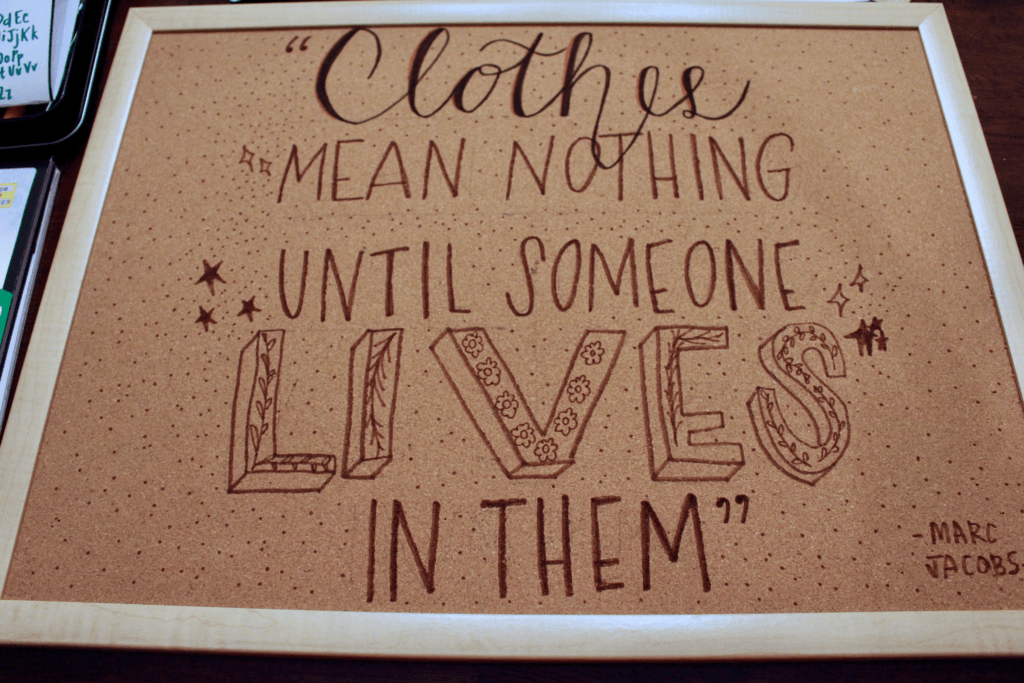 Once I had my lettering all done, I pinned and cut my cord to length.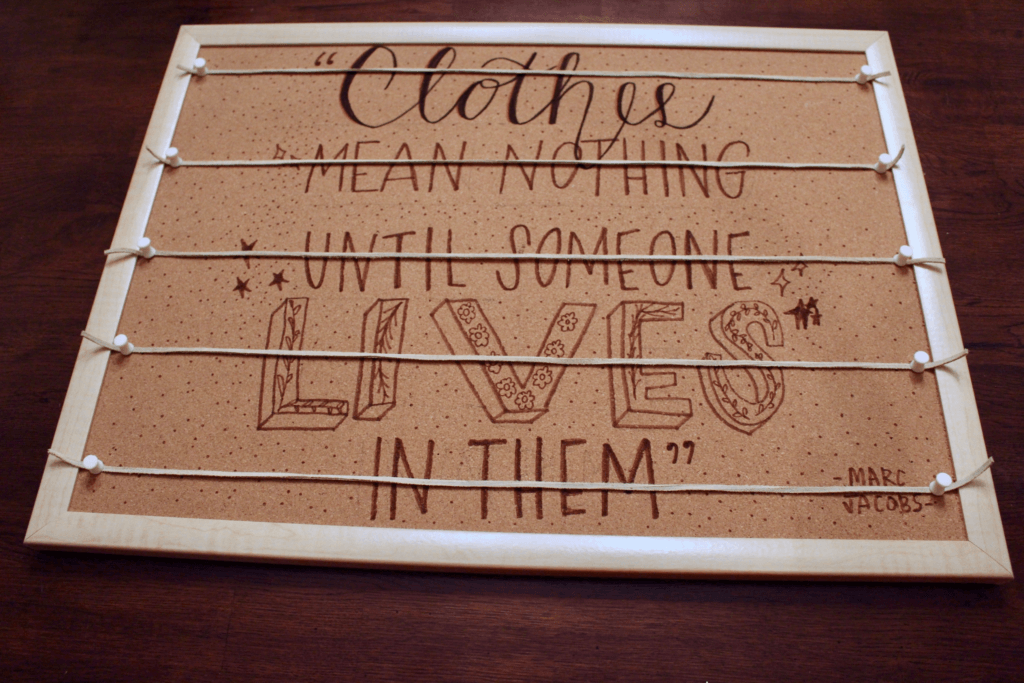 Then it was time to organize. What a mess. Before.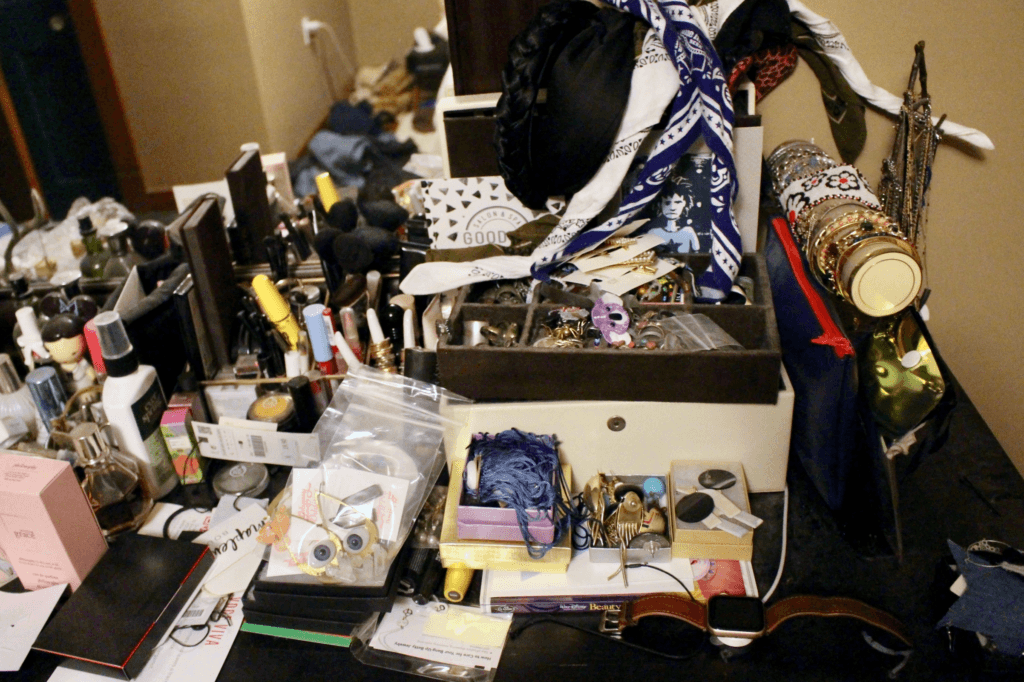 After!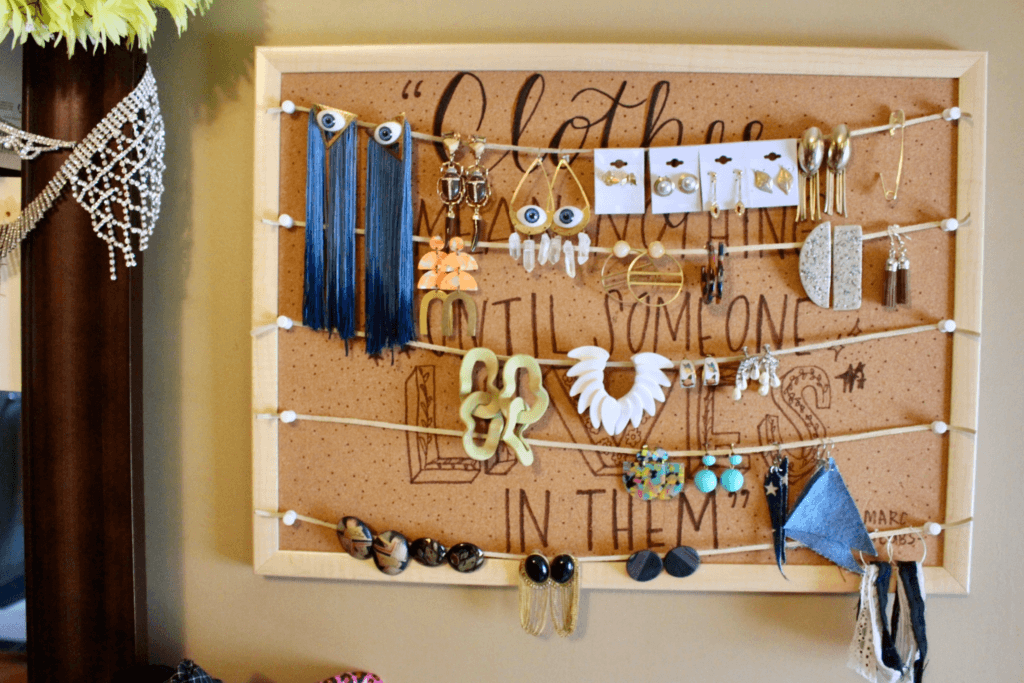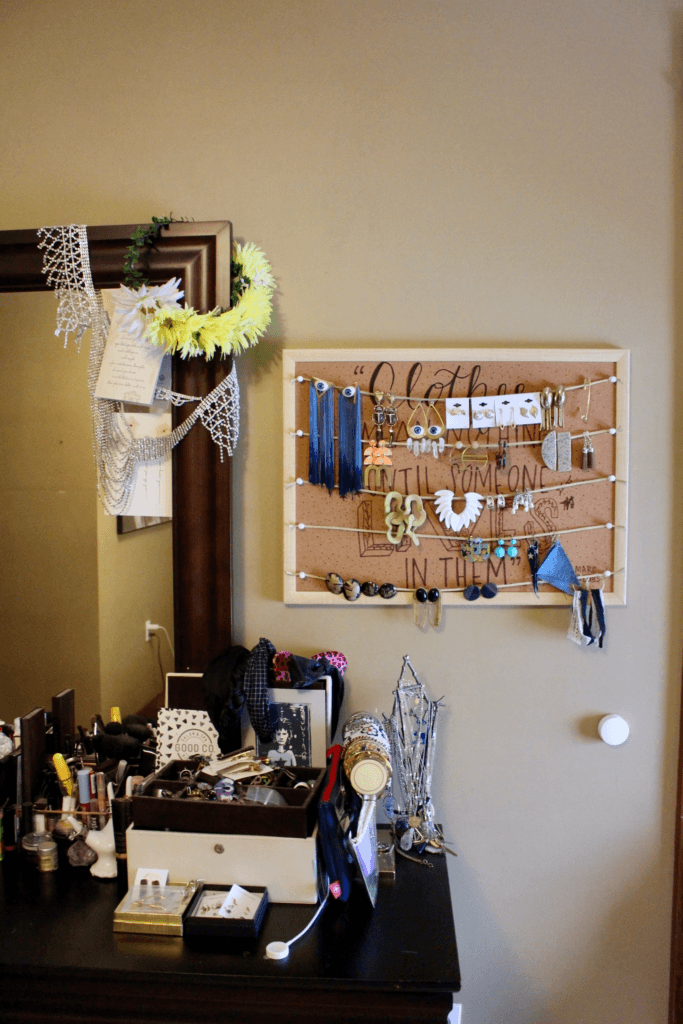 If you make your own earring display, feel free to share with us on social, @goodwillakron or @_abigaildrennen!
_Abby