Donation Guidelines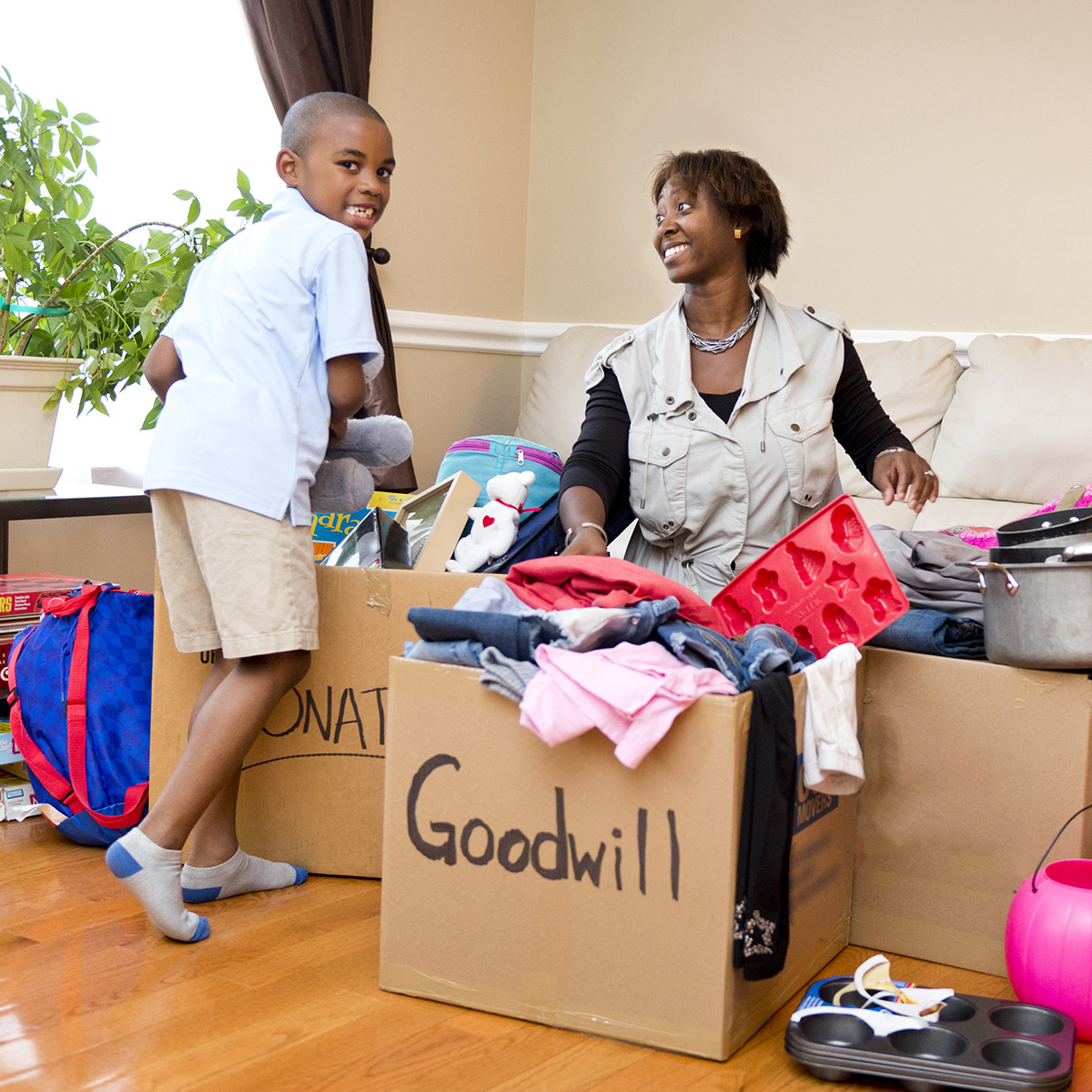 Goodwill is grateful for the generous donations it receives from community members every day. Goodwill sells the household goods you no longer need in our stores and uses the revenue to fund job training and other resources for people here in our community.
Our Donation Attendants at our Retail Stores as well as Hudson and West Akron Attended Donation Centers are able to assist with unloading again.  At our Retail Store locations only, you may continue to place items into the bins directly if you choose instead of person-to-person contact.
Please note the following when planning to make a donation:
Pack boxes/bags so not too heavy to allow for easier unloading - either by Donation Attendants or at Retail Store locations only you can choose to continue placing your own items into the bins.
Be patient and wait in car while others are donating.
 If weather is poor, locations without an awning have donation bins inside building. Please note we cannot accept wet clothing, even for salvage.
Bring donations in bags or boxes – no loose donations, please. We can not return your bins or boxes.
Please note furniture items can be donated at retail locations only.
At times due to the amount of donations received a location may need to close and it will reopen the next day.
Helpful Tips When Donating
Separate clothing from household items in boxes or bags
Wash or dry-clean clothing
Clothes should be in good condition without stains, tears, missing buttons or broken zippers
Household goods should be undamaged, have all parts and, if applicable, be in working order
Keep shoes paired by using a rubber band
Wrap breakables in newspaper and place in boxes
Please box or bag all donations in amounts not to exceed 20 pounds for easier transporting
Test electrical and mechanical equipment
Do not leave items unattended outside a store or Attended Donation Center
Clothing
Shoes and boots
Accessories: jewelry, handbags, scarves, belts, hats, gloves and mittens
Domestics: decorative pillows, linens, curtains, blankets, sheets, towels and rugs
Housewares: dishes, glassware, kitchen items, lamps and pictures/artwork
Games, toys and game consoles
Assembled sports equipment
Antiques, collectibles and other giftware
Books
Blu-rays, DVDs, CDs, records and cassette tapes
Small electronics in working order: VCRs, DVD players, stereos, radios, MP3 players, GPS, cameras, video cameras and clocks
Small appliances in working order
Small power tools and hand tools in working order
Furniture (please note these items can only be accepted at a retail store donation center): dressers, tables, sofas, chairs, and bed frames (except hospital bed, water bed and bunk bed frames)
Personal computers: monitors, hard drives, towers, laptops, tablets, eBook readers, printers, mice, keyboards and scanners*
---
*Goodwill's Dell Reconnect partnership is a free program for consumers and businesses to recycle unwanted computers and peripherals – any brand and condition are accepted. We also accept and recycle iphones.
This list is to be used as guidelines. There may be other items not listed that we can use in the stores or which must be turned down due to size, condition or suitability. Please refer any questions about Goodwill's donation policy to the store manager or call (330) 724-6995.
Items We Cannot Accept
It's hard to say "no thank you" to a donation. However, we cannot accept certain items, including but not limited to:
Televisions
Large household appliances: stoves, refrigerators, washers, dryers, air conditioners, water heaters
Any electronic items that do not work
Large items such as pianos, organs, pool tables, executive desks (metal or wood), entertainment centers (full wall units or those made of particle board/Sauder)
Upholstered furniture with stains, tears, wet, moldy, pet hair or other damage (Goodwill does accept upholstered furniture in good condition)
Mattresses, box springs, hospital beds (both frames and mattresses), bunk beds, water beds, sleeper sofas and bed pillows
Disassembled furniture, sports equipment or other disassembled items
Baby car seats, strollers, high chairs, pack n' plays, tubs, bouncy seats, swings, cribs and bumper pads for cribs
Building materials: carpet, carpet padding, shutters, doors, windows, toilets, lumber, concrete, bricks and stones
Magazines, newspapers and encyclopedias
Automobile parts and tires
Paint or chemicals of any kind
Kerosene and gas heaters/appliances, propane tanks, oil lamps and lamp oil
Electrical items with exposed wiring
Weapons: firearms, ammunition, knives, BB guns, pellet guns, air guns/rifles, etc.
Fireworks and sparklers of any kind
Gas-powered equipment (lawn mowers, gas cans with gas)
Items containing the element Mercury: fluorescent light bulbs and lamps, batteries, fever thermometers, blood pressure measuring devices, etc.
Children's items containing lead or phthalates
Consumer Products Safety Commission recalled items
Food