Calling All Scouts!The Fall Good Turn Day with the Boy Scouts and Girl Scouts is planned for Saturday, November 4, 2023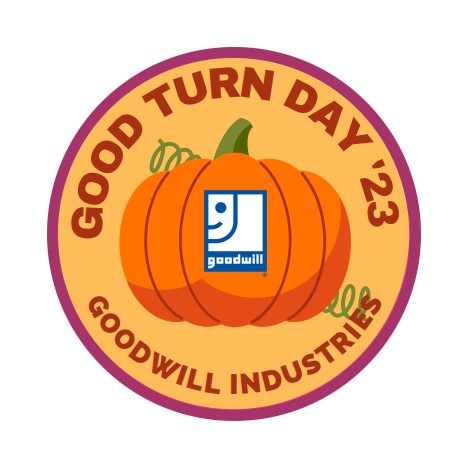 About Good Turn Day
Scouts do a "good turn" for their community by collecting used clothing, books, housewares, and other items to be donated to Goodwill. Collect three (3) bags of donations and bring them to a Goodwill retail store on Good Turn Day between 10 am and 6 pm to earn a patch for completing this neighborhood service project.
The items collected are sold in Goodwill's retail stores to support its mission of helping individuals prepare for, find and retain employment. "The event creates a wonderful triple play," said Nancy Ellis McClenaghan, President and CEO. "It gives individuals a way to pass along items they don't need or want without harming the environment. It also helps the scouts learn firsthand about service. The money raised by selling the donations after Good Turn Day, supports individuals in need of employment assistance and enhances the local economy."
To learn more, contact Andrea Krommes, human resources specialist, at (330) 815-1710 or akrommes@goodwillakron.org.
Host a Donation Drive
Here's how your organization can help Goodwill achieve its mission of helping people in your community prepare for, find, and retain employment!
Donated items are Goodwill's clothesline to helping others in the community. Revenues from the sale of donated goods in Goodwill's Retail Stores help to fund job training and placement programs that prepare local residents for competitive employment and assist them in finding jobs. Your organization can support this "working" mission by hosting a Goodwill Donation Drive to collect clothing and household goods.
Implementing a successful drive is as easy as 1, 2, 3!
Schedule a drive
Promote
Collect donations
Schedule a Drive
Simply call Gina Shook, specialty donated goods manager, at 330-786-2576, with the date, time, and location of your organization's donation drive. Some organizations choose to host a one-day event; others make it into a week or month-long affair.
Promote
To spread the word about the event, Goodwill will provide you with a flyer to circulate and post. Goodwill also recommends promoting the drive through internal newsletters, daily announcements, and intra-office emails. If you opt to open the drive up to the community, consider sending a press release.
Collect Donations
On the day of your donation drive, Goodwill will dispatch a donation collection truck with an attendant to the location of your drive.
In return for your participation, you'll receive:
Acknowledgement in Goodwill's semi-annual newsletter as a community service partner.
And that good feeling that accompanies spreading Goodwill!
To learn more about hosting a donation drive, contact Gina Shook, specialty donated goods manager, at 330-786-2576.