As a girl who has always loved fashion, I have a confession to make- I don't know my style…. or at least I didn't until more recently.
I'm in a new season of life. I've had A LOT of change over the last two years and I've realized some things that I used to think of utmost importance just really aren't in the grand scheme of things. I think everyone can relate to that in some way, shape, or form.
As someone who typically had an ever revolving closet and shopped regularly, it wasn't until I slowed down and stopped doing that, that I started to realize what I did and didn't like to wear.
I love the idea of a capsule wardrobe but never liked the box I felt it put you in. But I've found that with a two year old and another on the way- living in a season of LESS has brought a lot of peace and clarity to me- and my wardrobe!
A season of LESS, what do I mean?
LESS disposable income, MORE family quality time and appreciation for being a full time stay at home mom and homemaker.
LESS I'll just grab it on Amazon, MORE creative juices flowing to use what I have or thrift it to make it happen.
LESS additions to my wardrobe, MORE weeding out what I just don't love.
LESS STUFF, MORE LIVING LIFE.
See, I am the kind of person that would thrift something, and maybe not try it on but think I'll love it, and then when I try it on, it's ok, so I wear it once, and then I wear it a few more times because I think I can make myself like it but really, I don't. And then I finally get rid of it. So rather than wearing what I know I love, I feel guilt over buying something I don't and try to make myself love it. But it just doesn't work that way.
So, being pregnant while weeding out my closet has actually worked really well, because I can't wear a lot of my normal wardrobe right now. I'm limited to some thrift store finds, and very nice hand-me-downs that are all mix and matchable. BASICALLY A MATERNITY CAPSULE WARDROBE. Fancy that.
And while I would like a little more variety, it has allowed me to LET GO of things I'd been holding onto. It's allowed me to put things back even if they are a good deal, and my size. And I've had a couple slips here and there, but when I do get to thrift these days, I am so much more intentional and aware of my lifestyle and how my wardrobe needs to work for me.
I still have the desire to be stylish and a "cool mom", but my approach to this has changed so much. LESS impulse buys, MORE intentional purchases that will work with what I already have.
Recently I got to pop into BLUE // a goodwill boutique in Copley, Ohio, and I found an item I'd been on the hunt for- a statement blazer. It's hard to tell how something will fit when you're buying online, and there are A LOT of pricey ones out there that promise to change your life, but just were not realistic for my budget. But this Calvin Klein one was basically new without tags and cost me less than $12. I love everything about it, I can wear it now and after I have baby girl <3
One trend I'm loving that I think will stick around is the athleisure look with a blazer and baseball cap. I think it's such a cool way to elevate – let's be honest – sweatpants, lol.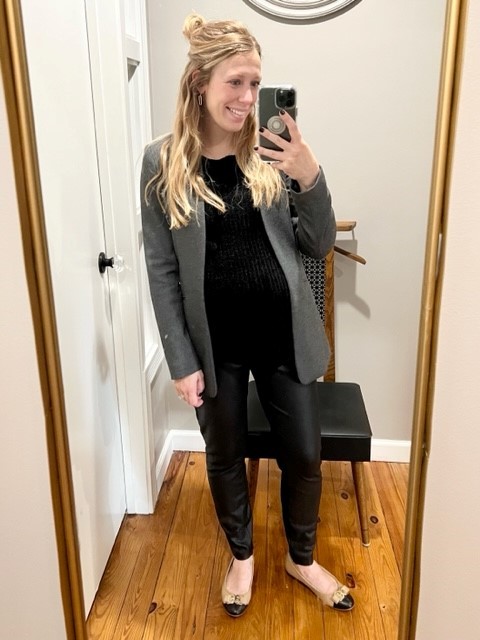 So what is my style. Well, if I had to label it, I think I'd call it effortless chic, classic, and elevated casual.
I like denim on denim, black and tan, and mixing textures. When I find out more- I'll let you know LOL.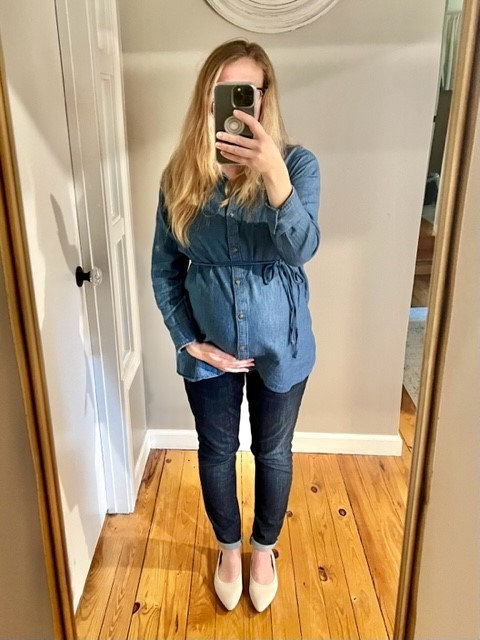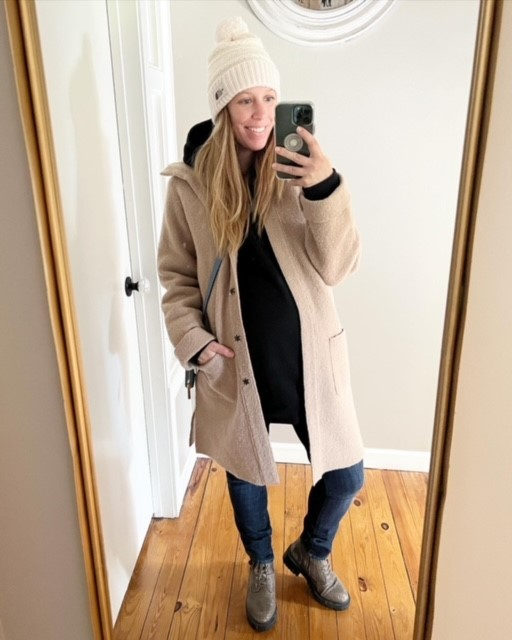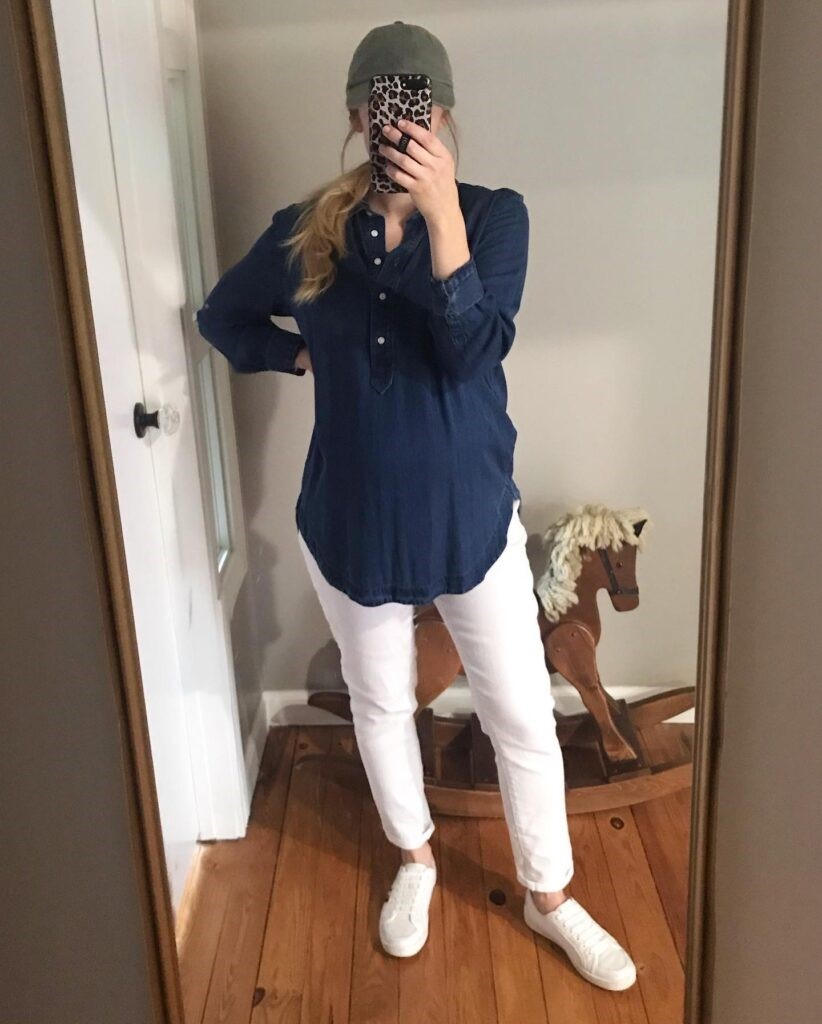 Do you also struggle with defining your personal style? Well, here are three things I did that helped me realize what I ACTUALLY love to wear:
Do an email and social media detox/weed out. Unfollow the people that make you constantly want to buy the latest trends or purchase very high end pieces. Unsubscribe from stores that send you emails EVERY DAY. This helped me realize that the accounts I loved following most, had very specific styles, color schemes, and even capsule wardrobes. They highlight how to wear your pieces more than one way rather than treating their wardrobe like it's disposable.
Let yourself let go. Forgive yourself for buying something you don't love, then try to sell it, give it to someone who will love it, or donate it. Just get it out and MOVE ON. Also, I've always said that when you're in a purging mood- PURGE. Go for it and don't look back.
Take the time to figure out what you love to wear, separate it in your closet if you have to every time you feel good in an outfit. This will help you more quickly weed out what you need to get rid of.
I hope this helps or at least gives someone some solidarity that they're not alone in their style journey.
XOXO ~ Taylor