Spring is in the air and one thing I love to do is to shop for transitional wardrobe pieces to layer and incorporate with items I have in my closet for warmer weather. Thrifting is a fantastic way to add staple pieces to your closet or to incorporate trendy items for a new season.
When it comes to spring, layering is key. Many times, it will be colder in the morning but warmer in the afternoon. We also tend to trade out our dark and neutral colors for pastels and brighter colors as the weather warms us here in Ohio.
Here are five looks to put on your thrifting list to help you transition your closet from Winter to Spring:
A colorful blazer, light wash jeans and ballet flats
Blazers are one of my favorite items to thrift. I love going into the thrift store with an open mind and seeing what colors and patterns I can find.  For spring, look for pastel colors or patterns, bright colors, or a good white blazer. For this look I traded my dark denim for a pair of light wash mom jeans and a graphic tee that I have in my closet and styled it with a pair of thrifted ballet flats and one of my favorite thrifted blazers.  I found this Blazer at the Wadsworth Goodwill and I almost passed on it because it was an older brand with shoulder pads, but I tried it on, and it fit like a glove and is very on trend this spring. Ballet flats and a blazer are great pieces that not only work well for Spring but can be incorporated in other seasons as well.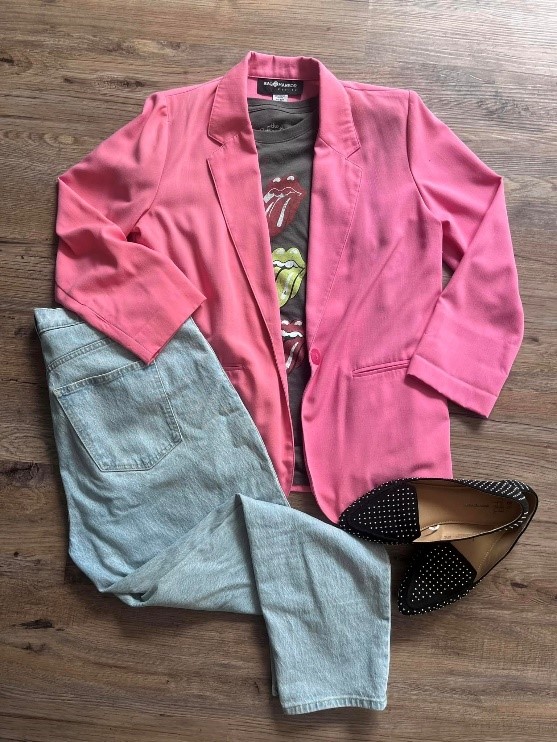 A sweatshirt, light wash jeans and sneakers
A good sweatshirt is something that can be layered in any season but is especially good for transitioning from winter to spring. I love checking the racks when I thrift for a good quality oversized sweatshirt that I can have in my closet for years. I paired this thrifted sweatshirt with light wash wide leg jeans and trendy sneakers I had in my closet with a thrifted baseball cap. This look can be interchanged with leggings, dark wash jeans or shorts.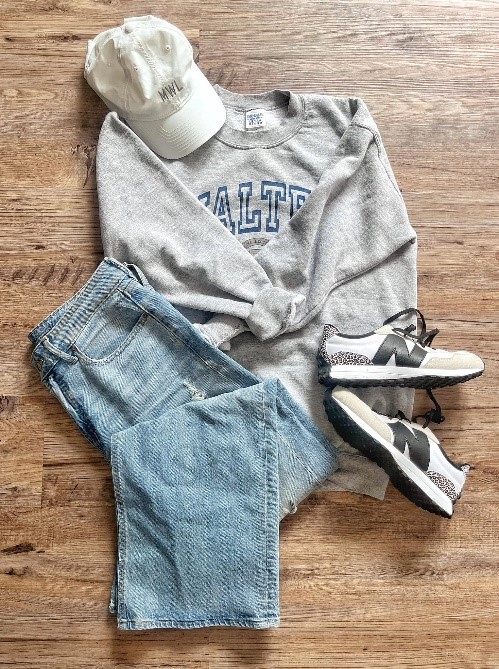 A Chambray button down top, White jeans and loafers
Chambray button down tops are a staple piece in any wardrobe that fits in any season but looks so chic going into Spring.  White jeans are an item that I find frequently when thrifting and can really elevate a look. Loafers are on trend right now, but truly are a staple, classic item for your closet to dress up for work or dress down for a night out.  For this look I styled a pair of thrifted white jeans with a chambray top I have thrifted years ago and a new pair of thrifted loafers. A little thrift tip: I love to look in the men's section for chambray tops or chambray shackets. Throw this on with a blazer or a sweatshirt or swap out the jeans for shorts and sandals in the summer.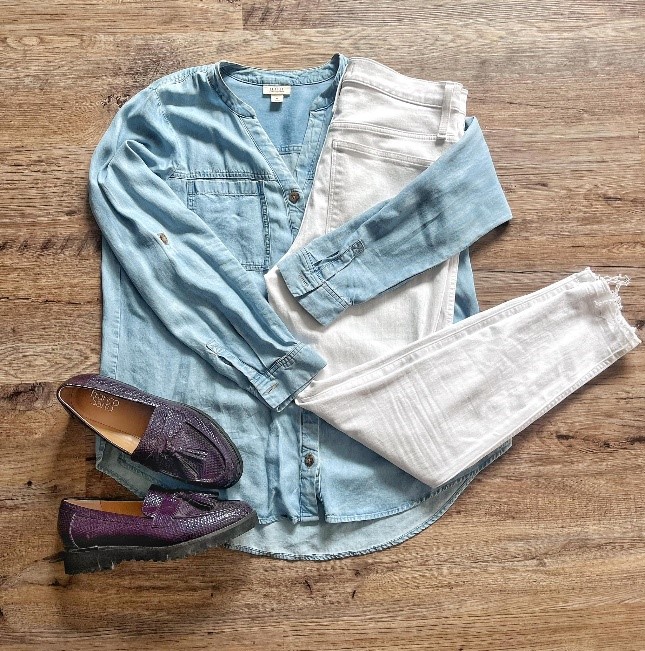 A dress, a cardigan, and a pair of booties
A good dress that you love and feel comfortable in is something that you can layer and use for multiple seasons. I love to put a sweater over a maxi dress in the winter, and transition that dress for the spring with a lightweight cardigan. I thrifted this beautiful dress at the Medina store and have worn it in so many ways. For spring I like to pair it with a neutral cardigan and swap out heels or sandals for a pair of cute, thrifted booties. I love to style this look with a belt and minimal gold jewelry.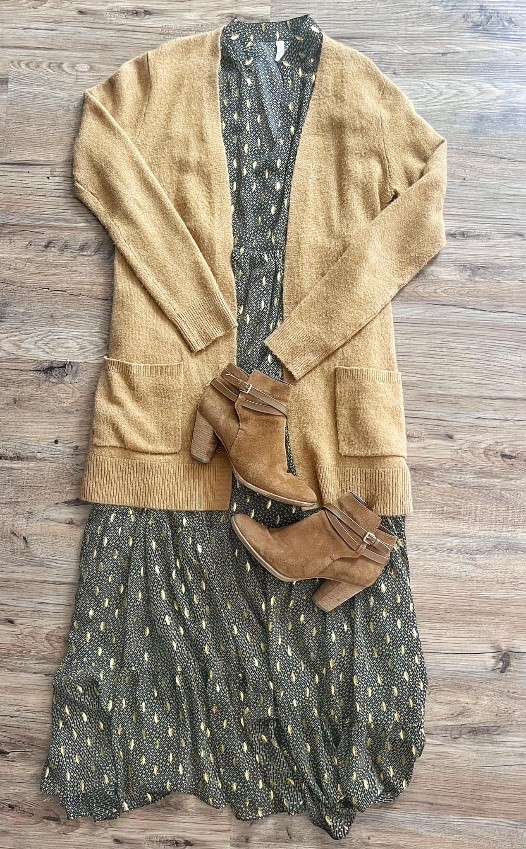 A good trench coat
If I had to put one item at the top of my thrifting wish list, it would be a good trench coat. This is a classic item that can last a long time and is perfect for winter, fall or spring. I love to look for long, lightweight, and even waterproof trench coats in neutral or fun bold colors.  I found this waterproof, hooded trench coat new with tags at the Medina store and I love the style and color. This can be layered over a sweatshirt, a dress, a graphic tee, a button down and is something that can usually be thrifted for under $10.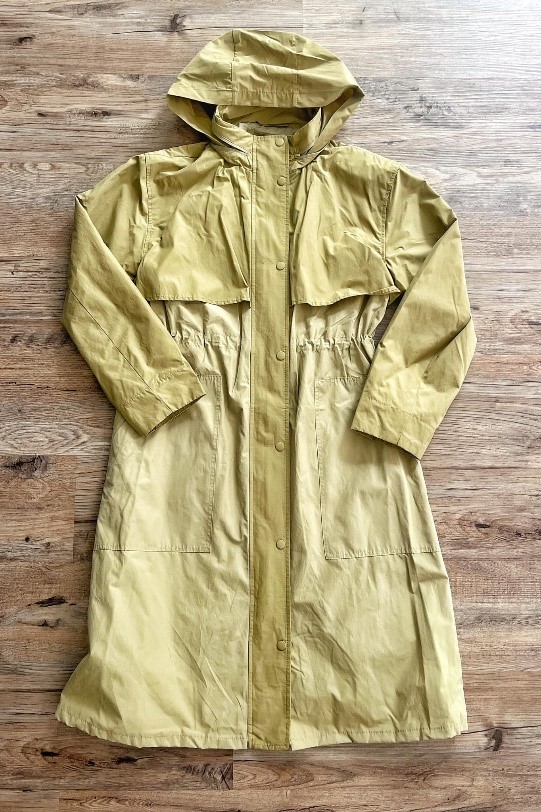 Thrifting for Spring is a fun way to add color, trends, and layers into your closet on a dime. I hope these 5 looks inspire you and give you ideas to incorporate with items in your closet on your next trip to Goodwill.
Happy thrifting
Erin