Did you all notice it's starting to get a bit spooky around here? Must be because we're closing in on Halloween! I'm (Abby) back again with a quick, fun round-up of some Halloween costume inspiration that is especially easy to recreate if you are looking to thrift your costume. I know Halloween may look a little different this year but that doesn't mean we can't celebrate (safely and socially distant).
Thrifting Halloween costumes is something I've done for almost two decades. My favorite way to thrift Halloween costumes is to be inspired by the items available at my local thrift store. BUT I've also been able to create some fun (super specific) costumes when I went searching for specific items at the thrift store. You just never know!
Here's where I get inspiration for my Halloween costumes:
The Movies
One of my favorite movies of all time is "Drop, Dead Gorgeous" and for years I talked about bringing one of the characters to life. At first I thought Amber Atkins with her sequin shorts/tuxedo dance costume, top hat and tap shoes was the way to go, but in the end, there is no movie quote I relate to more than when Tess Weinhaus says, "My Uncle Phil's World's Largest Ball of Twine in Bundy, MN …. it makes me proud that I'm an American. I kinda misunderstood the assignment."
I'm not a HUGE "Star Wars" fan, but there is something incredible about a strong, no-nonsense female lead. And who fits this bill better than Princess Leia? Add your own Han Solo and a baby Ewok, and you are ready to go!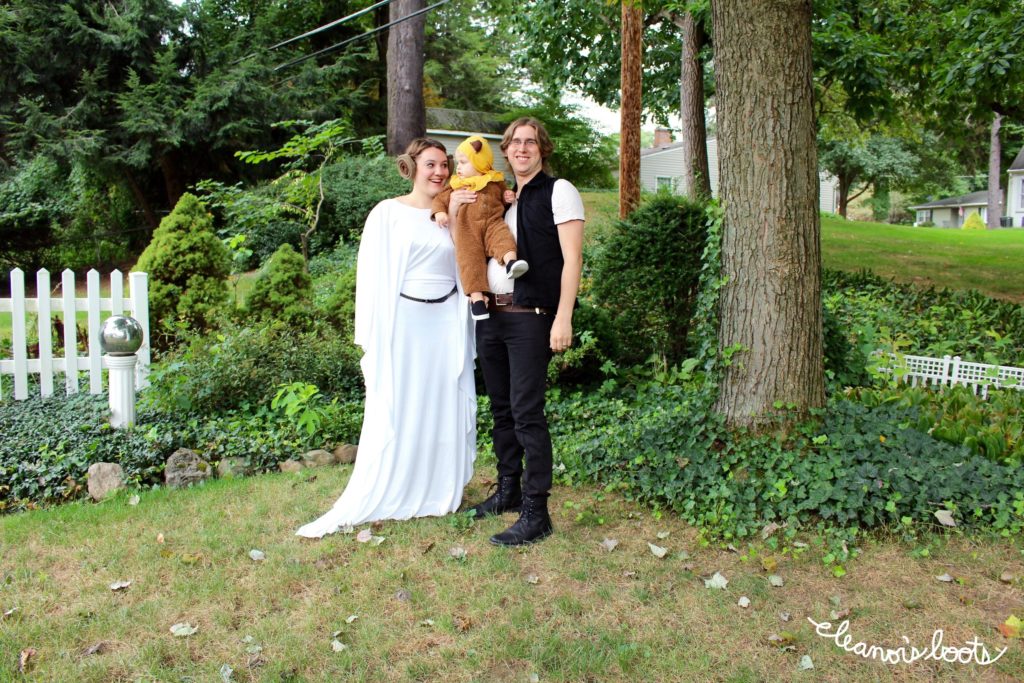 OR maybe you are a big Tim Burton fan? With some striped pants, a DIY striped blazer and some face and hair paint, you are all set to portray one of his most iconic characters, Beetlejuice, Beetlejuice, Beetlejuice! If you aren't about the face paint, dress yourself in head-to-toe black, and you can easily pass as Lydia.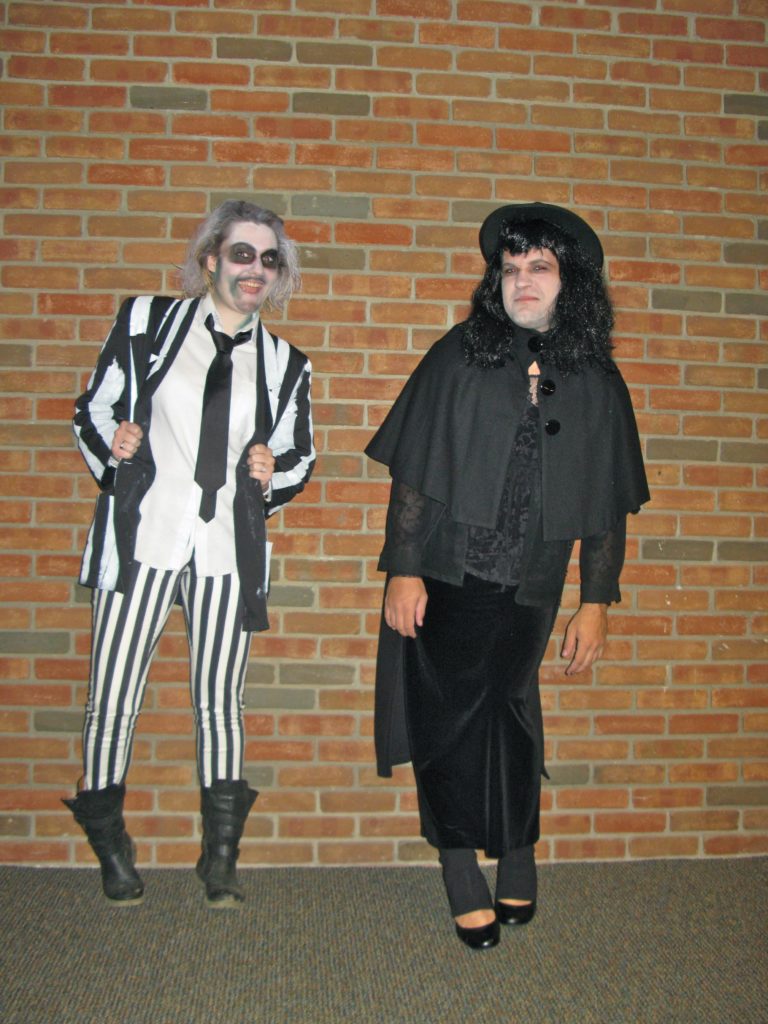 Another cult classic favorite of mine is "Clue." There are so many amazing characters in this movie, but a few years ago, I decided to re-interpret Miss Scarlett using all thrifted items and some creative styling (Ms. Peacock was a close second).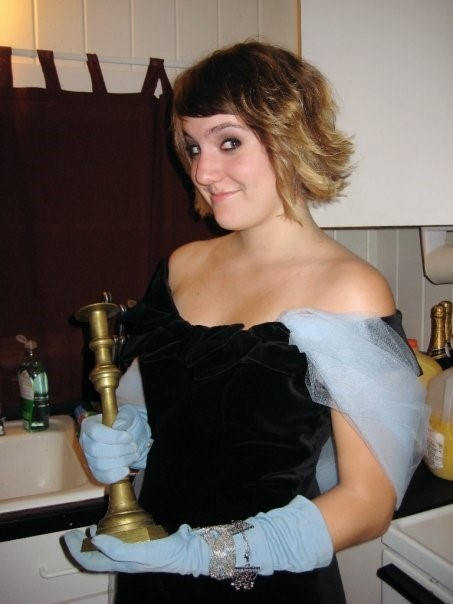 Some other fun characters from movies:
Holly Golightly from "Breakfast at Tiffany's": Find yourself a black dress, giant sunglasses, a tiara and a croissant in a paper bag, and you are ready for the most glam breakfast and window shopping.
Marilyn Monroe: all you need is a white dress, a blonde wig and a drawn on mole, and you are all set.
Indiana Jones: Grab a brown jacket, khaki trousers, a hat and an optional whip, and you're ready to take on the ancient world.
Other Tim Burton Favorites:

Edward Scissorhands and Kim: (Edward) Black top and pants, multiple black belts and gloves with plastic knives glued on; (Kim) White prom dress and big 80s hair.

Jack Skellington and Sally: (Jack) Pinstripe suit; (Sally) Patchwork dress and drawn on stitches (bonus points for a wig made out of yarn).
Pop Culture
I'm actually not really sure if Publisher's Clearinghouse is really a thing anymore, especially in the time of COVID, but in 2014 a friend and co-worker of mine thought it was the PERFECT DIY/Thrifted Halloween costume to enter our costume contest at work (and we won!). A bathrobe and slippers OR a navy blazer, khaki pants and some slicked back hair, are all you and a friend need to bring this hilarious Halloween costume to life.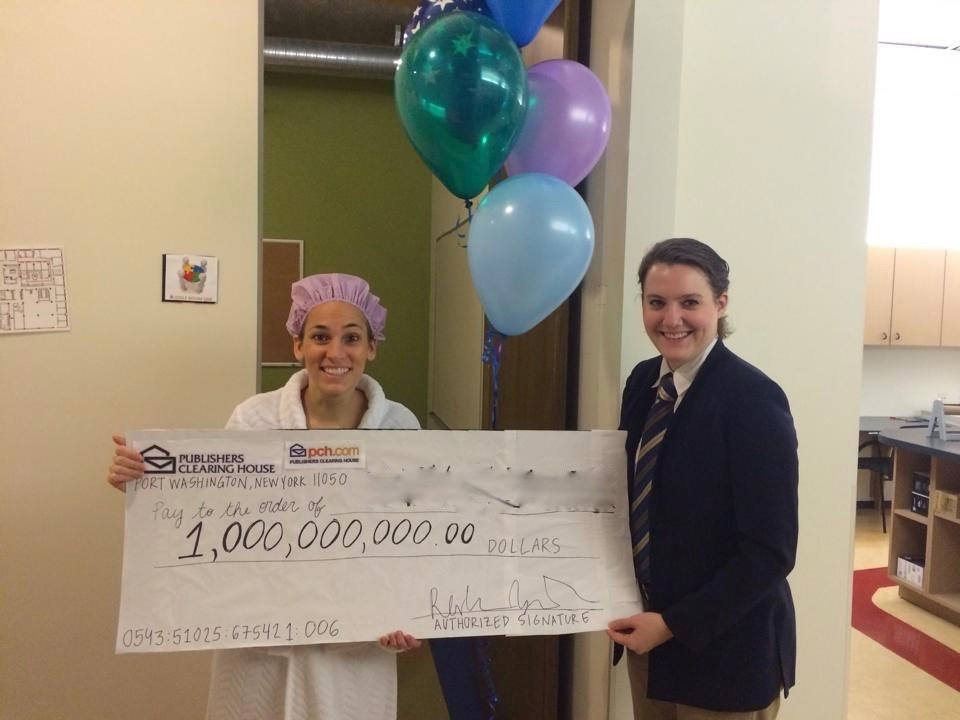 Everyone knows Rosie the Riveter, and I have to say, she's been my go-to thrifted Halloween costume several years in a row. While a boiler-suit may be tough to come by (I got mine at a flea market and actually have found a few this way), there are other ways to bring this costume to life: a denim shirt and loose denim trousers, or a red, plaid button down and navy trousers. It's really all about the red bandana.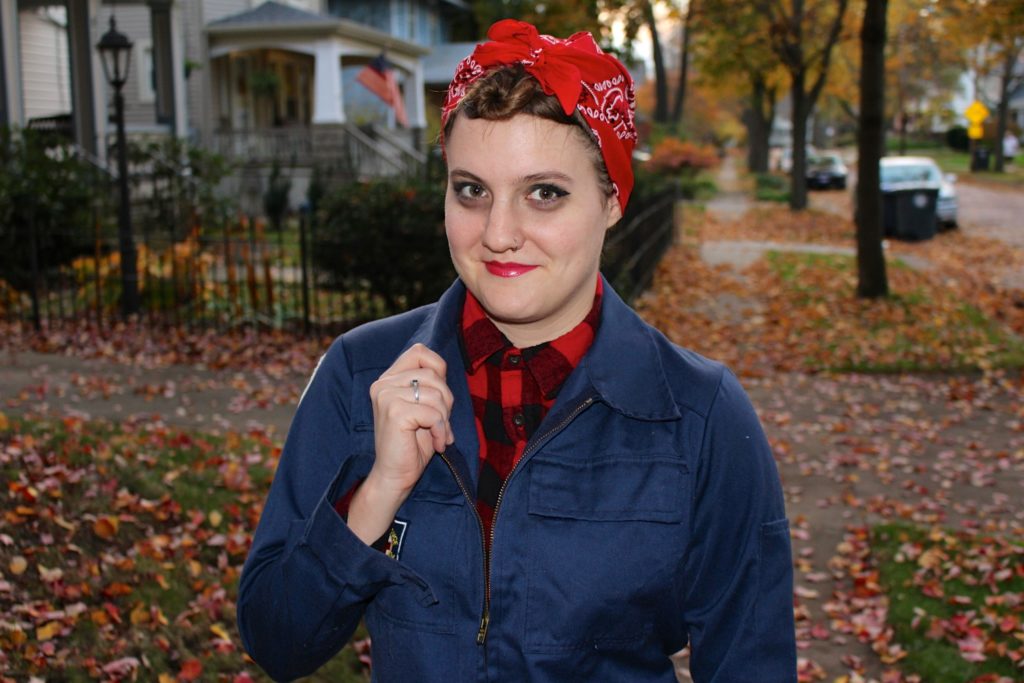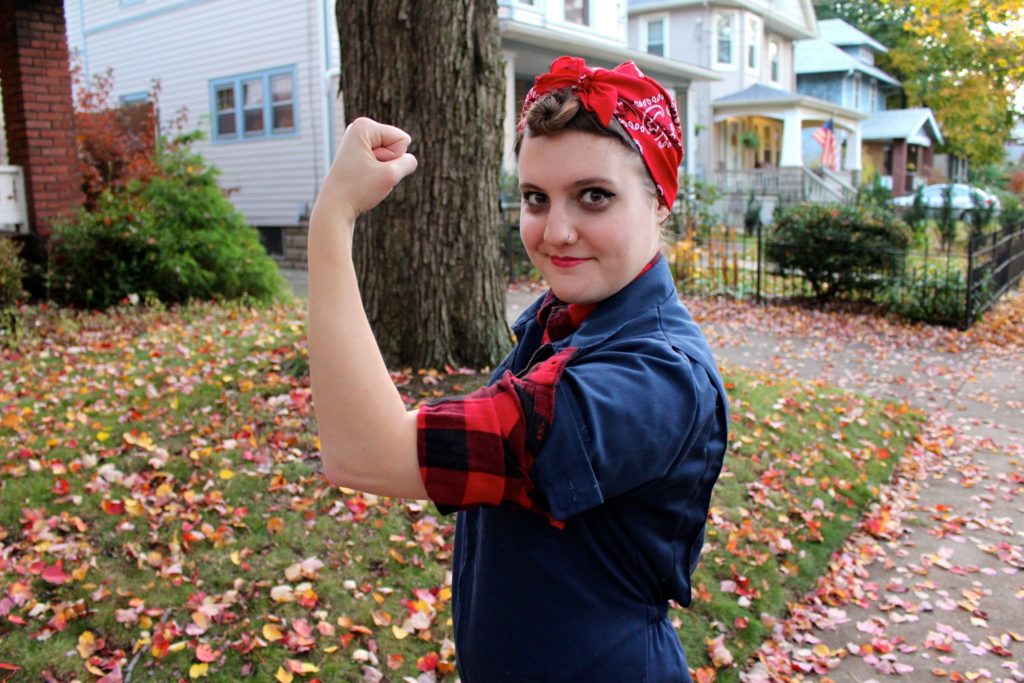 Another pop culture favorite and icon, David Bowie (RIP). Aladdin Sane may be one of the most iconic of his alter-egos, but really, just Google "David Bowie style" and prepare to be inspired. (I added cat ears to my costume for a fun, group work costume contest.)
And since my definition of "pop culture" has shifted a bit since I've had kids, I would be remiss to leave out one of our family's favorites: COOKIE MONSTER! A kid's sweatsuit and a ping pong ball were all it took to make my son's most favorite outfit (any time of year). I used a craft knife to cut a ping pong ball in half, drew on some pupils with a permanent marker (a bit askew) and hot glued them on to the hood of his blue hooded sweatshirt. He wears this sweatshirt whenever he gets the chance.
Some other fun pop culture inspiration:
Twins: either like in the movie or my favorite twins, Mary-Kate and Ashley
Mario Brothers: Overalls, Red or green button-down plus a matching hat
Popular Musical acts: Michael Jackson, The Spice Girls, Madonna (Harry Styles has been doing some fun stuff lately, fashion-wise, that might make for a cool costume)
Tiger King: (I haven't watched the show, but I'm familiar with several of the characters) (Joe Exotic) Shiny button-down, white trousers and a toy tiger; (Carole Baskin) Flowy, floral top and braided headband (worn as a crown)
If you dress up, I hope you consider thrifting your costume, and if you do, be sure to share with us on social, @goodwillakron or @bottesdeleanor.
Happy costuming!
_Abby