Hello everyone – Happy Earth Month! Abby back with another upcycle project for you all! I've had this project (well a variation of it that I saw on the Repeller site on Candace Marie Stewart) on my list for YEARS. It's been sitting in the back of my head just waiting for the perfect blazer/suit to come along to update. Late last year, I went thrifting at the bins, and found the perfect suit. Then I accidentally washed the suit with something red, so it got dyed a bit, BUT made the suit an even better candidate for this upcycle (although, TBH, I've been wearing this suit as is ever since I thrifted it – you've definitely seen it in past posts from me). This is a great DIY/upcycle for anything in your closet that you think could use a little extra love (no need to buy something new).
Of course, as long as this project has been on my mind, that made my anxiety around how to do it right even higher, but after some careful consideration, excessive deliberations and focus/simplification, I've ended up with something I'm REALLY excited to wear! Why can't upcycles be as easy as they were when we were younger and just went for it?!
In any case, read on for how to paint your own suit/clothing item!
To paint your own suit or other clothing item, you will need:
1. A dress, skirt, shirt, jacket, really anything that you want to add some sass to (if you don't have something on hand, your local thrift store will have lots of options!)
2. Paint – acrylic paint, fabric paint, puffy paint, spray paint – ANY paint! OR permanent markers (I think I read the original inspiration piece was embroidered 😍)
3. Paint brush (if you are using paint that needs one)
4. Stencils and/or anything else you think might add something extra to your project
5. INSPIRATION!!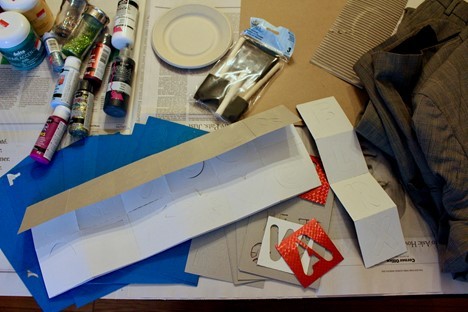 Like I said, this project took a lot of internal deliberation to land on the theme I wanted to use. I landed on stars because when I was younger, we put stars on EVERYTHING. And since this upcycle is very reminiscent of projects I did in high school, it felt appropriate to bring back the star motif.
I used some stencils and some different paints I had lying around to paint some stars on my suit.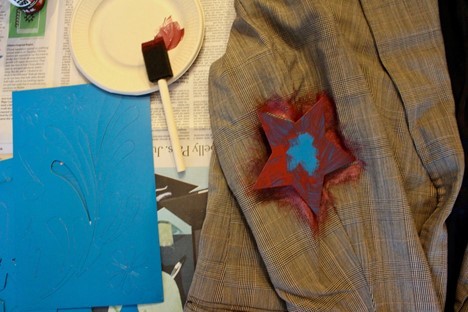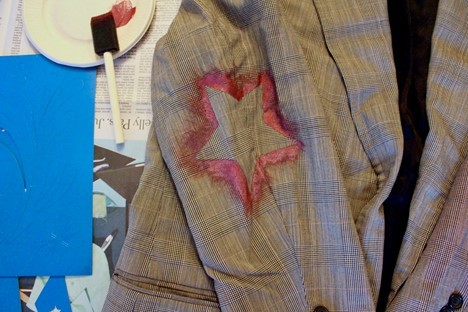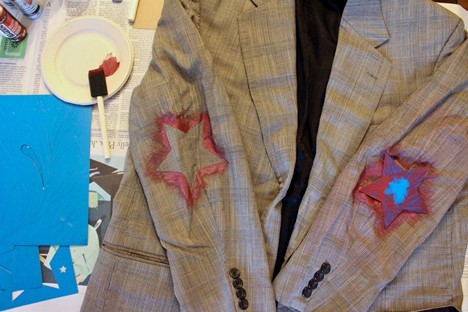 I layered small stars on larger stars, in different colors until I had different layers of painting that I wanted. I clustered stars together in a few main parts of my suit: over a lapel, on the backs of both sleeves, on the ankles, etc.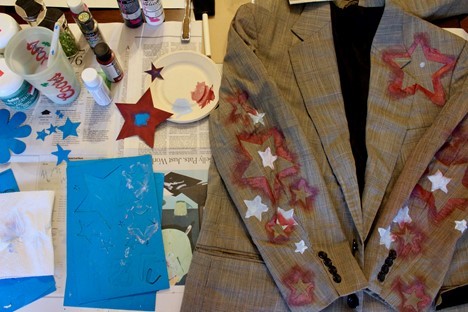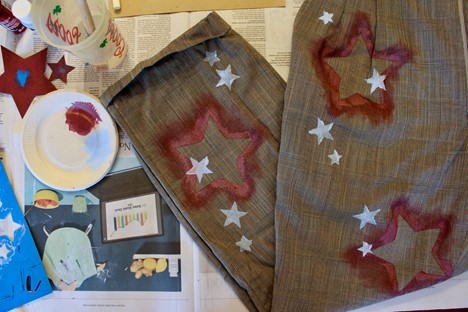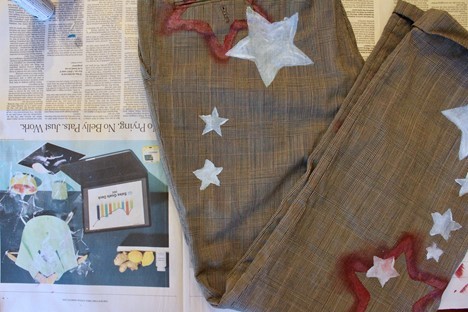 To add to my star theme, I thought that I needed a quote or some kind of writing. So I googled "Star quotes" and landed on this one from Albert Einstein: "Look to the stars and from them learn". And because I can't just leave things alone, I also thought that adding some star flash was an excellent idea, shooting stars to be exact.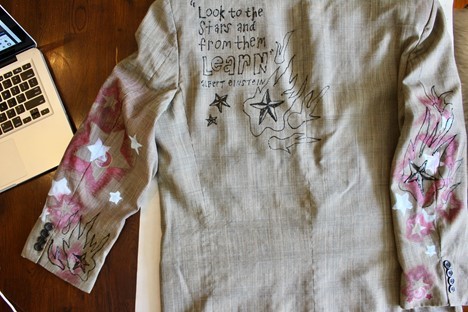 And to really lean into the additional theme of flash/tattoos, I found some old temporary tattoos and added them to my masterpiece. Applied the same way as you would to your skin: with water and a little pressure.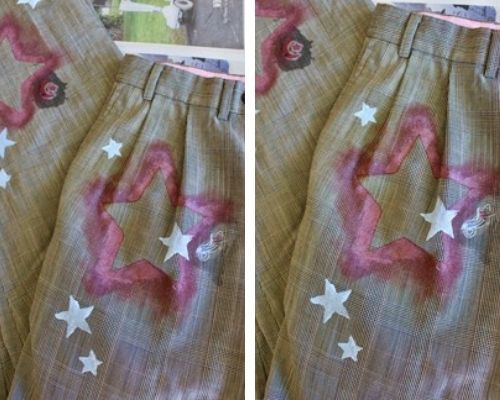 I feel like this is a project that will never truly be "done", and that's OK! Some projects are just like that.
Finally, because my favorite part of any DIY is the styling, I pulled together some looks for ways to wear my new suit (or separates)!
Full Suit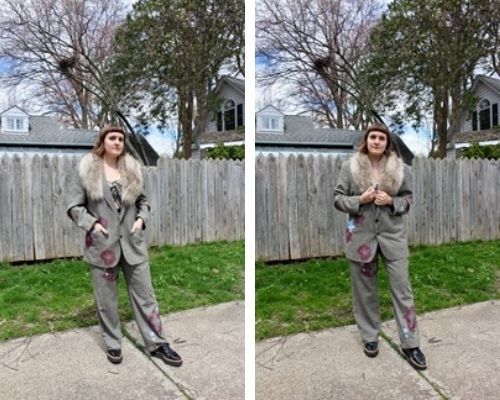 Just the trousers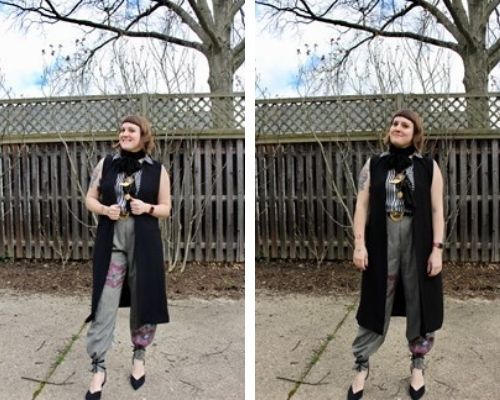 Just the blazer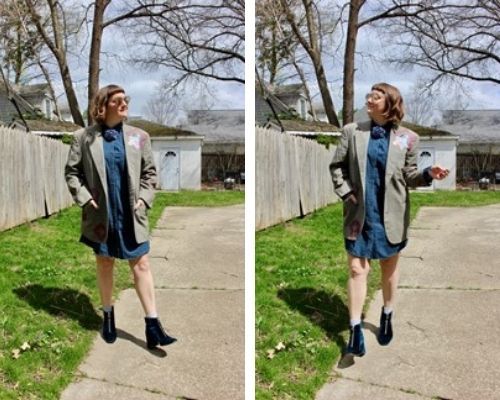 What do you think? Is this something you think you'll try out? If you make your own painted clothes, we'd love to see them! Share with us on social, @goodwillakron or @_abigaildrennen!
Happy upcycling!
_Abby
PS the April prompt for #12monthsofthrifting with Dina is to thrift something to DIY or upcycle (def checked this box with this project)! Can't wait to see what everyone makes!