Hello everyone out there in the thrifty wonderland – I hope you are doing well! Abby here again and I've got something that I've been gearing up to share with you all for the better part of this year: secondhand entertaining! I thought with the holidays coming up, and us hosting our (small) holiday get-togethers, I'd share some tips and tricks for sourcing secondhand goods for entertaining. But that doesn't mean these tips should be only used this time of year! Summer picnics, outdoor gatherings and birthday parties are all good excuses to use your secondhand and thrifted goodies to host your friends and family.
Just like building any collection, the key to secondhand entertaining is patience and cultivating an aesthetic and collection you love – which doesn't happen overnight. You can certainly thrift everything you need for your entertaining needs relatively quickly but why not wait it out and acquire things over time that you truly love?
So for today, I'm going to share some of my favorite items from my secondhand entertaining collection and how and where I found them, and what to look for when you are out and about, sourcing secondhand goodies.
Snacks
My favorite part of any get-together are the snacks. Cheese and crackers, fruit, chips, dip, the starters. Look for small plates, fun platters and even more interesting serving utensils. I found this fun cutting board via a local maker and the cheese cutter via a secondhand online shop (which she sourced from her local Goodwill).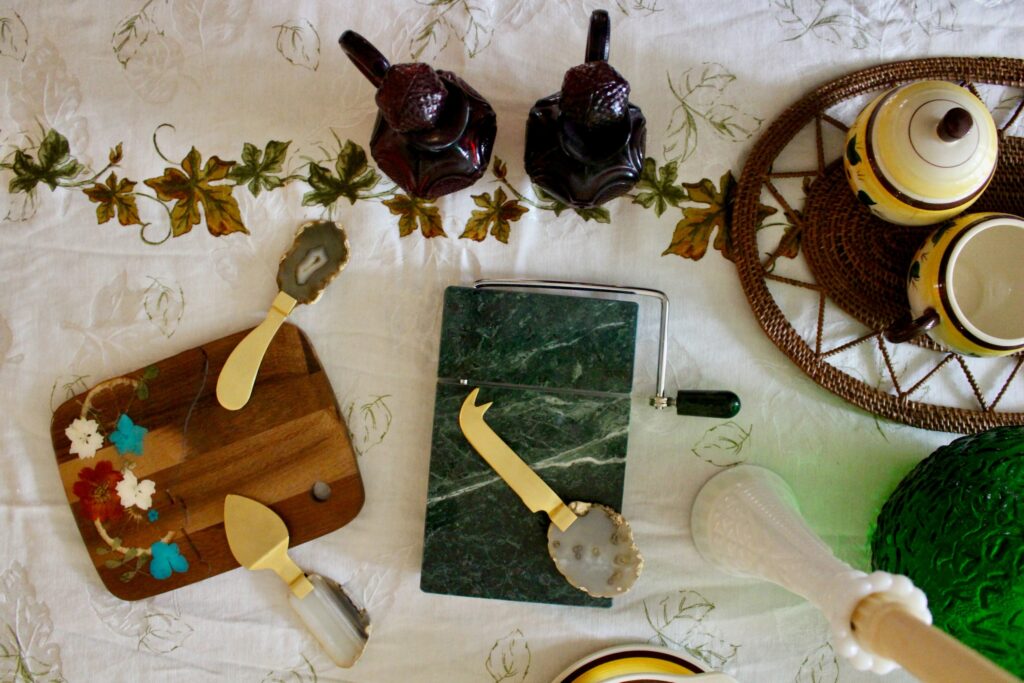 Dishes
If you are hosting a more formal dinner event, you'll need plates and dishes for people to eat off of (I guess you'd need these too for the snack portion of the evening). I found these brown-eyed Susan plates and place settings at a yard sale (of a family friend), but mixing and matching is always a cute idea when it comes to a secondhand tablescape. Keep everything in a similar color story and you are good to go. Or just throw together things you love and you are also good to go.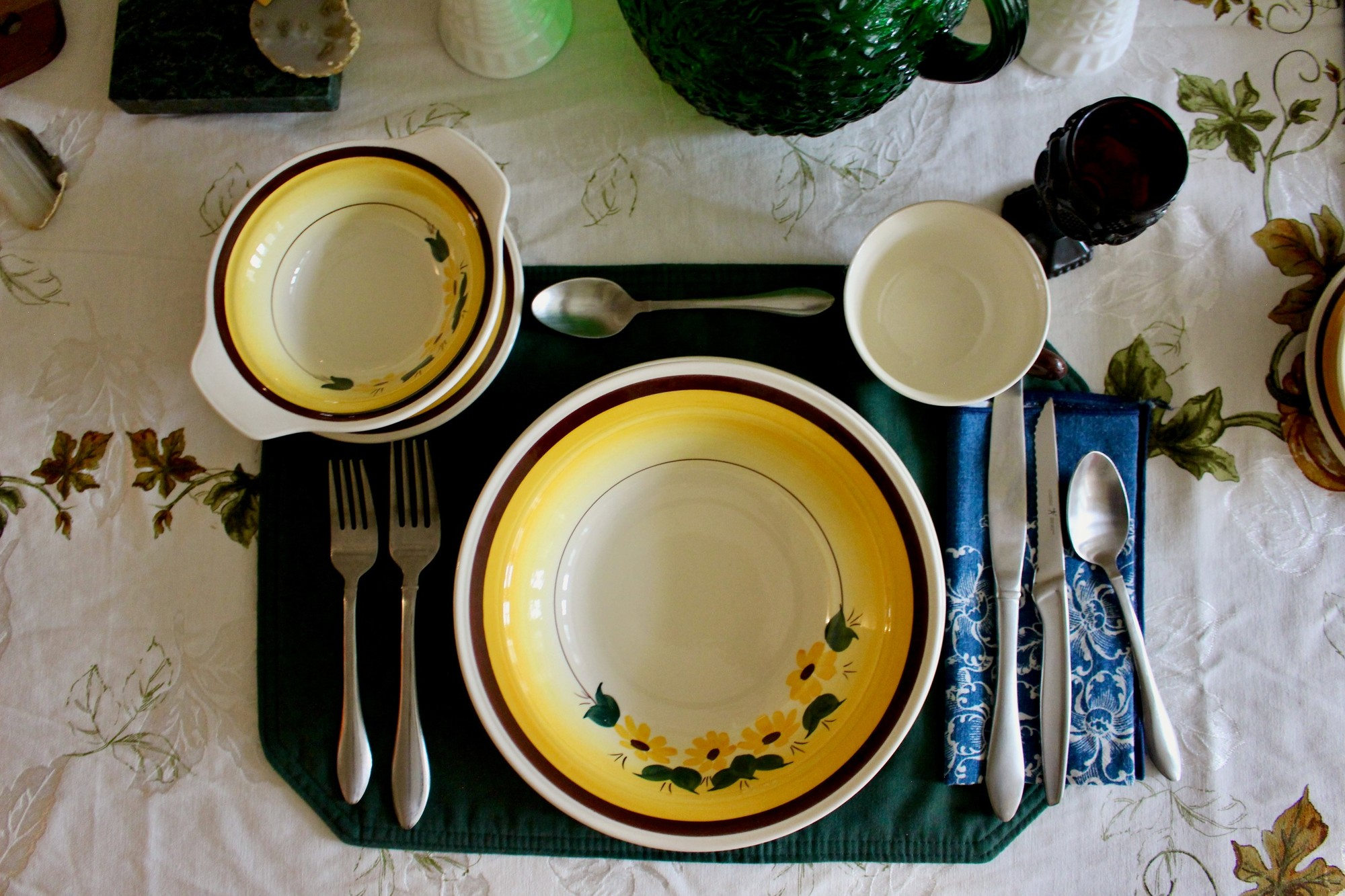 Dessert
After dinner, you may have dessert, tea or coffee. Tea sets and all the accoutrements are in plenty supply at your local Goodwill. Guests can even reuse their secondhand plates from the snack portion of the party for their dessert. You might remember the white tea set below from one of my indoor garden DIY posts. While the plants didn't last, these teacups did and they are just as beautiful without plants in them.


Drinks
Another thing you'll find plentiful at your local Goodwill: glasses and pitchers. While this portable bar set was thrifted by a friend and given to me as a gift, this punch bowl and matching drinking cups were something I found at my local Goodwill. It pays to open boxes and look inside, because this one was hiding away.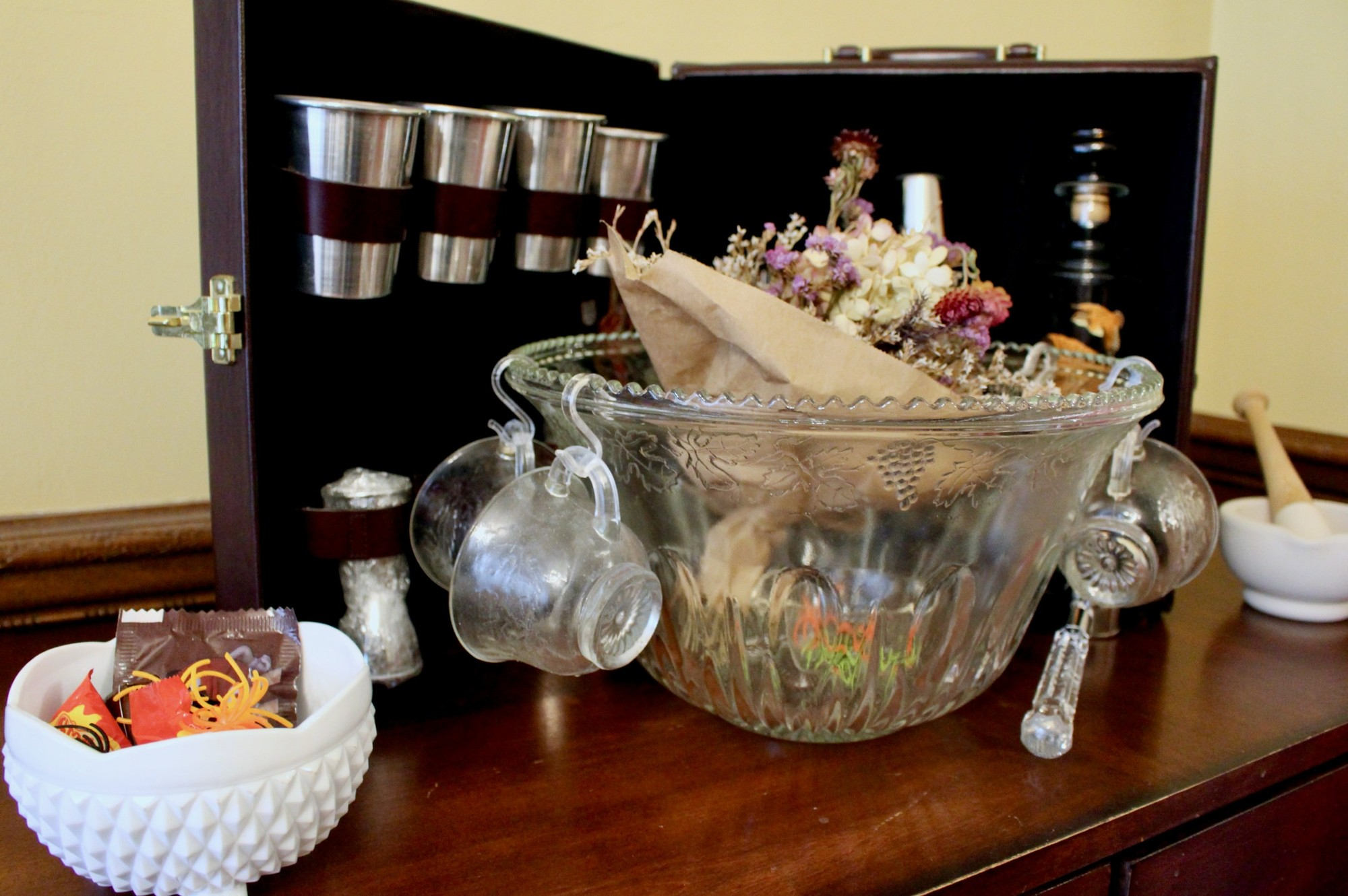 These wild animal glasses and pitchers were found at a small, local secondhand shop.


Linens
I won't lie, the linens section of Goodwill is a bit intimidating. It's very clean and well organized, but you will find bedding hanging next to curtains, hanging next to tablecloths, hanging next to spare fabric, etc. But I will say, a small retractable measuring tape and a list of common measurements can be a lifesaver here. I definitely lucked out with this tablecloth being the right size for our table, but simply having our dining table dimensions saved on my phone somewhere, would have saved me a bit of anxiety.


Some other things to look out for while you are thrifting: silverware, candlesticks (and candles), trivets, wall art, mugs and table runners.
I hope the above helps make building your secondhand entertaining collection more approachable, simpler and ENJOYABLE. If you are nervous to jump right in at your local Goodwill, Etsy is a great place to search for secondhand home goods (@personalspaceliving on Instagram is one of my favorite secondhand home goods sellers). Makers and crafters also offer a fun, alternative option for buying home goods from the big box stores. Garage sales and the side of the road are other great spots to find secondhand goods.
However you build your secondhand entertaining collection, we'd love to see it! Share with us on social, @goodwillakron or @_abigaildrennen!
Happy Holidays!
_Abby