Happy New Year! I cannot believe that it is 2023. There is something about a new year that brings a renewed desire to declutter, set goals, and refresh my home and my wardrobe.
One goal or resolution for the New Year that many people have is to be a healthier version of themselves. Exercising, eating better, running a race, joining a gym, or cooking more at home, are all popular health-minded goals this time of year. The thing I love about all of these goals is that they can be thrifted and/or do not have to cost a fortune.
I have been an avid gym member for years and loved the opportunity to carve out time to move my body and take care of myself and felt that I had to get out of my house to do that. Then, March of 2020 hit, and all gyms closed down and, I knew if I wanted to continue to work out daily, I had to walk or do at-home workouts. Between my husband and me, we had some at-home equipment but not a lot of items that I used at my gym. During this time, everyone else had the same idea so, gym equipment and weights were hard to find as they were sold out or the prices had skyrocketed due to high demand. I found some amazing free workout programs on YouTube and started doing those with the equipment I had and did a lot of yoga and Pilates during that time. I found that after a few months, I enjoyed working out from home and it was saving me money not to have a gym membership each month and not to waste time or spend money on gas to drive there.
I got creative and borrowed things to increase the weight I was lifting and bought some things off of Facebook Marketplace, but when Goodwill opened back up, every time I went shopping I challenged myself to look for workout clothes and equipment and thrift those items. The sporting goods section was a section I rarely looked into before the pandemic shut down but after I started looking there, I found joy and excitement when I found something on my list for an amazing price! Over the past three years, I have built such a well-stocked little home gym that works for me and I am so proud that I could do it on a budget and still have quality items that work with different programs, workouts, and training that I want to complete.
When looking to add to your home gym there are two sections in the thrift store that I encourage you to look at each time you go: The athletic apparel and shoe section and the sporting goods section.
Athletic Apparel and Shoes
I am very picky when I shop secondhand for athletic apparel. I make sure that the items are new with tags or look like they have not been used. I look for pilling, stains, rips, holes, and fading. Most of the time, with a little patience and consistency I can find leggings, sports bras, jackets, and tops from brands like Lululemon, Alo, Fabletics, Aerie, Nike, Athleta, and Zella in like new or new with tag condition for $5- $10! I also look for running shoes and training shoes in like new condition and have found some Hokas, Brooks, and Nike sneakers that looked like they were never worn for under $5. These are items that I know are quality, that motivate me to get dressed and do my workouts, and best of all; are sustainable and low-cost.
Workout Equipment
The sporting goods section of your local Goodwill is filled with so many good items to add to your home gym, but again, it does take some patience and consistency. I have thrifted the following items over the past two years for my home gym:
• Hand Weights – often you can find a wide variety of 1-5lb weights, but I have thrifted a 25-pound kettlebell and a pair of 8lb and 10lb weights from Goodwill.
• Resistance bands- I found a bag of three different weight resistance bands that were brand new for $1.50.
• Sliders and Medicine Balls- I found a 10-pound medicine ball for $2.50 and a pair of sliders for core and leg workouts for $1.50.
• Exercise Ball- New in box for $2.50
• Foam Rollers- I found two different types of foam rollers in like new condition for $1 each
• Ankle Weights – I found a set of Ankle Weights in the box for $3
• Weighted Jump Rope- I found this for $1.50
• Workout DVDS- A favorite find of mine was a new-in-box 21-Day Fix program with two DVDs and the food containers for $5! I have also found a variety of Jillian Micheals, Pilates, and Yoga DVDs.
I have also seen weight benches, pull-up bars, ab wheels, and yoga mats new in the package while thrifting in the sporting goods section.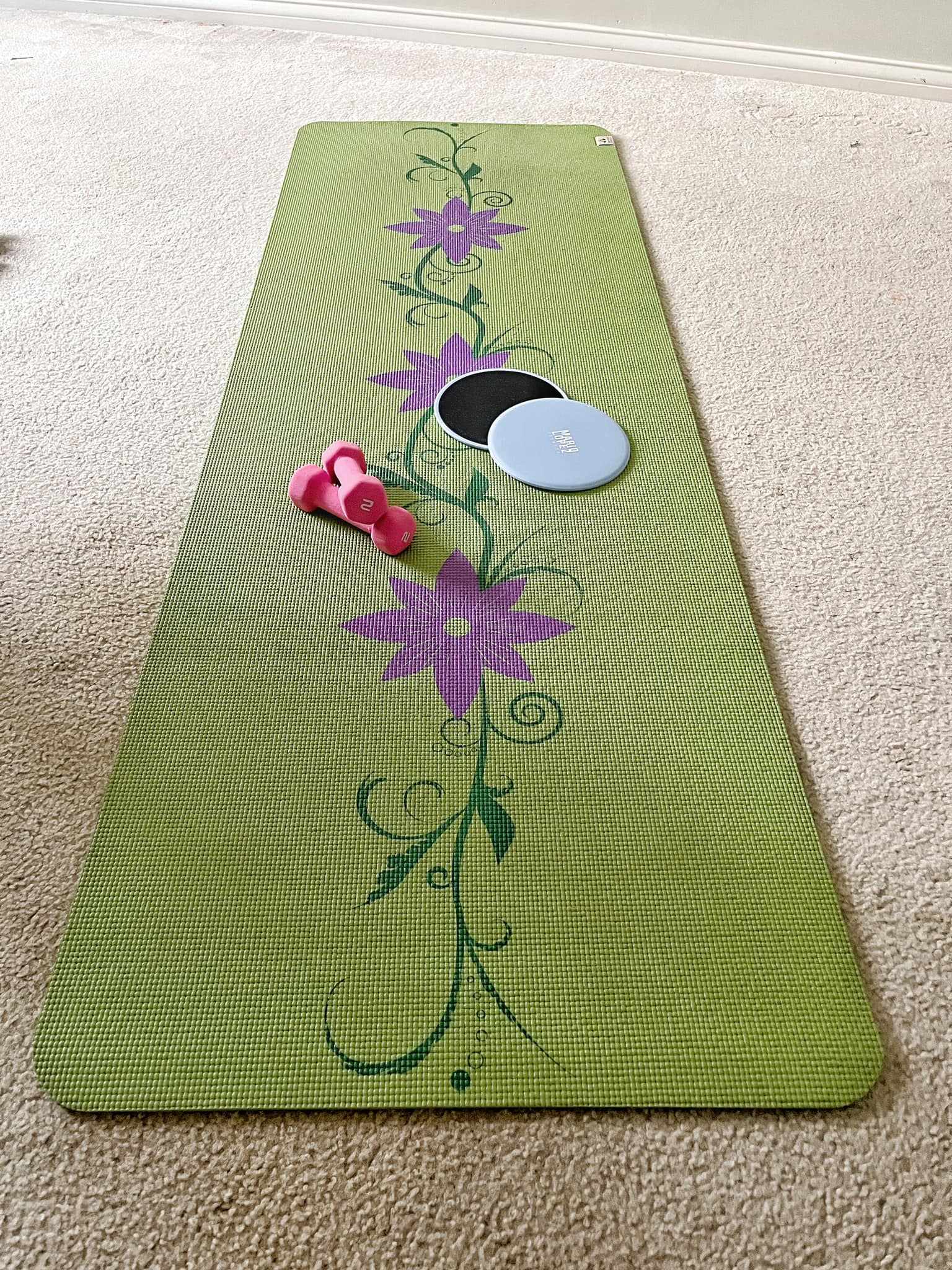 Moving your body and desiring a healthier lifestyle does not have to cost a fortune. Sure, you can join a CrossFit gym, a yoga studio, or a spin class if that is what motivates you and is an exercise you enjoy. What I have found is that I love walking outside in the morning for free, I have found a few trainers who offer free monthly calendars, 12-week challenges, and free nutritional guides all on YouTube, I have found DVDS while thrifting that love, and if I find programs I want to try I will check the DVD out from my local library. There are so many styles, programs, and trainers who provide quality workouts and challenges that cost no money which is so helpful when trying to save money and reach your health goals.
I hope that this post inspires you to think outside of the box, to check out your Goodwill Akron store(s) for some cute workout clothes or shoes, and challenge you to start building your home gym with thrifted items that inspire you, motivate you and challenge you to be the best version of you this year!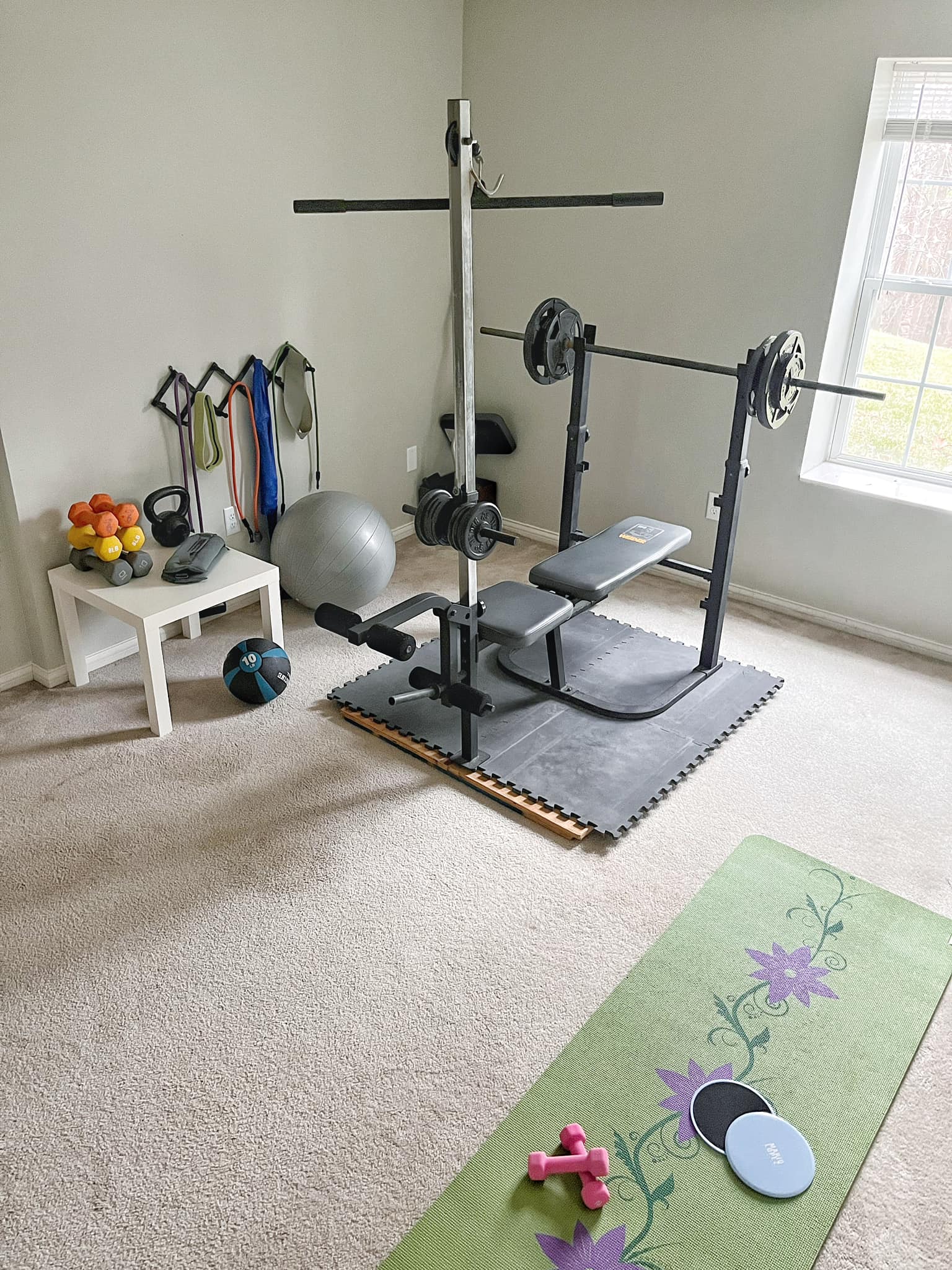 Happy Thrifting,
Erin Walter