Thrifting has become a popular trend, not just for its budget-friendly nature, but also for its potential to unearth hidden gems from the past. Vintage clothing carries a unique allure, combining nostalgia with timeless style. Among the vast array of vintage brands, some stand out for their consistent quality, classic designs, and enduring appeal. These are some of my favorite everyday vintage brands to thrift from Goodwill Akron stores:
Carlisle:
Known for its sophisticated and elegant designs, Carlisle is a vintage brand that has stood the test of time. With its high-quality fabrics and impeccable tailoring, Carlisle pieces exude a sense of luxury. From chic blazers and dresses to well-tailored trousers, a Carlisle find is sure to elevate any outfit, making it a must-have in any vintage enthusiast's collection.
Pendleton:
A brand with a rich heritage, Pendleton has been synonymous with superior craftsmanship and iconic woolen textiles for over a century. Famous for its plaid patterns and cozy blankets, Pendleton also offers a wide range of vintage clothing options, including skirts, blouses, and outerwear. Their timeless designs are perfect for adding a touch of warmth and style to your everyday wardrobe.
Valerie Stevens:
Valerie Stevens captures the essence of vintage femininity with its beautiful dresses, blouses, and accessories. The brand's pieces often feature delicate lace, flattering silhouettes, and intricate details, adding a touch of romance to your outfits.
Harve Benard:
If you're on the hunt for vintage power suits and office wear, Harve Benard is the brand to look for. Known for its professional yet fashionable designs, Harve Benard offers a selection of blazers, skirts, and dresses that exude confidence and style. These classic pieces effortlessly blend the past with the present, making them versatile additions to your wardrobe.
Vintage Ann Taylor:
Ann Taylor has been a renowned brand for modern women's fashion, and their vintage pieces are no exception. Look for timeless blouses, tailored trousers, and chic dresses that embody sophisticated elegance.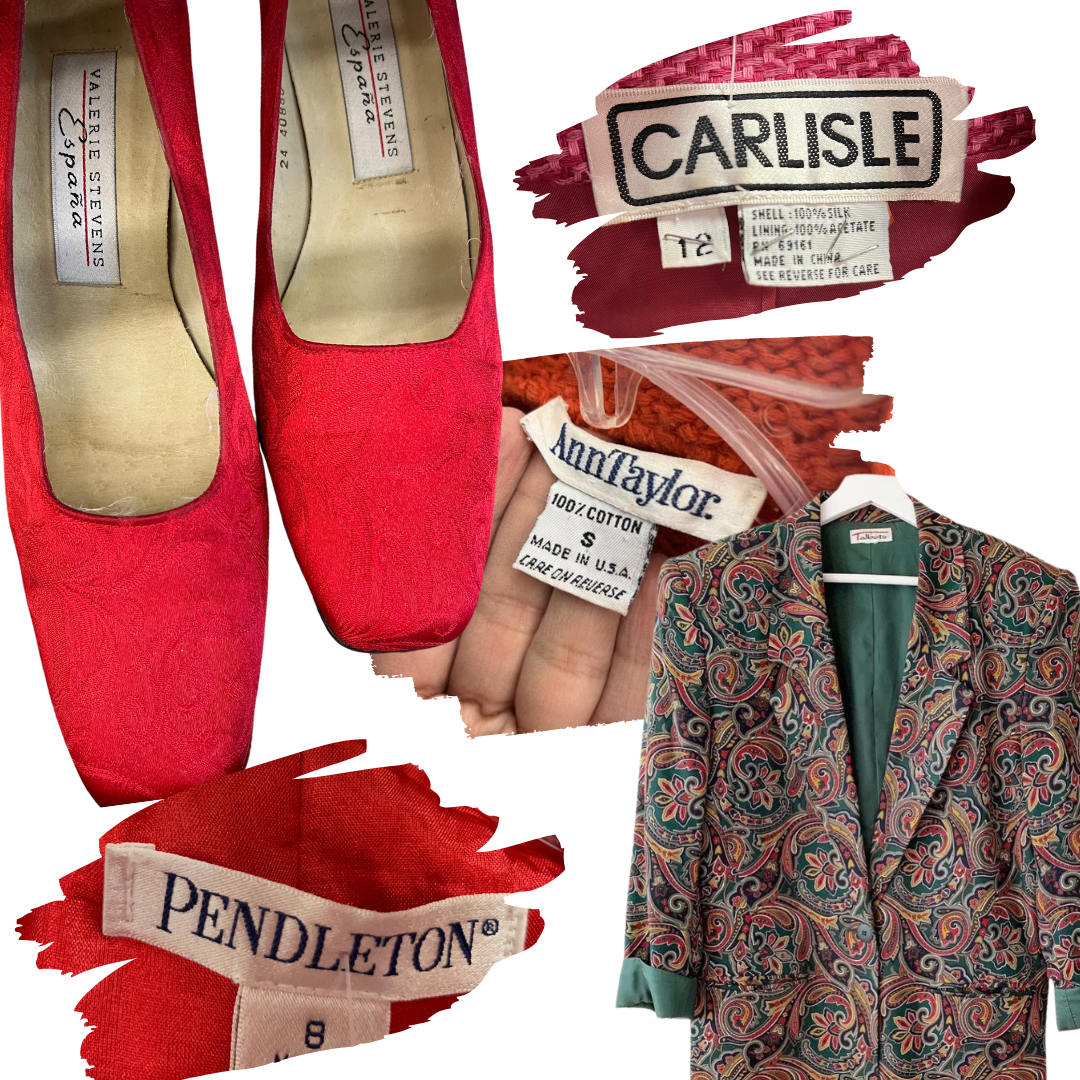 Union Made:
Union Made is not a single brand but a label used to identify clothing that was produced by unionized workers. Clothing with the "Union Made" tag is often associated with quality craftsmanship and ethical manufacturing practices. Be on the lookout for this label when thrifting, as it signifies not just a vintage find but also a piece of history supporting worker rights.
Lawrence Kazar:
For those seeking vintage eveningwear, Lawrence Kazar is a hidden gem. This brand is known for its exquisite beaded and sequined dresses that exude glam and elegance.
Vintage Talbots:
Talbots has been a beloved brand for its timeless and preppy designs. When thrifting vintage Talbots pieces, you'll find classic blazers, tailored pants, and versatile blouses that are both stylish and enduring. Incorporating vintage Talbots into your wardrobe adds a touch of sophistication and ease to your daily looks.
Evan Picone:
Evan Picone offers vintage designs that are both chic and approachable. Known for its beautiful prints, well-cut dresses, and classic separates, this brand is perfect for everyday vintage fashion.
Casablanca and Kasper:
Both Casablanca and Kasper offer a selection of elegant and versatile vintage pieces. From dresses to blouses, these brands bring a sense of refinement to your wardrobe. Look for unique patterns and high-quality fabrics when thrifting these brands, and you're sure to discover pieces that stand the test of time.
Happy hunting, and may you find the perfect blend of history and style in your vintage treasures!
-Dina