As I am writing this post, I am sipping on a warm pumpkin spice latte, the air outside is crisp and cool, there are hints of yellow, orange, and red colors peeking through the green trees lining our neighborhood and it is finally starting to look like Fall in Ohio.
I love the Fall season for so many reasons like many do; the weather, the food, the campfires, pumpkins, apple picking, football games, and the beautiful changing colors symbolizing the transition of seasons. It is my favorite season by far and one that I look forward to all year.
I also have a love for Fall fashion and feel like I can never have enough cardigans, boots, sweaters, and hats. The past few years I have challenged myself to only buy a few new Fall staples for my wardrobe. It is so tempting to see store ads, influencers, and commercials for all of the latest Fall trends but buying new every year can get expensive.
It is very easy to take summer pieces that you love and transform them into cool weather outfits with a few closet staples. I chose a few summer pieces that I love and looked in my closet to see what I already had and made a list to shop for a few new pieces I want to thrift and incorporate with my favorite summer outfits well into the Fall and winter seasons.
I like to start with a base like a dress, jumpsuit, light jeans, or a skirt and see how many ways I can layer those pieces to make a capsule wardrobe suitable for cooler weather.
Some ways to do that are:
Layering items overtop with:
– A blazer
– A cardigan
– A denim jacket
– A turtleneck
– A button-down flannel shirt
– A sweatshirt
– A pea coat
Trade your sandals and flip-flops in for:
– Rain boots
– Cowboy boots
– Knee-high boots
– Booties
– Loafers
– Mules
Incorporate Accessories like:
– Opaque Tights
– A scarf
– A hat
– A leather bag
– A leather belt
Switch out brighter summer colors and pastels for:
– Jewel Tones
– Neutrals
– Black
Here are some ways I took some of my summer staples and swapped them out or added a few things to layer and stay warm. I can also easily mix and match these items.
I took a tank and a skirt and swapped out the strappy heels for heeled booties, and added a leather blazer.
I took my favorite chambray wide-leg jumper and swapped out the braided heeled sandals and light brown purse for a leather bag, and booties, and added a gingham button-down shirt underneath.
I took my favorite light jeans and a white tank and swapped out leather sandals for booties and added a blanket scarf and a longline cardigan.
Finally, I took my favorite flowy summer dress and swapped out the straw hat and wedges for a jean jacket, cowboy boots, and a suede hat.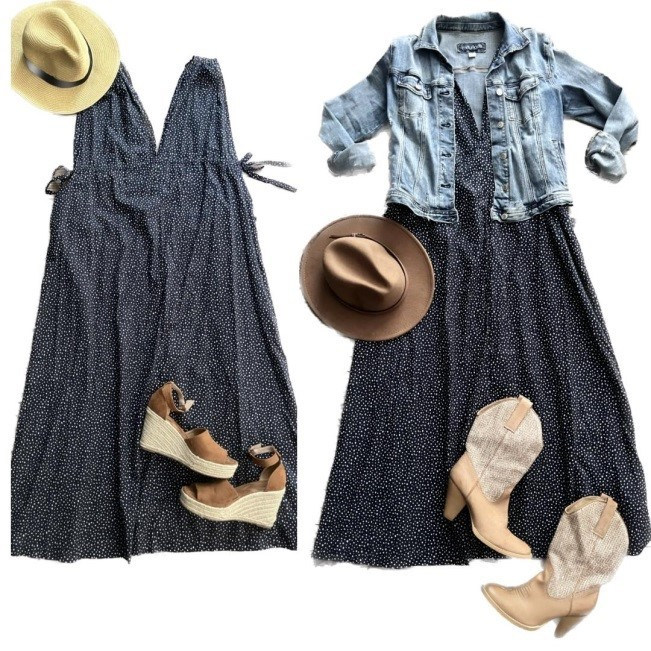 As the temperatures drop, I challenge you to not put your summer clothes away but to get creative. Think outside of the box and take inventory of what you have to layer for cooler weather. Make a list of some Fall staples that you do not have, but may want to incorporate into your wardrobe and plan a day to grab a coffee and go thrifting with friends to find some cozy pieces to incorporate into your wardrobe that fit your style.
-Erin