Our Mission
---
Goodwill Industries of Akron is a private, not-for-profit corporation, the purpose of which is to provide employment preparation, training, rehabilitation, employment and support service to persons with disabilities and/or other barriers to employment. The mission of Goodwill Industries of Akron is to help individuals prepare for, find and retain employment. Services are in response to identified community needs and are designed to help individuals reach their highest possible vocational and personal potential. Operating in the five-county region of Summit, Portage, Medina, Ashland and Richland, the Akron-based agency was established in 1927. It is a private, independent organization, operating as an affiliate member of Goodwill Industries International. Goodwill helps to directly strengthen the region's workforce through its employment programs and indirectly through the net proceeds from its retail outlets and business services division. Goodwill Industries of Akron is governed by a local Board of Directors representative of its service territory. Goodwill Industries consists of people – employees and volunteers (Board of Directors) dedicated to working together to help people overcome barriers, reach goals and become gainfully employed. To fulfill our mission and purpose, Goodwill operates three businesses (1) retail stores; (2) an industrial contracts division; and (3) workforce development programs and services.
---
Goodwill Serves:
Anyone needing job search skills
Unemployed or under-employed individuals
People with physical or developmental disabilities
Individuals receiving public assistance
Dislocated or downsized workers
People new to the workforce
By helping people gain employment, Goodwill is:
Providing self-respect to someone who is earning a paycheck for his or her family
Lowering crime by elevating job skills
Helping children by employing their parents and providing strong role models
Reducing public assistance by increasing training for jobs that pay good wages
We Believe in the Power of Work.
Goodwill Industries believes that work plays a critical role in the ability of individuals to achieve desirable life outcomes. Through work, individuals are enabled to assume, in addition to the role of worker, other roles in the community.
Goodwill believes that work forms the cornerstone of a person's relationship with other people, and is critical for preventing and minimizing social problems. Without the power and dignity of work, and its derivative economic power, one is diminished in virtually all other aspects of social interaction and life.
It's about having a chance, not charity
It's about feeding one's family with

money that is earned

.
It's about having a job.
It's about the

self-respect

that comes with a paycheck.
It's about lowering crime by raising job skills.
It's about helping children by

hiring their parents

.
It's about reducing welfare by

increasing job training

for jobs that pay real wages to support and strengthen real families.
It's about

job training

.
When you put an awesome item in your Goodwill cart, you're not just thrifting. You're being a local hero.
Last year, more than 2 million people engaged in face-to-face services at Goodwill locations across the U.S. and Canada to help prepare for and gain a good job, build their financial assets and advance in their careers. More than 36 million people connected with Goodwill online to access education, training, mentoring, learning services, virtual career fairs and employment opportunities offered by Goodwill organizations.
Together with our donors and shoppers, Goodwill helped more than 300,000 secure jobs and start their journeys to a brighter future. Collectively, more than 92 cents of every dollar spent in Goodwill stores is reinvested in communities to support job training programs, onsite and virtual skills training and provide community support services for job seekers. Here's how that happens:
People donate clothing, household items and more to local Goodwill nonprofit organizations across the U.S. and Canada.
Goodwill sells the donated items in more than 3,300 stores, providing the critical revenue that helps fuel our nonprofit mission that helps people find, earn and keep good jobs and create better futures for themselves and their families.
People who buy unique finds from Goodwill stores and online at shopgoodwill.com use their items with pride. And, shopping at Goodwill gives their communities a reason to celebrate because purchases support Goodwill's nonprofit mission of providing job training, education and more to people in local communities.
People build their skills and find employment, with help from Goodwill.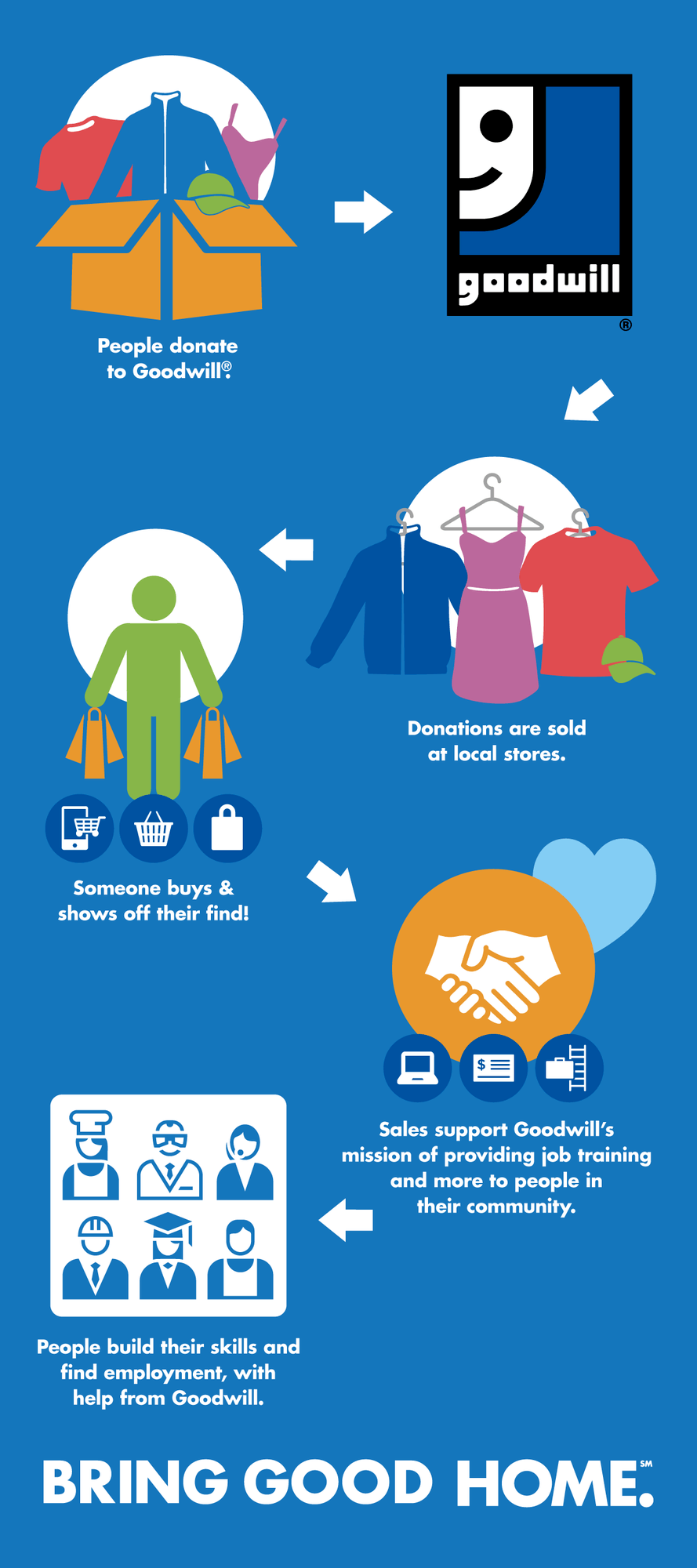 Our History
Since 1902, Goodwill has been providing opportunities for men and women across America and around the world. Reverend Edgar J. Helms started the organization in Boston, Massachusetts with nothing more than a burlap sack and a desire to give a better life to people in his community.
Reverend Helms collected unwanted clothing and household goods and distributed the items to the needy of his congregation. Later, he put people to work processing the goods and preparing them for resale. Through new work opportunities, men and women were able to earn their own wages and learn about the power of work. This cycle of donations, processing, resale and wages marked the beginning of Goodwill Industries.
Today, Goodwill Industries International has grown to include a network of 157 community-based, autonomous member organizations in the United States and Canada, and 12 in other countries.
Goodwill Industries of Akron was established in 1927 in a one-room salon at the corner of Howard and Furnace Streets as a branch of Goodwill Industries of Cleveland. In the 1950s, Goodwill staffed 15 employees and reported an income of $23,000. Within ten years, Goodwill expanded to 178 employees and reported an income of $360,500. By the year 1999, Goodwill had served 3,948 people and placed 428 people in competitive employment.
After much anticipation, Goodwill Industries of Akron relocated from South College Street to Waterloo Road in 2000. Goodwill continues to flourish today. In 2020, Goodwill served 9,669 individuals and placed 446 individuals that were ready, into competitive employment. Goodwill continues to assist individuals to strengthen the skills needed to be successful in the workforce and the self-sufficiency tools needed to be successful in life.
For more information about the history of Goodwill Industries International, visit www.goodwill.org.
Message From the President
Do you remember your first paycheck? Did you frame the first dollar you earned? Did that first paycheck enable you to buy some groceries or to make a car payment?
For those with barriers to employment, the pride (and the joy) of that first paycheck or a steady paycheck can be elusive. Goodwill's mission is to help individuals prepare for, find and retain employment. It strives to fulfill that mission in many ways. Its Workforce Development areas (also known as Vocational Services and Employment Resource Centers) provide direct services to participants. Thanks to key funding sources, Goodwill offers a comprehensive menu of services including job readiness training, work habit adjustment, career counseling or job transition training depending upon the needs and goals of the individual participant. Its Retail Operations sell donated goods and its Business Services render  services to produce revenue to fund Goodwill's mission and to provide training or employment opportunities directly to participants.
For more than 90 years, Goodwill Industries serving Summit, Portage, Medina, Ashland and Richland County has steadfastly strengthened the region's workforce. Many strides have been made thanks to the generous donations of goods and funds by the public and the dedication of its staff, directors, volunteers, funding sources and community partners. However, barriers still exist and Goodwill needs your help to overcome them. Thank you for visiting Goodwill electronically to learn about its mission and the power of work. I encourage you to become involved with Goodwill Industries in a way that fits for you – as a customer, a donor, a volunteer or a participant!
Nan McClenaghan, President & CEO