It is August, and it is hard to believe it, but it is back-to-school time already. The summer flew by for me and my two children and they are starting school in two weeks. While we have made memories and enjoyed the summer together, I think we are all ready for the Fall and having a schedule again.
I love back-to-school shopping. I pick two days in August and take my kids out to lunch and we go school supply shopping one day and school clothes shopping the next day and we always have the best time together.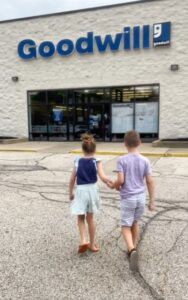 When it comes to clothes shopping for back to school, I love shopping second-hand first. I like to make a list before I go shopping of all of the things my kids need for the Fall, Winter, and the end of Summer and find pieces to mix and match with items they still have in their closets, and create a capsule wardrobe. One reason I love shopping at Goodwill for back-to-school fashion is that I can find unique pieces with designer and name brands that are styles they love at an unbeatable price.
This year my kids and I went shopping at the Wadsworth, Ohio store. I love this store especially for kids because they have a large selection of shoes and clothing. As we browsed through the clothing racks in the boys and girls section and I found so many great name-brand pieces in like-new condition. A few things that stood out to me were:
Uniforms– I saw a variety of solid color polos and pants that would be great to add to a student's wardrobe who needs to wear a uniform daily.
Athleisure Wear– I found a variety of Nike, Under Armor, Adidas, Champion, and New Balance shorts, shoes, pants, leggings, and hoodies for boys and girls.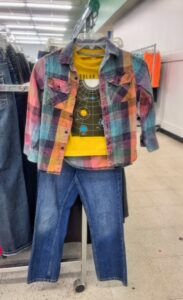 Shoes– I found many pairs of boots, snow boots, sneakers, and dress shoes that looked brand new
Jeans– We found a large variety of all types of jeans for boys and girls in like-new condition from brands like Gap, Old Navy, Abercrombie, Target, American Eagle, H&M, and Zara.
Dresses, Sweaters, and Coats– I found several zip-up fleeces, coats, dresses, and sweaters perfect for the Fall and Winter seasons in all sizes for both boys and girls. I picked up a Lacoste sweater for my son for $2.79!
School Supplies– I was excited to see how many school supplies the Wadsworth store had. I found three-ring binders, packs of paper, packs of scissors, new packs of glue sticks, and new packs of markers and crayons.
Backpacks and lunch boxes– I always find like-new or new with tag backpacks for kids while thrifting as well as lunch boxes. I found a new backpack for each of my kids for under $5 each from Herschel Supply Co. and Life is Good.
College Dorm Room Essentials– Goodwill is a great place to stock up on unique college dorm room essentials like plates, cups, furniture, lamps, and décor.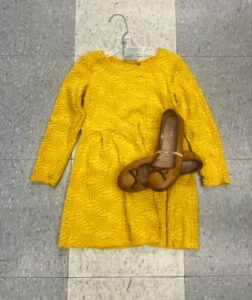 Back-to-school shopping can seem intimidating, time-consuming, and expensive but when you shop at Goodwill it can be affordable, fun, and sustainable. I love that I not only save money shopping at Goodwill but also feel great that I am supporting Goodwill's mission to support job training for people in the community.
-Erin