I love holiday décor. I have totes in my basement organized by season and love to switch out items with the seasons to freshen up and personalize my home.
I do not however like to spend a lot of money on seasonal décor. It tends to be expensive and can add up when you are only displaying things for a few months out of the year.
Thrifting and upcycling can be a great way to incorporate thrifted items or items you have on hand and turn them into something special for your home or as a gift.
Stamped books are an inexpensive and easy way to customize a piece for your mantle, coffee table, shelf, or side table. I have made these several times for friends and family as gifts and they are a great item to customize for each holiday or season.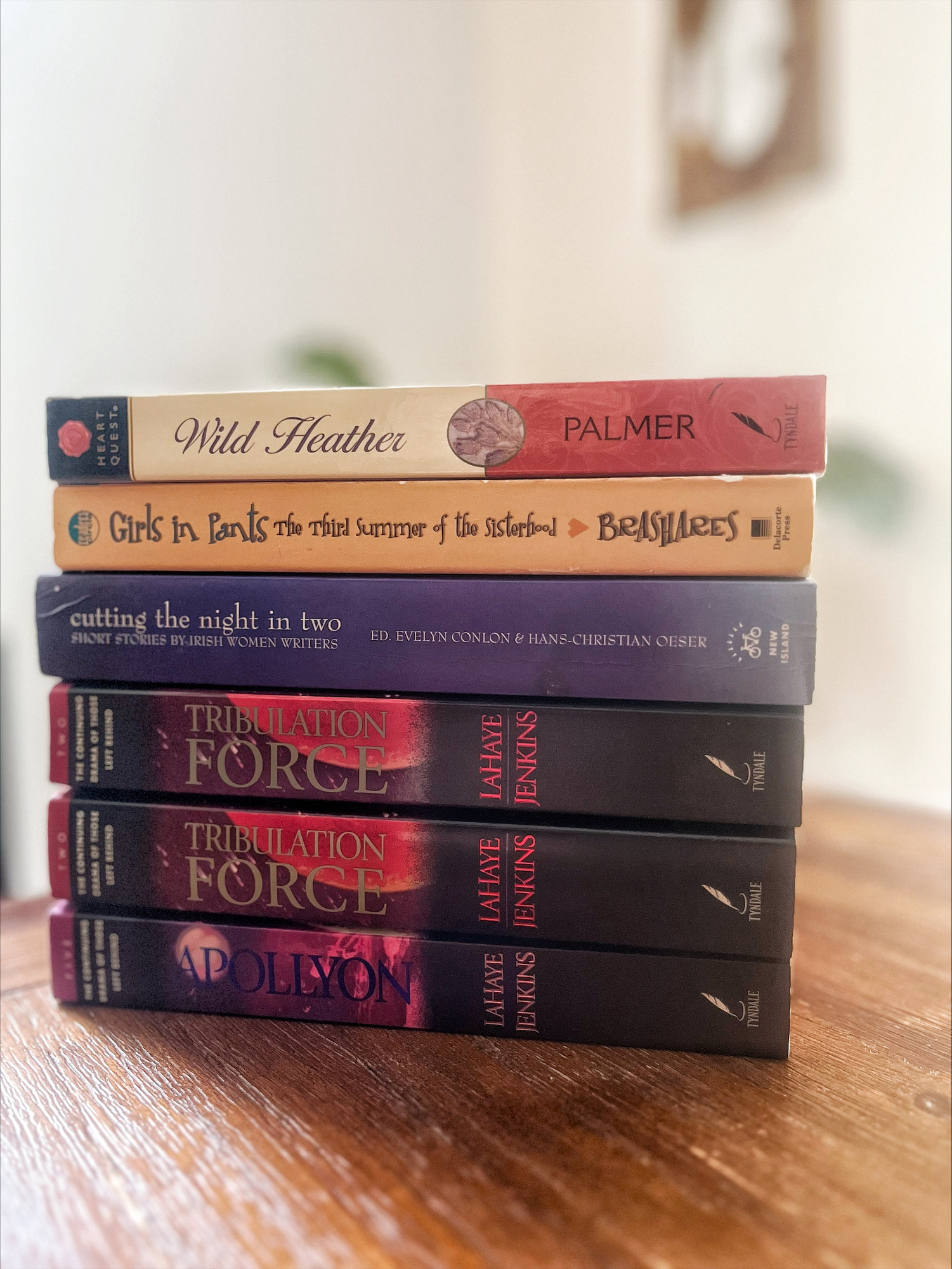 To start this project, you can look for books you may already have on a bookshelf or ones that are collecting dust in your basement that you have wanted to donate. If you do not have any go to your local Goodwill and look for softcover books that are in the same series or around the same length and height. Softcover books are inexpensive around .50 cents to $1 and you can find a plethora of books at any Goodwill store. Most of my stamped books stacks are three books but you could do two or four books.
I bought a set of stamps at Michaels and an ink pad a few years ago. I used a coupon and they were inexpensive and I am able to use them over and over. Once you have these items, the only things you have to buy each time are the books and the twine or leather to tie them together. Here is how you can create your own stamped books from thrifted softcover books:
Materials:
-Softcover books (2-4)
-A pack of Alphabet Stamps
-Ink Pad
-Twine or Leather (both of these are inexpensive and you can often buy these in a big spool and they will last you a long time).
Start by ripping off the covers of the books. Some you will find are easier to get off than others. If you find that the covers are sticking you can use a pair of tweezers to help get it off. You can also choose to paint the covers and spine with chalk paint. One to two coats will usually work great and you can get the same look just a little less rustic. I have also painted them with black chalk paint and stamped on white letters which looks nice.
Stamp on your words one book at a time. I like to work backward and line up the last letter of the word at the end of the spine of the book and work my way to the first letter of the word. You can use any color ink you like and can even get some fun stamps like hearts, pumpkins, Christmas trees, leaves, spiderwebs, bunnies, four-leaf clovers, etc.
Finish your book stack by cutting enough twine, ribbon, or leather to wrap around the book stacks about three times and tie a knot or a bow.
Showcase your custom stack in your home or wrap it up and gift it to a friend or family member.
I like to stamp fun sayings, song lyrics, movie quotes, children's or grandchildren's names, pet names, etc. You can stamp anything you want which makes it so fun and personal.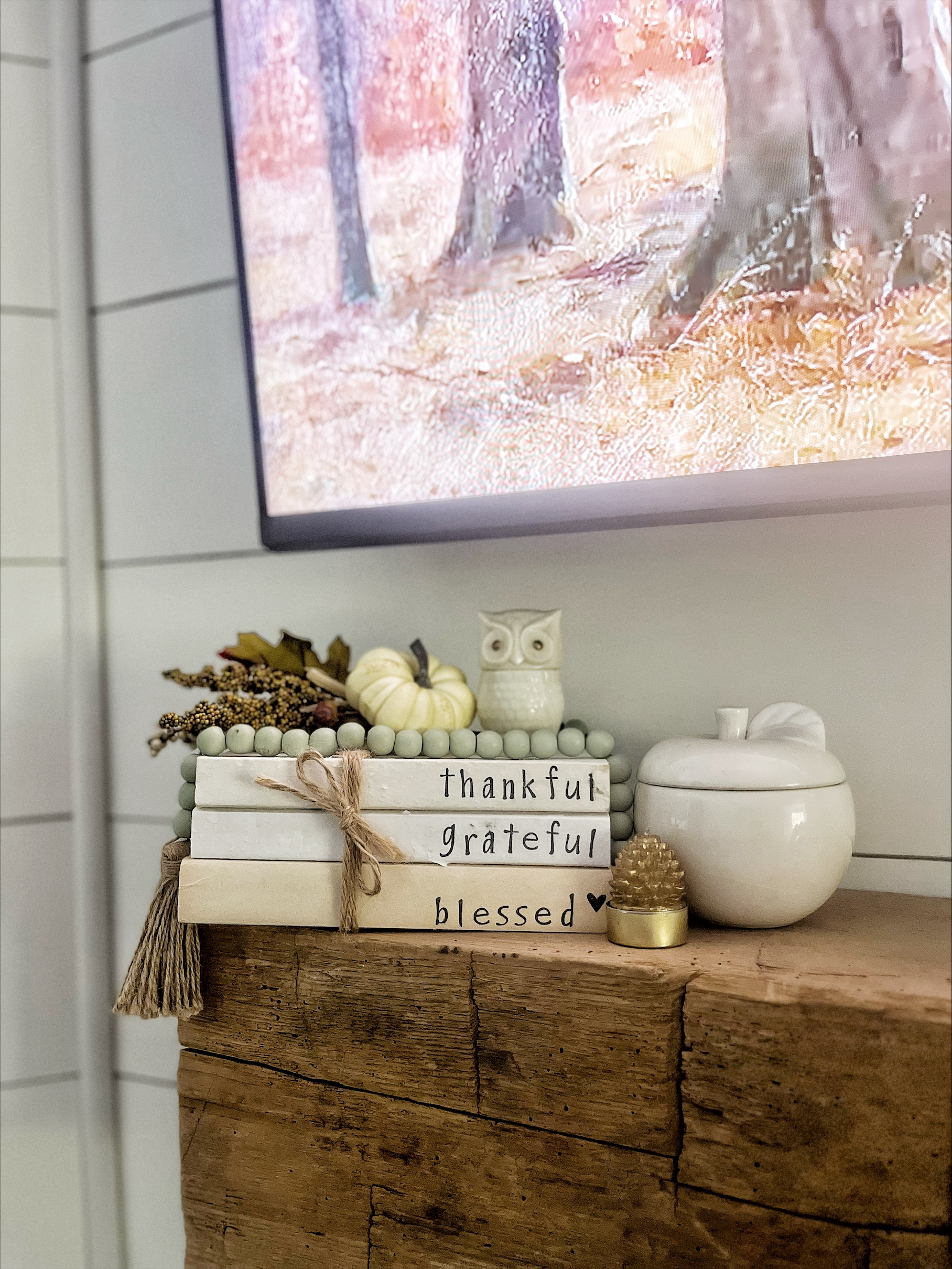 Some ideas for Fall and Halloween are:
– Fall Leaves and Pumpkins Please
– Thankful, Grateful, Blessed
– Crisp Air and Crunchy Leaves
– It's Fall Y'all
– Football, Flannels and Fall
– Welcome To Our Patch
– Happy Fall Y'all
– S'mores, Campfires, Hayrides
– Potions, Spells and Curses
– Potions and Spells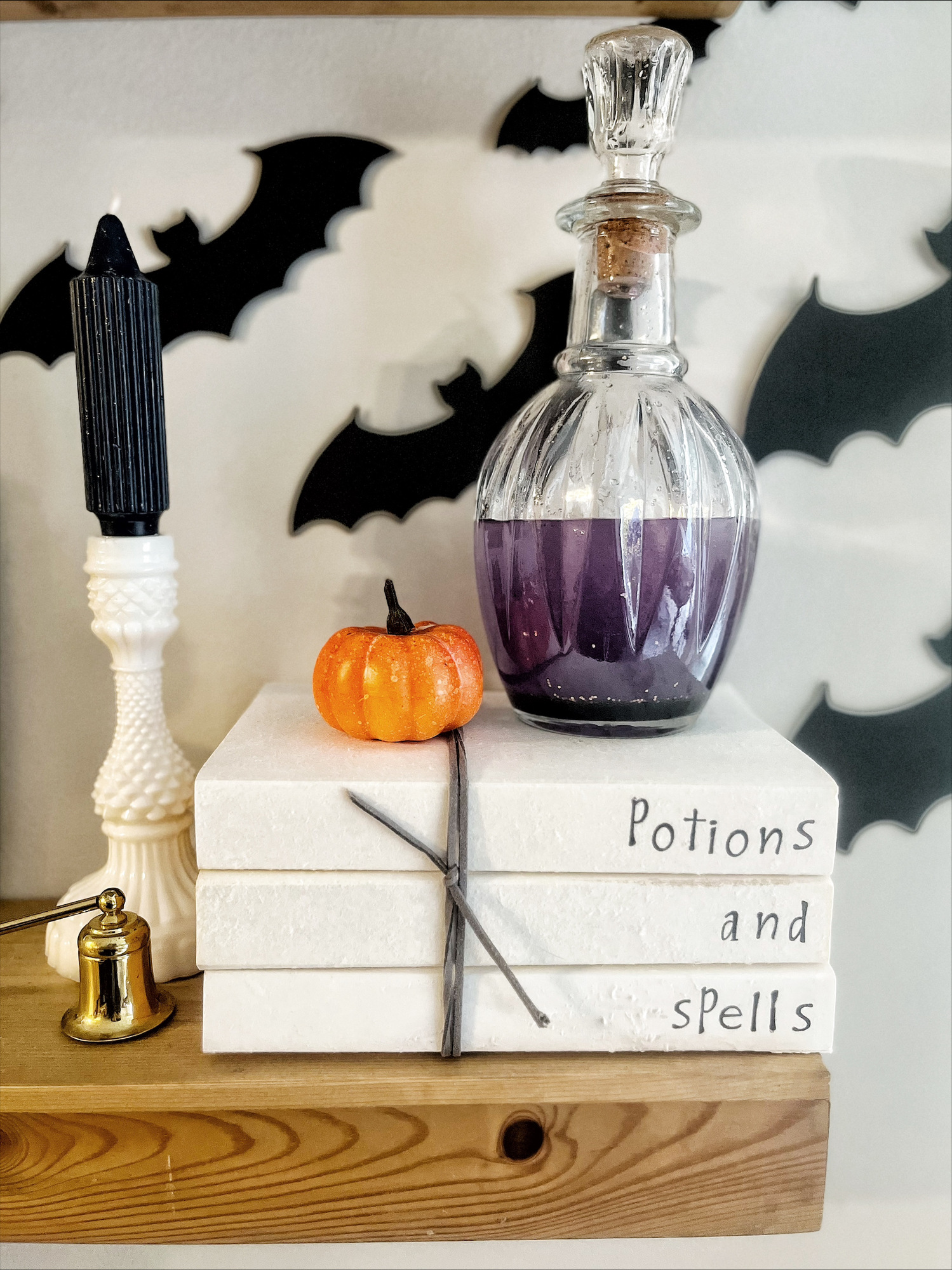 – Book of Spells
– Happy Halloween
– Trick or Treat
– Boo! Happy Halloween
– It's Just a Bunch of Hocus Pocus
– Amuck, Amuck, Amuck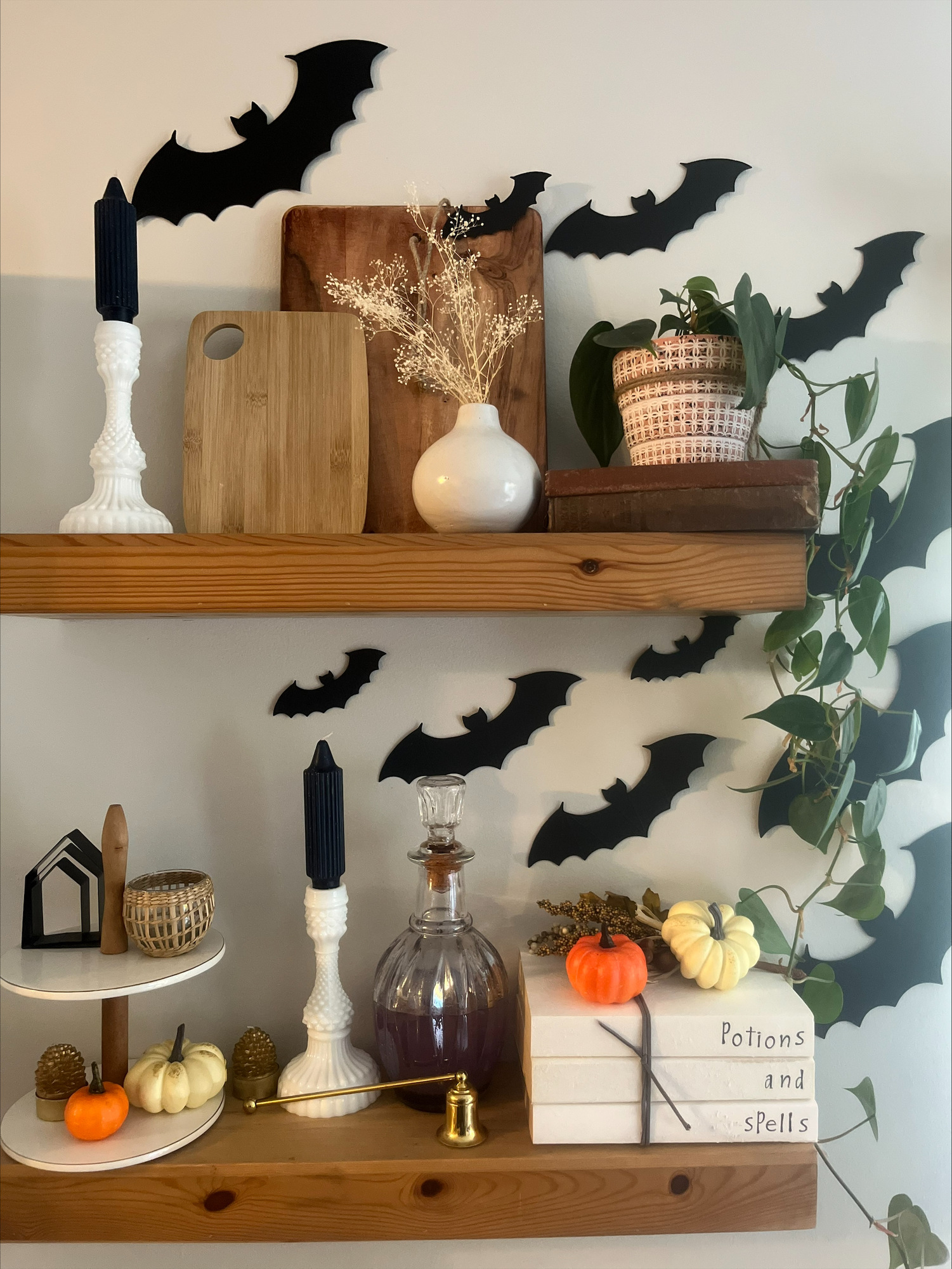 The possibilities are endless and it is so fun to personalize these. I hope the next time you are thrifting that you pick up a few softcover books and create some fun seasonal or customized stacked stamped books. If you make some be sure to tag Goodwill Akron and me so we can see your creativity.
-Erin