12 boots to add to your Fall/Winter wardrobe
I don't know about you, but Fall is my favorite time of the year! The colorful, changing leaves, the chill in the air and the holiday season approaching, all make me so happy.  I also love Fall clothing and the cozy, warm outfits and layers.  One of my favorite Fall and Winter wardrobe staples are boots!
At the first sign of cooler temperatures, I bring out all of my sweaters and my boots and cannot wait for opportunities to wear them.  We all know that with Thanksgiving approaching, the Black Friday sales will be everywhere.  It is so tempting to purchase boots on deep discount shopping days like this, but I would love to provide a Fall boot essential guide to keep in mind when you thrift as well.  Some thrift stores may list their name brand boots a little higher than the normal price, but many times you can find boots of all types for everyone in the family for under $10 when thrifting.  There are many styles of boots to keep in mind when shopping so I am hoping this guide will demonstrate how to style different types of boots but also mix and match to get the most out of them not just this Fall and winter but for years to come! All of the pictures below are boots that I have personally thrifted over the past few years.  It is possible to build your wardrobe with only thrifted items and still be in style and find boots that are name brand and in amazing condition.
Rain Boot
Rain boots are a classic pair of boots that are a necessity for rainy and even snowy days. The key here when thrifting is to look and make sure they look new and do not have any wear, cracks or tears in them. If you can find Sorel or Sperry rain or leather boots that are waterproof, this is another great option to have.  Rain boots are easy to clean and a great option to make sure your feet stay warm and dry.  I love searching for Hunter boots for my daughter each year for her set of rainboots.
Hiking Boots/Snow Boots
These boots are another pair that are nice to have for times when you are going for a hike, or are going out in the snow.  These will not get a ton of wear, but when needed, they are so nice to have on hand. For shoes that are more situational, like these, I like to thrift them and most of the time for hiking or snow boots, they have only been worn once or twice or not at all and are in new or like new condition. I always thrift my kids snow boots each year, because they grow out of last seasons and I can usually get like new boots for both of them for $3 each.
Over the Knee Boot
Over the knee boots are a statement boot! These are not boots you will wear often with many outfits but it does elevate your look and make a bold statement.  This style may not be for everyone but thrifting over the knee boots are a way to save money while adding something special to your Fall and Winter wardrobe.  These boots are great with mini or midi dresses, with short skirts or with a pair of faux leather leggings.  They also can elevate an outfit with a pair of skinny jeans.  You can look for structured, leather over the knee boots or opt for a slouchy suede pair.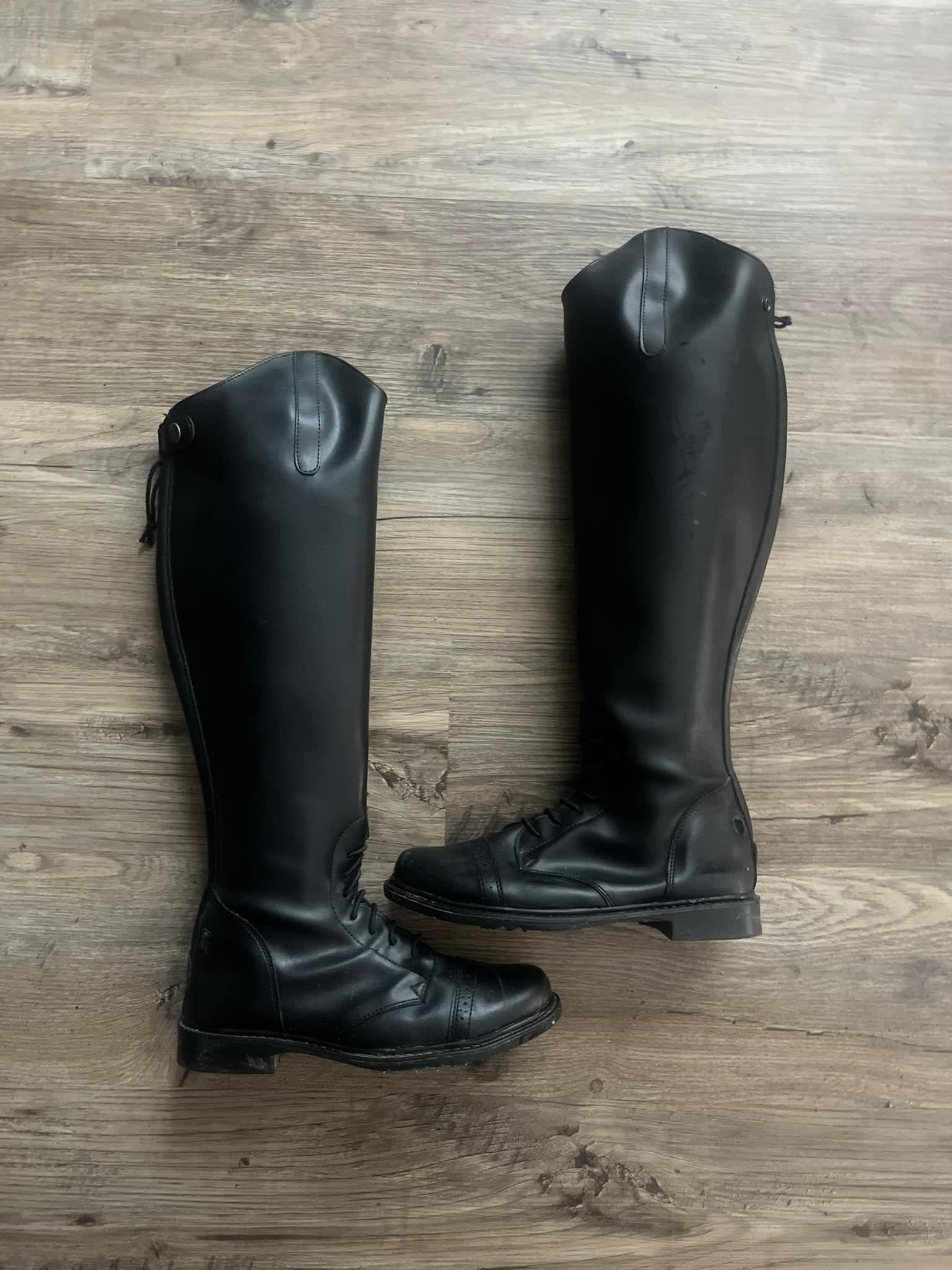 Duck Boot
 Duck boots are another classic boot that will last for years and never go out of style.  Most duck boots are waterproof but others are not, so make sure to research if it is waterproof if that is what you are looking for.  These boots are great for walking outside, to pair with some jeans and a flannel, or a hoodie and leggings.  They come in different sizes and styles and most have a lining to keep your feet warm and dry.  I love to look for Sperry duck boots because they last forever and are great quality.  I have found several pairs in amazing condition already this year.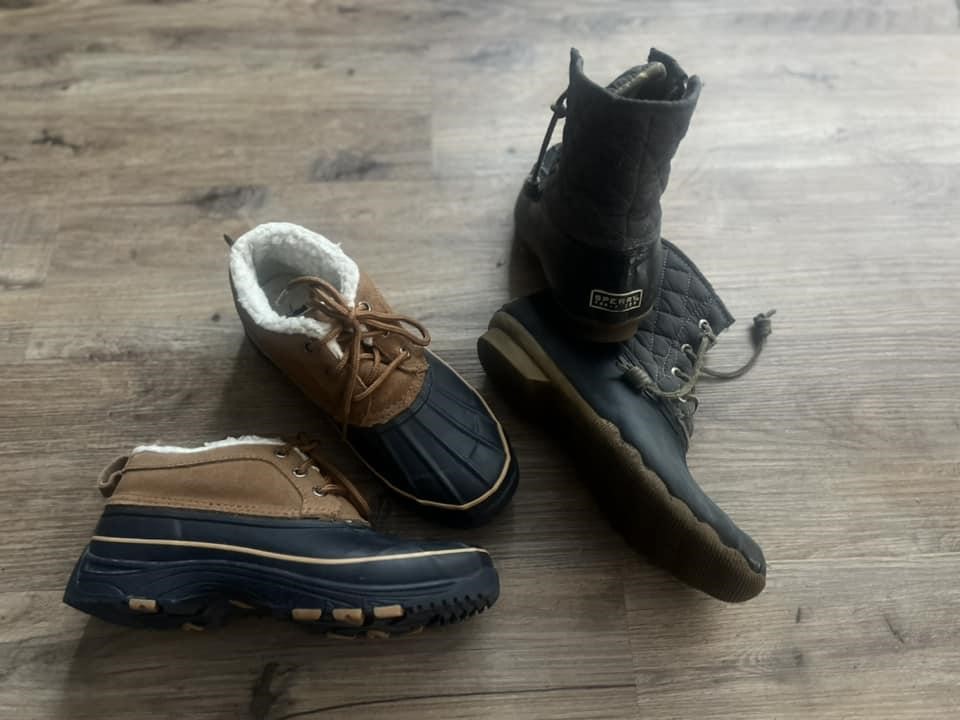 Combat Boot
Combat boots are another statement boot and not something you will wear with everything.  These have come back into style the past few years and are more of a trendier boot so with this style, I like to thrift it so that I can save money and not invest too much into a shoe that may go "out of style" soon.  I always keep my eyes out for Doc Martens but also look for any type of combat boot that looks like it is in good condition or like new condition.
Tall Boots
Tall boots or riding boots are perfect for a variety of outfits.  I love to pair this type of boot with a dress, a skirt or over leggings or skinny jeans. This can dress up a look and also provide warmth to your outfit with the added length of the boot.
Booties
Booties are one of my favorite boots to thrift.  There are so many styles of booties in a variety of textures, heel sizes and fabrics.  I love to look for a pair of brown and black booties to go with everything, and also like to search for some animal print booties for a fun statement shoe.  You can look for kitten heel booties, block heel or short heel booties and some have fun cut outs on the side, buckles and glitter.  You can wear booties with different styles of jeans, dresses, skirts, dress pants, and leggings. These are the styles of boot I can find the most while thrifting.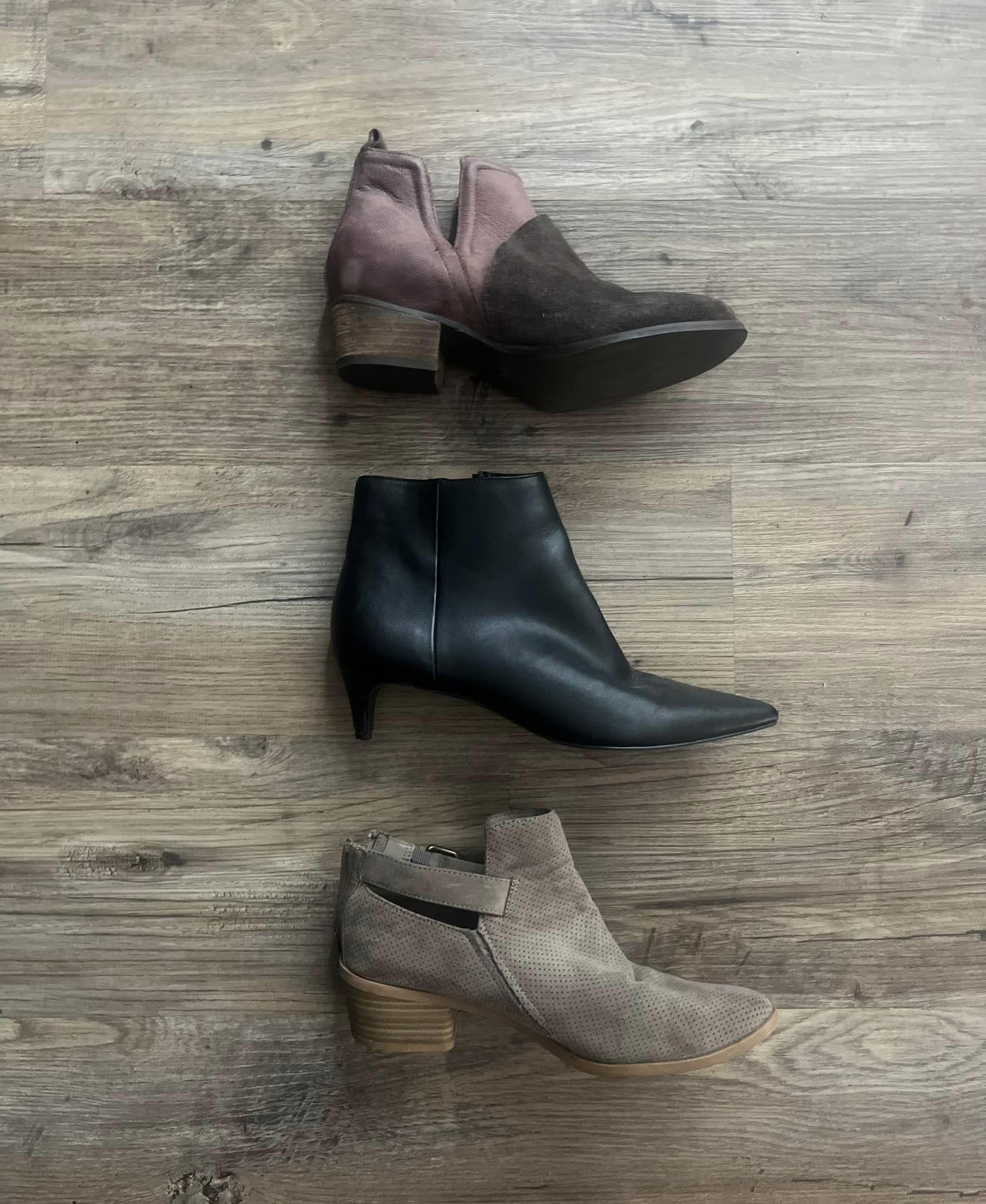 Chelsea/Lug Sole Boot
I love a good Chelsea boot.  These are another type of boot that may be more of a trend than a staple but if you can find them, make sure to pick them up.  I love the chunky look with the lug sole with some leggings, jeans or a skirt.  I also love how they look paired with a pair of high socks.
Ugg Boot
Ugg boots are the most comfortable of all the boots and will be sure to keep your feet the warmest as well! There are many different styles of Ugg Boots and they are on the pricey side if you purchase retail.  I find these periodically while thrifting and I always come across Ugg dupes.  I make sure that the material is not damaged, that they look like they have not been worn much or at all, and that they are in good condition.  I like to put a suede protector on these to keep them from getting damaged.  This year I was able to score a pair for me and my daughter! These can be worn with casual outfits like sweats, leggings and jeans.  I have Ugg Tasman slippers on my thrifting wish list and hope to be able to thrift a pair this year!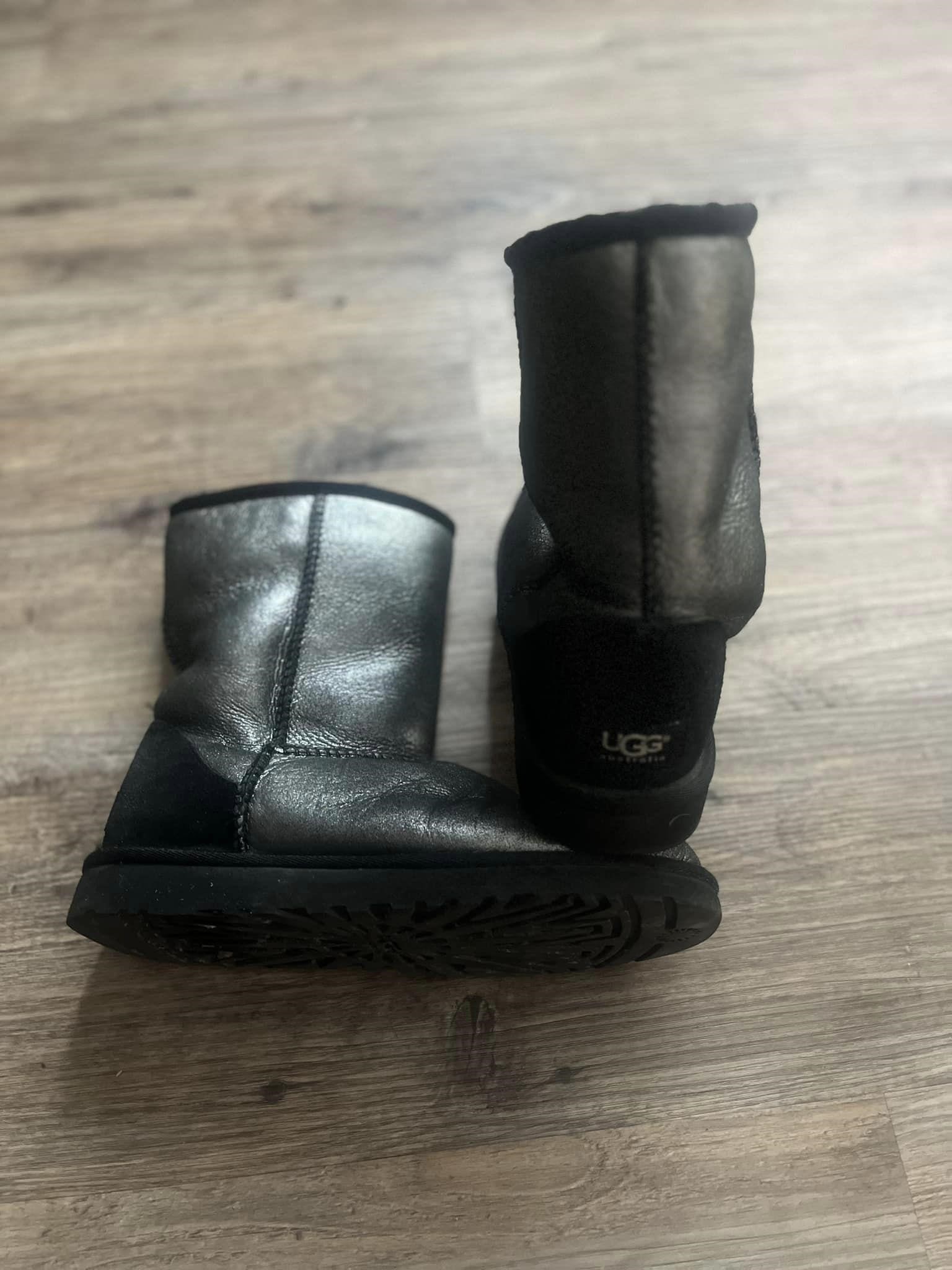 Cowboy Boot
Cowboy boots are another statement boot that would be a great option to add to your closet by thrifting.  I see this style often and most of the time they are in great condition.  I found a pair of cowboy boots two years ago and love to have them as an option with the right outfit.  These look great with a skirt, dress or jeans and I like to have them if I am going to a themed party or event where I can bust them out.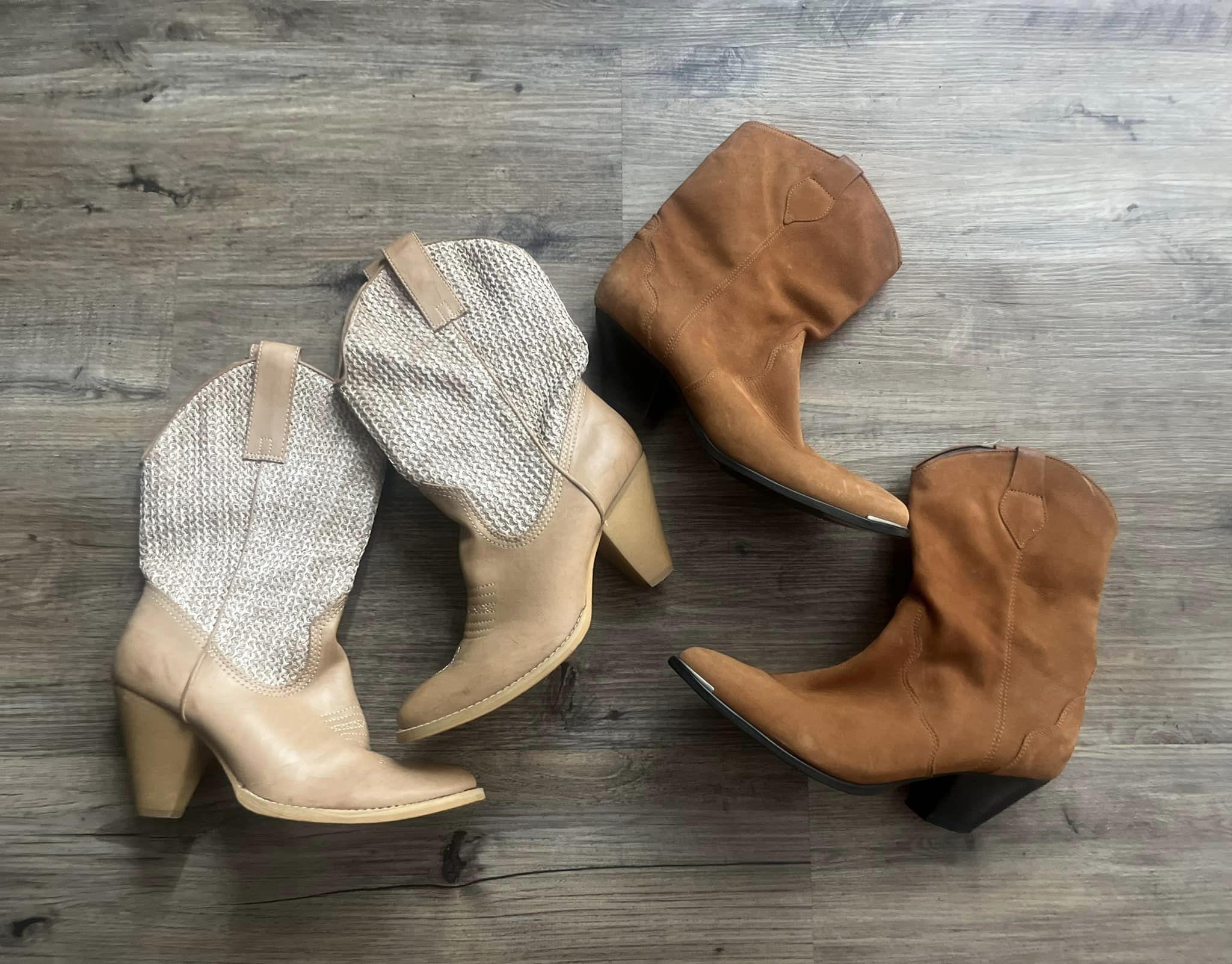 Sock Boot/Glove Boot
I have found this style a few times and each time I grab them fast because they are an amazing boot.  I found a pair of Evereve glove boots last year and they didn't look like they had been worn and retailed for over $150.  They are so stylish to wear with jeans, dresses, skirts, leggings and elevate your look but also are so comfortable.  If you can find these for a good deal or thrift them, I assure you, you will not regret it!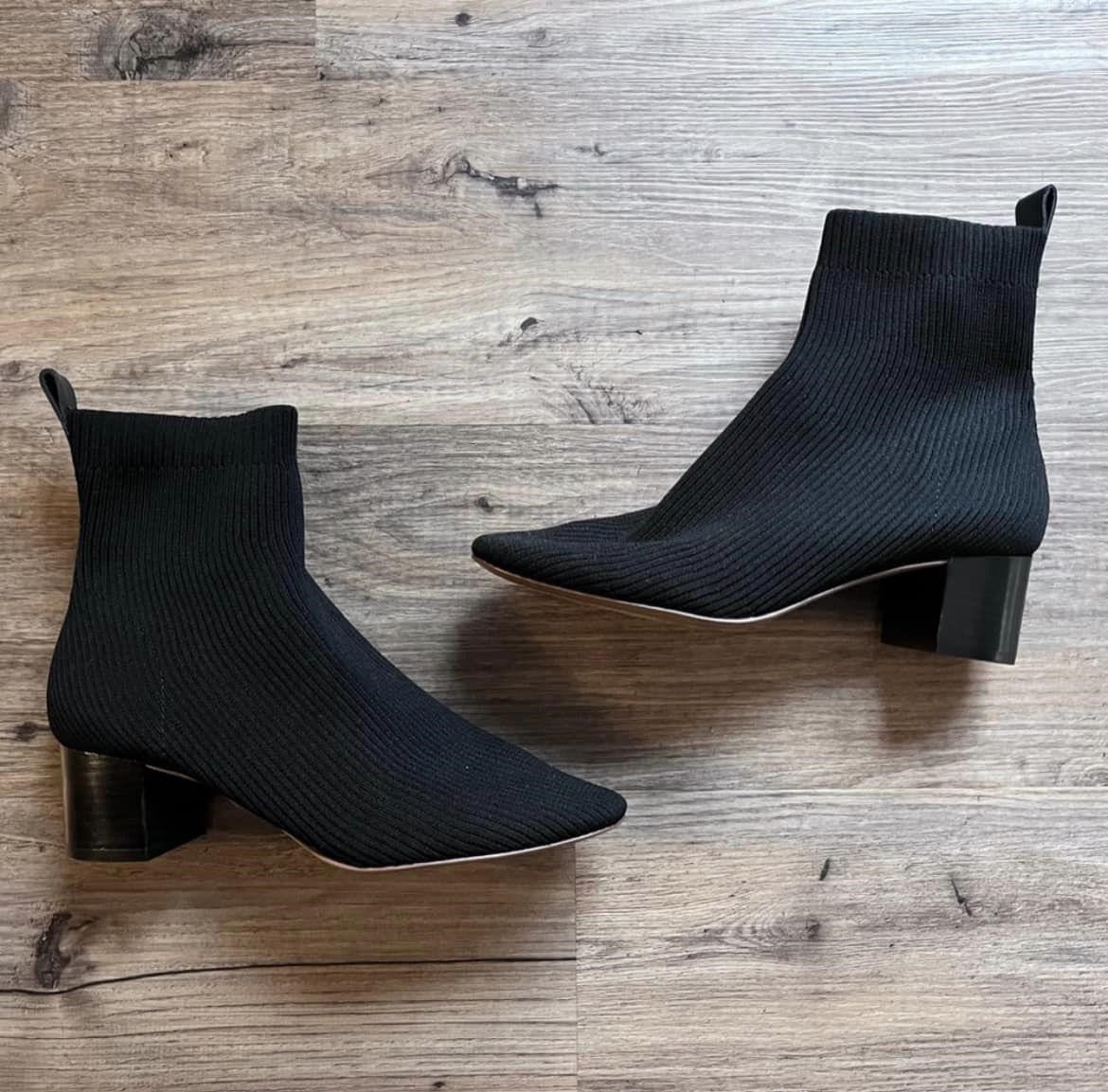 Ankle Boot
Ankle boots are another type of boot that are one of my favorites because they are so versatile.  They also come in a variety of styles, heel heights and fabrics and can be casual or dressy.  You can wear these with pretty much anything just like booties and I find these often while thrifting as well.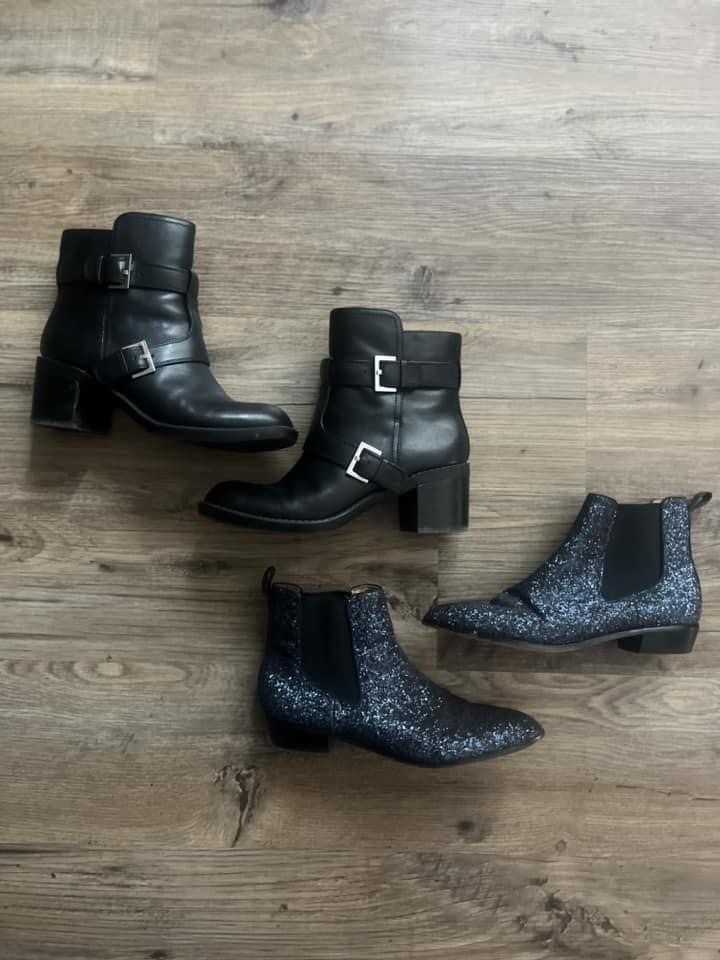 I hope this guide gives you some new inspiration when searching for new footwear for the cooler seasons. Make a list of boots you want to add to your closet and each time you thrift challenge yourself to keep looking until you find them.
Happy Thrifting!
Erin