Program Details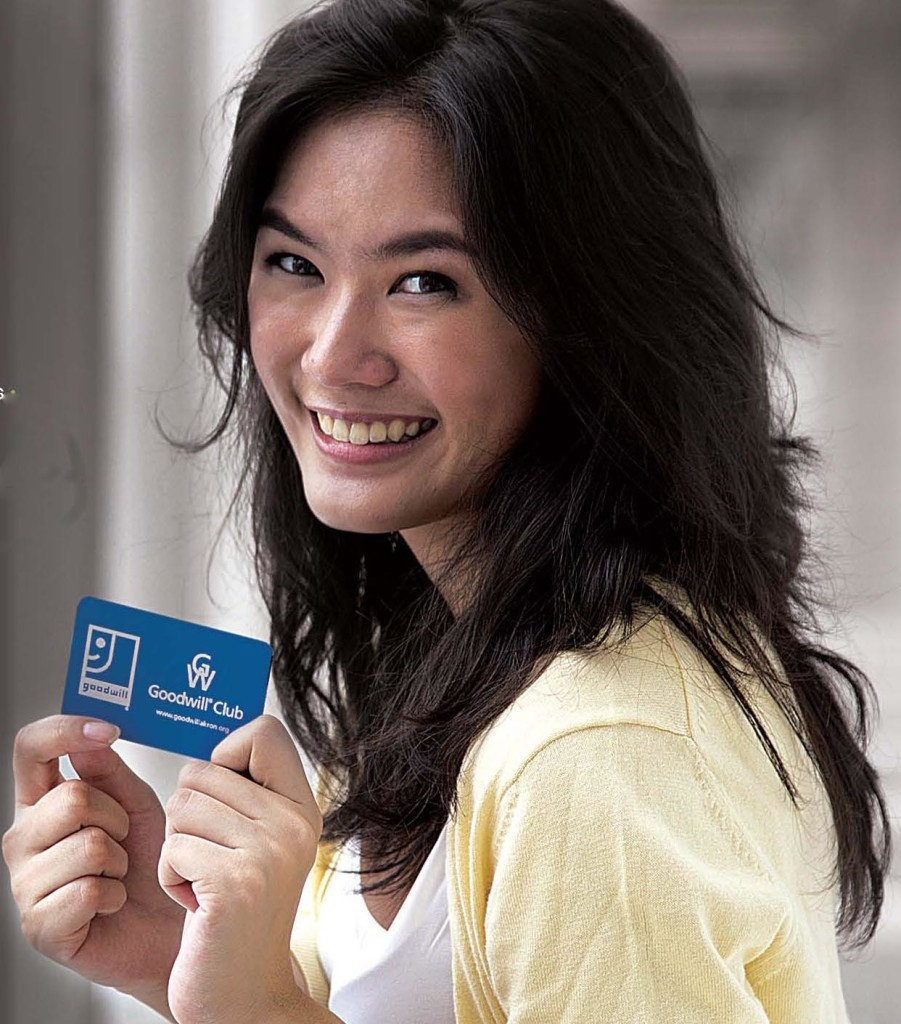 Receive emails for promotional discounts or offers
Receive double points on Customer Loyalty Days (Last Saturday of each Month in 2022)
35% off coupon reward every time you have accumulated 100 points. One discount per customer, per visit. Not valid on new goods, gift cards or at the Outlet store, eBooks and shopgoodwill.com. Cannot be combined with other offers or coupons.
50% off discount on one item on your birthday. Not valid on new goods, gift cards or at the Outlet store, eBooks and shopgoodwill.com. Cannot be combined with other offers or coupons.
Knowing that every purchase you make at Goodwill supports its mission to help individuals prepare for, find and retain employment
Frequently Asked Questions
What is the Goodwill Club?
Goodwill's free rewards program, Goodwill Club, is our way of saying thanks for shopping with us! As a member, you will receive discounts and earn rewards based on every dollar you spend in our retail stores (excluding new goods). Every $1.00 spent is equal to one point.
How does it work?
Sign up in the store at any cash register. The sales associate will be happy to issue a Goodwill Club card to you that you can then show every time you make a purchase at Goodwill locations in Summit, Portage, Medina, Ashland and Richland Counties.
What discounts and rewards will I receive as a Goodwill Club member?
Every $1.00 spent is equal to one point (excluding new goods). Once you reach 100 points you will receive a 35% off your entire purchase coupon to be redeemed within 60 days after receipt. Discount not valid on new goods, gift cards or at the Outlet store, eBooks and shopgoodwill.com. Cannot be combined with other offers or coupons. Multiple discounts can be earned in one shopping trip.
How do I sign up?
To join the Goodwill Club, please visit any sales associate at the Goodwill retail store where you will receive a free membership card. The sales associate will ask for your driver's license to scan to collect your information, email address and date of birth to receive a special birthday bonus.
Can I sign-up for the Goodwill Club without an email address?
Yes, you can sign up for the club without an email address. Without the email address, you will not receive notifications on monthly promotional discounts and offers, but you can call 844-786-2535 to hear weekly promotional offers available.
How do I check on my rewards?
Current point balances will be included on your receipt.
Can I use my card on sale items?
Yes. Points are taken from the total amount you spend in the store (excluding new goods).
How many rewards can I use at a time?
You can use one reward at a time.
Can I still get a military or senior discount when I use a reward?
No, you can't use your senior or military discount in conjunction with your Goodwill Club discount. You can use either one or the other.
Can I still use a coupon when I use a Goodwill Club reward?
Goodwill Club rewards cannot be used with any other coupons, discounts or promotions.
Can my family members use my card? What if they want their own card?
You can share your card with your family members if you choose. If a family member would like their own card, they simply need to sign up to receive a card that will track their earned rewards separately.
What if I lose my card?
To replace your Goodwill Club card, go to any Goodwill store. They will deactivate your old card and provide you with a new activated card. Your rewards will transfer to your new card.
Can Goodwill Club rewards be used in the Outlet or online purchases such as shopgoodwill.com?
No, rewards and discounts can only be used at our traditional retail and boutique locations.
Why do you need my birth date?
We want to make your birthday even more special by sending you a birthday reward.
How will you use my contact information?
We will use your contact information for the purpose of updating you on the rewards program, notifying you of upcoming promotions or Goodwill news. We will not share your information with any other organization or individual.
What if I have questions or need help?