The holiday season is upon and I absolutely love this time of year. The smells, the sights, the decor, and the nostalgia that encompasses this time of year are my favorites. As I look at my calendar for the rest of the year and into the New Year multiple gatherings, meals, parties, and celebrations are coming up.
When I start to plan out what food or hostess gifts to bring to others the cost of all the items can add up fast. Something that I have challenged myself with the past few years is to provide food, flowers, and gifts when I gather at other's homes but skip the flimsy and expensive disposable aluminum pans, and thrift for containers, serving platters, pans, cake plates, and vases.
When I am going to holiday parties and want to bring a hostess gift, I like to have a stockpile of fun thrifted items to gift.
As I thrift throughout the year, I stock up on vases and planters on hand to put flowers in to bring to the host to brighten up their space and say "thank you".  I like to look for hobnob milk glass vases and planters to fill with and highlight the vibrant red color of poinsettias, roses, and other green, white and red flowers for the holiday season. I also like to look for colorful orange, brown, red, and green vases and tie a festive holiday ribbon at the top. I have found beautiful pottery that can be used as a planter and vintage planters that match friends' and families' decor. Every time I thrift I can easily find a variety of vases and planters for .50-$3 and build a fun collection that can be used not only for the holidays but for "just because" flowers or plants, flowers for a celebration for a friend or flowers for a friend going through a hard time.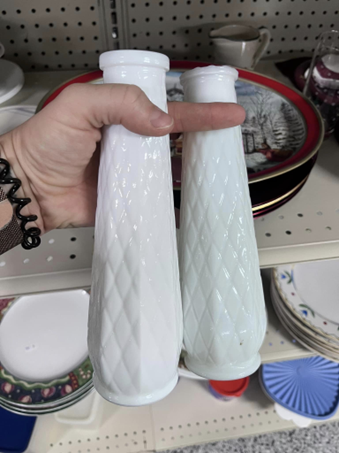 Another fun hostess gift I like to give is a cake stand. I do not find them often but when I do and they are a good price I like to have them when I am going to someone's house to bring a cake or cheesecake (homemade or store-bought) and instead of taking the plate home, because it was so inexpensive, I ask if they want to keep it or keep it to pass on.
I often find bread pans in like new or new condition and I will make pumpkin, banana, zucchini, or sourdough bread. Wrap it in pretty fabric and tie it with a ribbon and gift them some homemade bread with a pan they can keep or re-gift.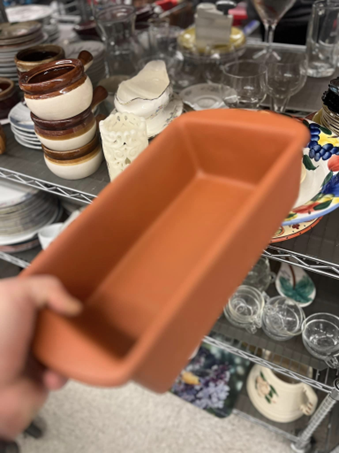 If I am making a dish for an elderly family, a new mother, or a friend going through a hard time I like to look for glass or vintage cake pans, pie pans, and food containers at the thrift store to deliver them in. I recently was making and delivering a chicken pot pie to a new mom friend and went to look at a department store to see how much disposable pans were. I was shocked to see how expensive one-two disposable pie pans were and they were so flimsy on the bottom. I then went to Goodwill and found a beautiful white pie pan in perfect condition for $2 and a brownie pan for $1. When I delivered it I put the recipe card and a note with the meal that said they could keep the pan, reuse it to bless another person with the same meal or they could donate it back. This is so much more sustainable and eco-friendly and everyone I have done this with loves it. One friend reused the pans I gave her and recently gave them to another new mom friend.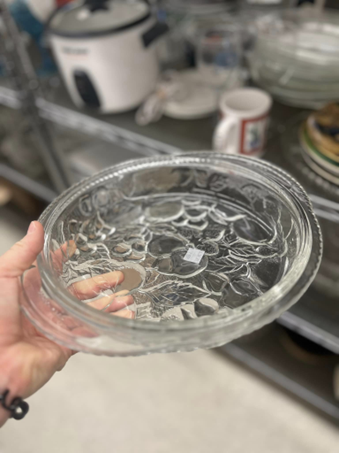 I also have found some beautiful holiday platters while thrifting and like to pick them up for when I am going to a holiday party. I will put cookies or snacks on the platter and ask the guest if they want to keep it.
My last tip for an eco-friendly sustainable way to prepare for the holidays is to look for wrapping paper, bows, and ribbons while thrifting. I have found so many unique velvet ribbons, vintage wrapping paper, little items to add to the gift tags, and beautiful bows to use for my gift wrapping. A friend gave me this tip a few years ago and it is so fun to hunt for vintage, unique items to thrift instead of buying new.
I hope these little tips inspire you to think outside the box as you host, make meals, or take gifts to others this holiday season. Have a Happy Thanksgiving!
Happy thrifting- Erin