I love to shop for home decor items for my home, and thrifting them is my favorite way to shop. My style is a little eclectic with a heavy influence of mid-century modern, mixed in with some vintage style.
When I go thrifting I love to see the potential in items that I can make work for my style and home. I also like to save inspirational photos on my phone of items that are out of my price range or sold at stores that I will never purchase from. I challenge myself to recreate those things with thrifted pieces and DIY or alter them to look like the more expensive items that only cost a few dollars.
I want to share three items I recently purchased from Goodwill Akron stores and show you how easy it is to use things you already have to recreate things you have your eye on or to get creative and think outside of the box to DIY things to match your style, budget, and home.
1. Painting Picture Frames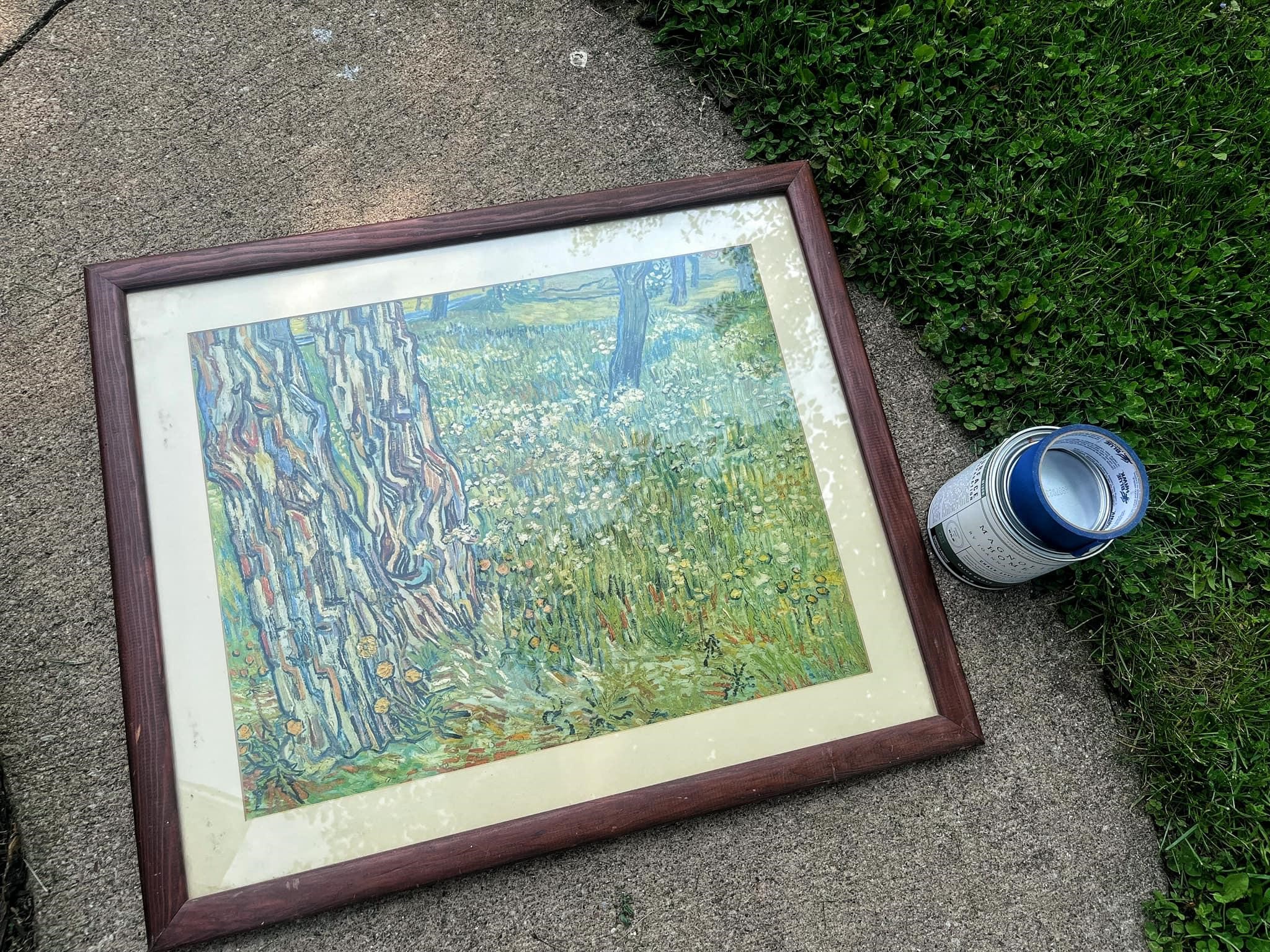 I always like to scan the art and picture frames when I am thrifting. Many times a print will catch my eye, but I will not like the frame it is in. Sometimes you can easily purchase the framed photo, pop out the print and reframe it, but with older pictures, the only option you have is to paint the wooden frame it is in. Depending on the color of the wood, I will leave it, but when I saw this Tree Trunks in the Grass by Vincent Van Gogh print, I knew it would look great on my gallery wall in my living room but I was not the biggest fan of the wooden frame. I remembered I had some Magnolia Home chalk paint in a pretty green color in my basement so I purchased the picture for $4.50 excited to see how I could transform the piece for my living room.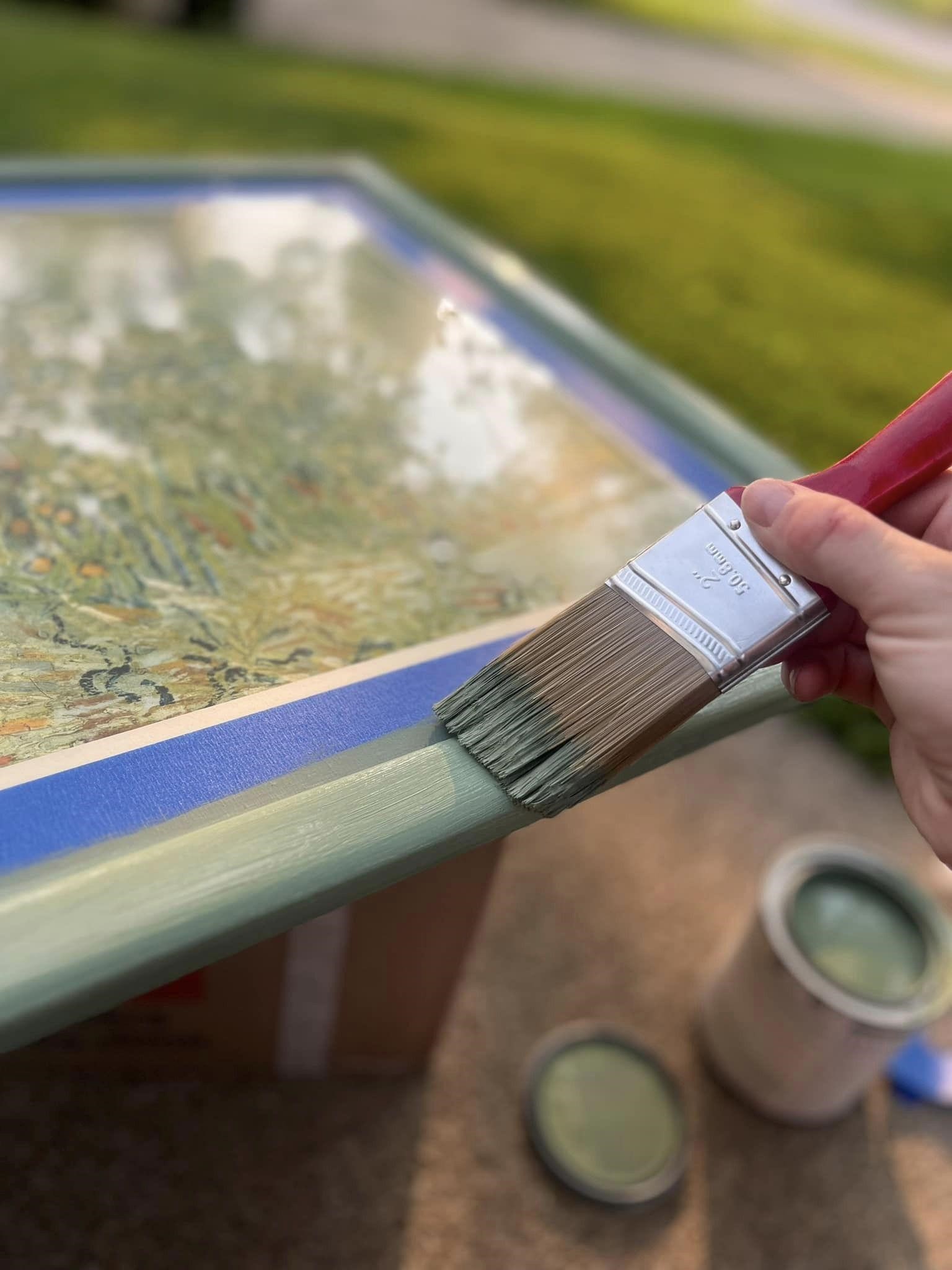 I took the picture home, cleaned the wood and the glass, and let it dry completely while I mixed the chalk paint. I taped the inside of the picture with painter's tape and used a paintbrush I had on hand. I had to put about three coats of chalk paint on the frame, but it only took me about 30 minutes to complete. I let it dry completely overnight and by the next morning, it was ready to hang on my wall. I love the unique color of the frame and how it complements the colors in the print. Chalk paint and spray paint are inexpensive ways to transform a picture frame to match your color scheme or style.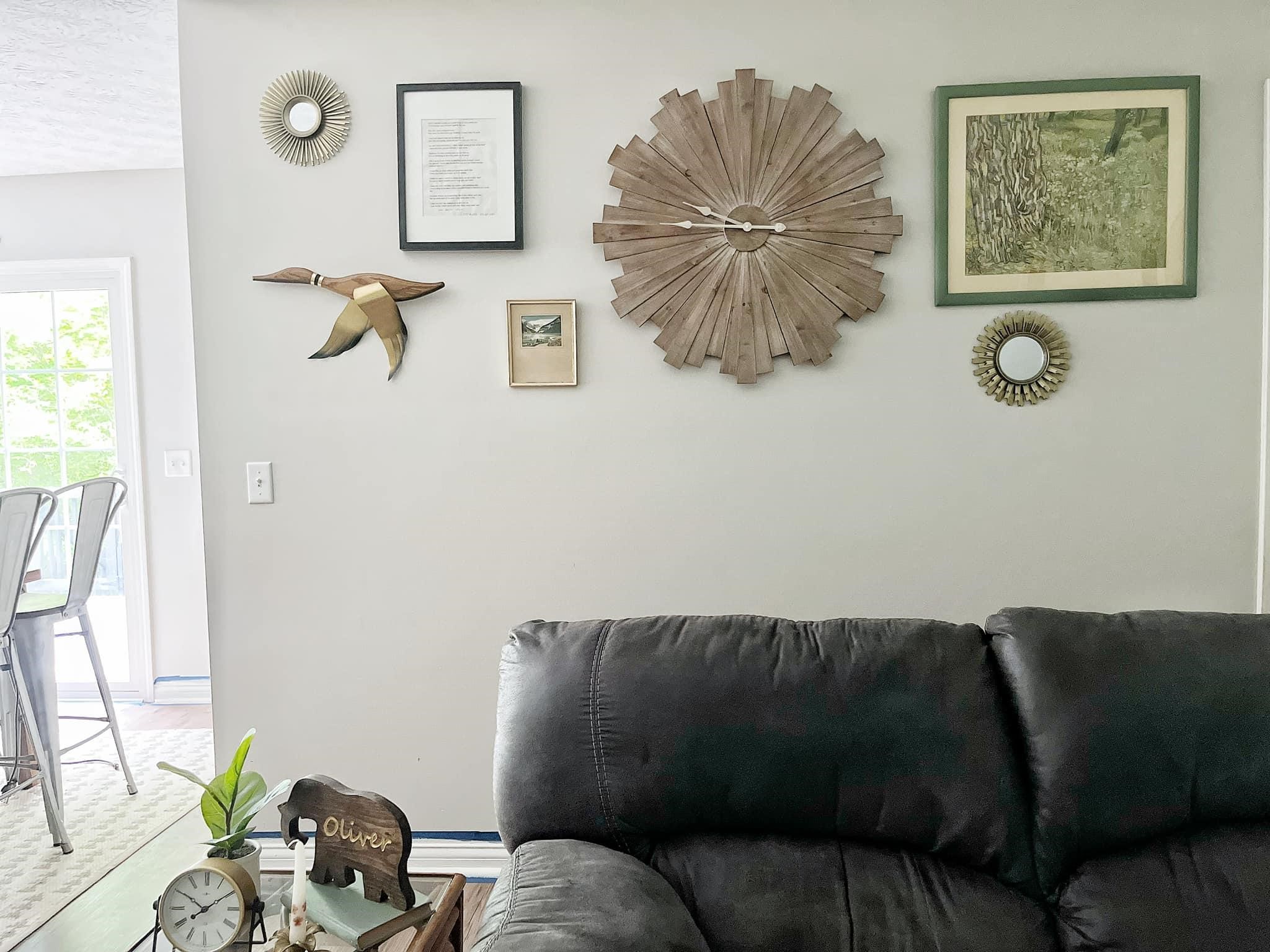 2. A DIY Vanity with Thrifted Items
My 7-year-old daughter has been asking me for a vanity for her room to do her hair, put on her earrings, and put on some play makeup. I am not sure how much or how long she will use it so I wanted to see how I could make this happen for her by only using thrifted items and items we have. One day I was thrifting and I did not see anything that caught my eye, and as I walked out the door I saw a table with some sheets on top of it and went to check it out. I took the sheets off of the top and saw a beautiful small wooden table with perfect caning around it. It was only $2.50 and I grabbed it and checked out. It was the perfect size for my daughter and I loved the style. It was the perfect fit for her room and I pulled a small chair from our basement that I almost donated that was left over from an IKEA table and chair set from years ago. The only thing left to find was a mirror for her. A week later I was looking through the art and saw a mirror for $2.50 and knew I could transform it to match her room and it was the perfect size for her little vanity.
I took the mirror home and cleaned it and spray painted it white with spray paint I already had. I put two coats on and let it dry completely overnight. The next day, I took the painter's tape and paper off of the mirror and knew that I wanted to do something a little more special to the frame of the mirror. If you find an old wooden mirror, the DIY possibilities are endless to customize it! Depending on your home decor style you can cover the wood with stick-on wallpaper sheets from the dollar store, you can attach a rope, seashells, or coral for a nautical look, you can hot glue faux flowers around the mirror, you can do a mosaic of colored glass, you could attach caning or feathers. There are so many great ideas that are easy and affordable to make a thrifted mirror look like one from Pottery Barn or West Elm.
Her room has a lot of gold in it, so I took some inspiration from some wallpaper I saw online and just used a paintbrush and gold spray paint that I had on hand to paint on some lines and make a little design around the mirror. I sprayed a puddle of spray paint onto a plate and used the paintbrush to create little lines around the mirror and I love how it turned out. To finish the look I hung the mirror above the table and she now has her own little vanity that I only spend $5 on. I am excited for her to have this little space and fill the mirror with little affirmations she can look at each day when she gets ready.
3. Fingerprint Modern Art
I love modern art pieces but even prints can be expensive to purchase online. I find a lot of older vintage art while thrifting but rarely if ever find quality modern art that fits in my home. I found a picture online a while back of some wall art from Anthropologie that was a monochromatic piece but it was $800! It looked like black fingerprints on a white canvas and I knew I could recreate this. It took me a little while to find a thin black frame but one day while thrifting I found a thin black frame with a blank white insert and I knew this was the piece I could make the Anthropologie dupe for my home. The frame was only $1.50! I had a bottle of black acrylic paint in my art supplies for my kids so I went home and popped out the white insert which was a thick foam poster board material. I put some paint on a plate and used different fingers to press into the board and pull down to create the design on my inspiration photo. The most special part of this is that my kids each came over and used their fingerprints to create smaller dots. This took about 40 minutes to create the pattern and I let it dry for a few hours, popped it back into the frame and it was on my wall and was perfect. The best part is I only spend $1.50 on this!
In one month I was able to hang two pieces of art in my home and create a vanity for my daughter and I only spent $11 total. These are all things I can repurpose later, move to different rooms, or change up the color or print if my home style evolves and changes. I hope that these ideas can spark some creative inspiration for you to incorporate next time you see something you love but do not want to pay retail prices, or if you see something but want to alter it to make it your own.
Happy Thrifting,
Erin