I am not sure about you, but when summer rolls around, I have an influx of baby showers, bridal showers, weddings, graduation parties, end-of-year teacher gifts, and host gifts. I used to get stuck in the rut of buying whatever was on their registry or picking up something at the last minute and throwing it in a gift bag or simply buying a gift card. In the past few years though, as I started trying to thrift things, I found such joy in curating gift baskets for all these occasions and more. Sometimes I cannot thrift 100% of the items that I give, but I can thrift most of it. This provides you with the opportunity to search for unique items specific to the style, theme, color scheme, and personal interests of the person you are gifting to.
I will preface this with the fact that you may have to shop weeks ahead of time because if you are a beginner or an avid thriftier, you know that most of the time you cannot find everything in one trip. You may have to go several times a week or once a week to search for specific items until you find them. This is the thrill of the hunt for me! I love it. Here are some ideas of where to start, what to look for, and how to create the perfect gift basket for all occasions.
Supplies Needed
Base Ideas- This is what will hold your gifts. Most of the time I will shop for the items I want to go into the gift basket, and shop for the base last to make use everything fits, and it is not too big or too small.
● Woven baskets- Every thrift store is stocked with a variety of baskets. Large, medium, and small, some shaped like animals, some shaped like fruit (I recently found an adorable apple basket for a teacher gift), some with compartments, and some picnic baskets. They also come in a variety of colors. This is my favorite base.
● Wooden boxes- You can also find some sturdy wooden boxes to hold everything in.
● Reusable or canvas bags- I love to do this for teachers, college students, and for birthdays. Finding a like new bag that they can reuse for other things that are in school colors and styles they like.
● Bowls- If I am looking for a housewarming gift or a host gift, I like to look for either baskets or beautiful glass serving bowls to put items in.
Filler Ideas– This is going to be something you use to add height to your items and/or to fill in empty spaces. I like to make it practical so that the filler is something they can also use.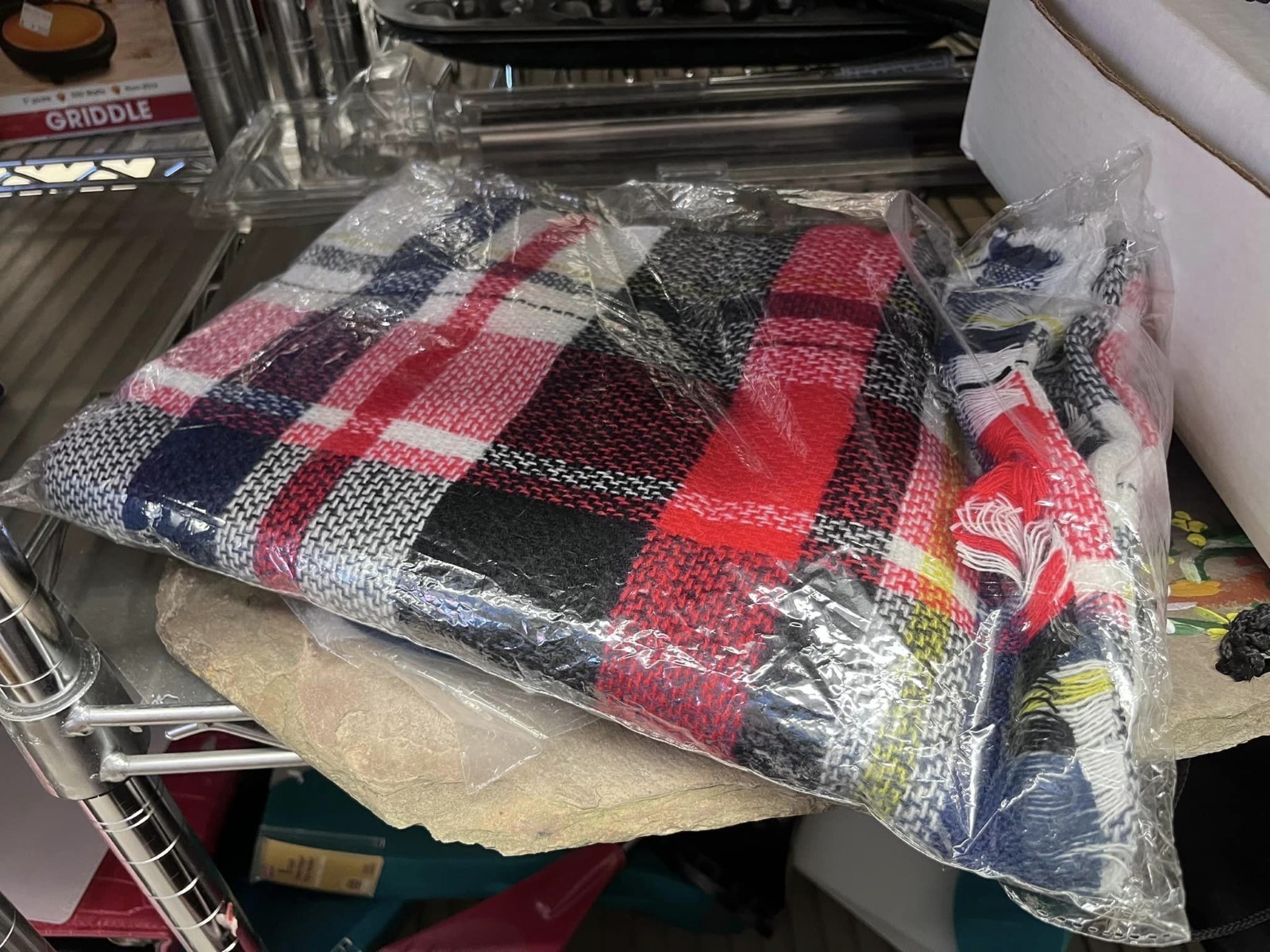 ● I love to put down a thrifted scarf, thrifted material scraps, a table runner, a dish towel (thrifted or buy a few cute ones from the Target Dollar Spot), tissue paper, or shredded brown crinkle filler. I have also taken paper bags and had my kids help cut small strips to crumple up and use as a filler.
Gift Ideas
This is the FUN part. Think of what gift you are giving. Ask the recipient what they love. What colors they love, what their home décor style is, what the nursery theme is, what their college colors are, what their kitchen colors are, and what aesthetic they are drawn to.
● Baby Shower Gift Ideas- New with tag clothing or shoes, picture frames, books, bookends, planters for a live plant, wooden toys, wall art, small mirrors, wooden expandable peg racks, décor items to put on a dresser or shelf that match their nursery theme. I love to create this type of gift in a basket they can reuse for the nursery or other areas in their home.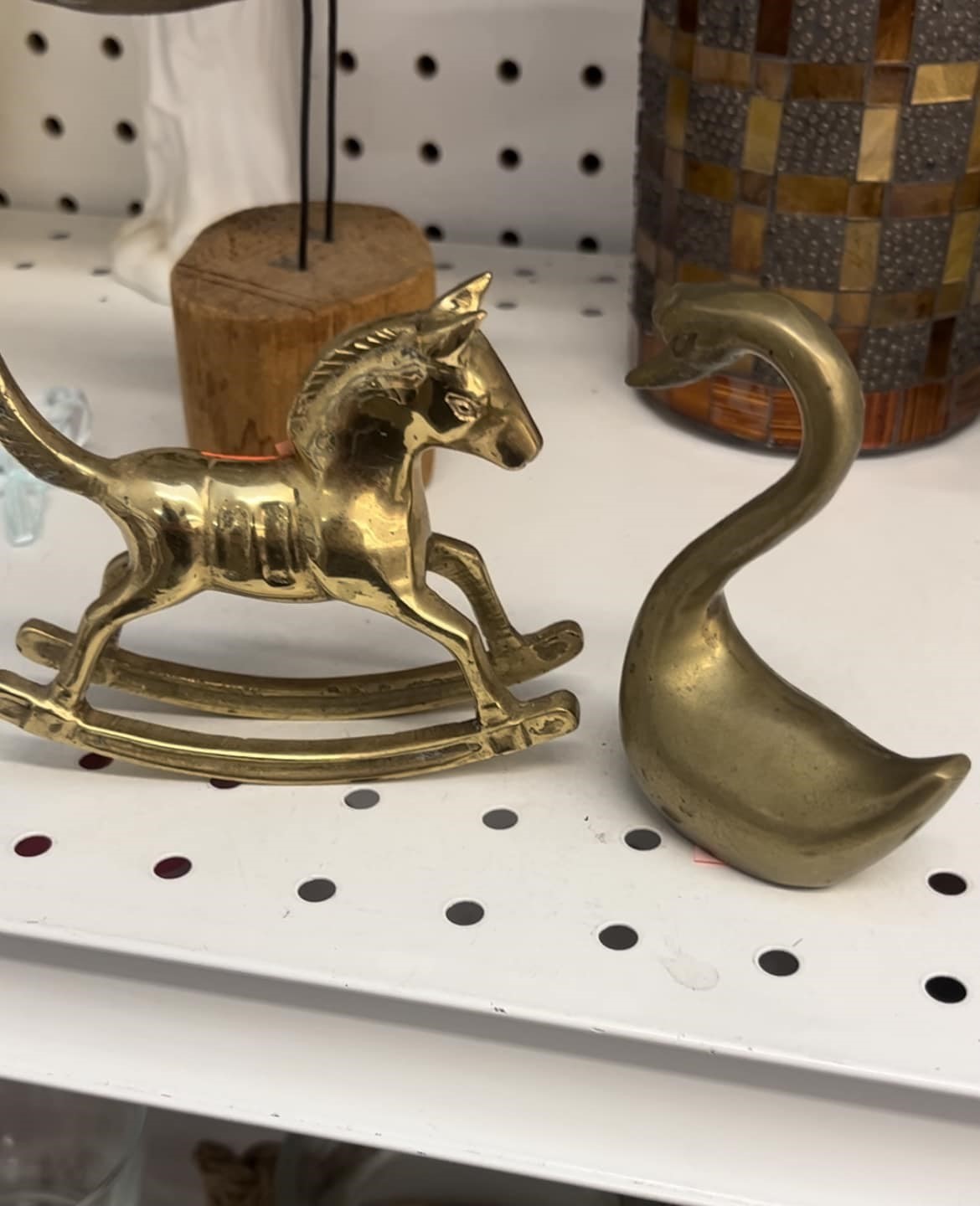 ● Bridal Shower/Wedding Gift Ideas- Placemats, candle holders, taper candles, new unused jar candles, vintage glassware, mirrors, wall art, home décor items, wreaths, wine glasses, champagne flutes, cookbooks, new wooden, marble, or slate cutting boards, candles, wooden spoons, wooden expandable peg racks, matching teacups, or coffee mugs and planters for a live plant. I find wicker picnic baskets often while thrifting. I love to pick these up and use them to create a bridal shower or wedding gift basket. That way the couple can reuse the picnic basket on date nights.
● Graduation Party Gifts Ideas- I like to find a tote bag or a basket they can use while at college and I look for their college colors if I can find it. For this type of gift, I do usually give a gift card or cash, but I like to also find a thrifted book they can read on personal development, and I look for practical dorm room items I can include.
● Host Gifts/Housewarming Gift Ideas- For this type of gift I will keep it smaller. I like to find a beautiful wood, ceramic, or glass mixing bowl that I can use as my base and fill it with a new dish towel, a recipe card of a favorite family recipe, candles (new jar candles or taper candles), a small home décor item, faux plants and throw in a wooden spoon, or a small wooden cutting board. I will add a bag of cookie or muffin mix sometimes as well to the bowl or basket I am gifting. I also like to have thrifted vases on hand to put in fresh flowers to give as well.
Assembly
After you have collected all your items, you can fill your base with them and add new items, registry items, flowers, gift cards, and your thrifted treasures. Have fun arranging the items, layering them, and making a focal point.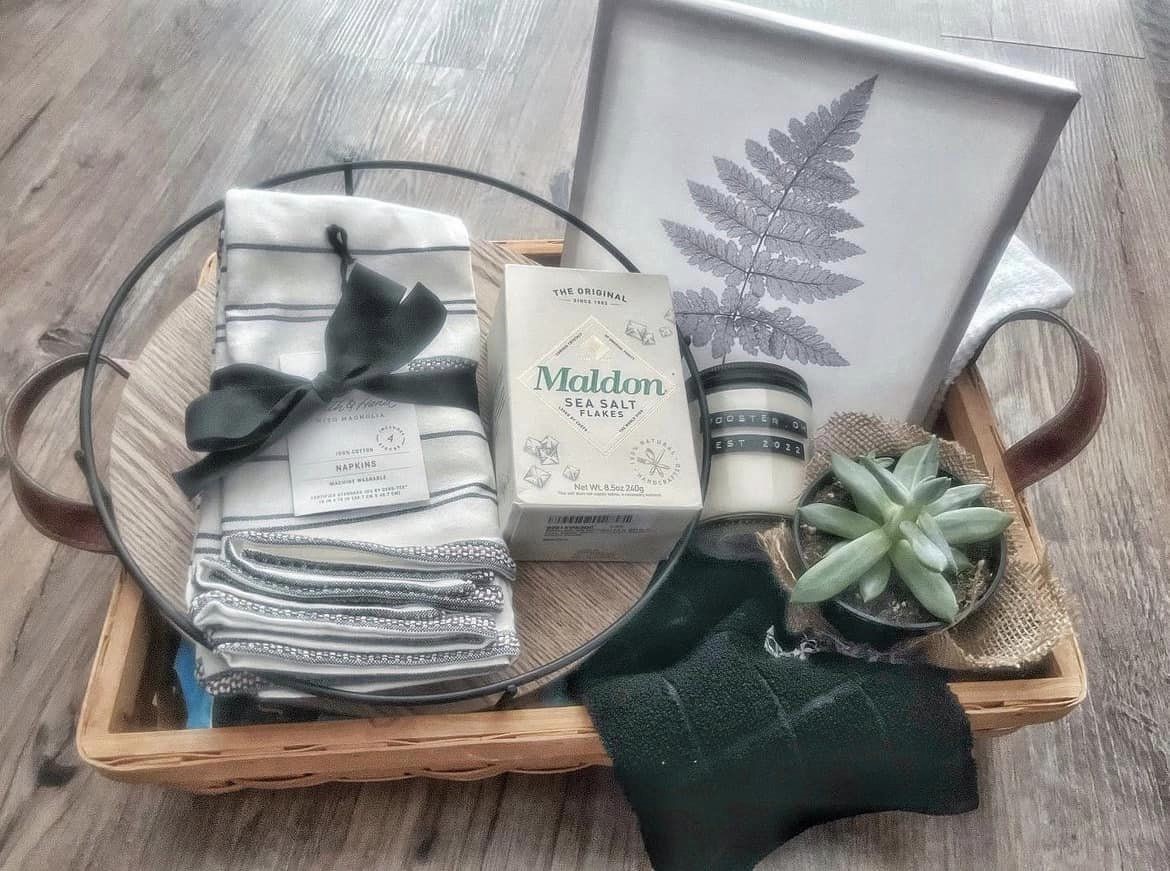 I love giving these gifts and seeing the reaction of the gift recipient as they look through the carefully curated items that fit their home, their style, or their aesthetic. Next time you have a gift to give, whether it be a birthday gift, Christmas gift, baby shower gift, wedding gift, etc. I encourage you to think outside the box, to plan ahead, make a list of items you would love to thrift for the person, and see what you can collect and find. It truly is something I love doing and look forward to shopping for!
Happy Thrifting!
Erin