Winter and the Holiday Season have both been dreary, yet eventful times. With the promise of Spring, there is also a promise of unexpected trends to start forming because of the bloom of the momentous Year 2020. We are ever inspired by the legacy and greatness of the year 1920 and are seeing things come up from Fashion-past that solidifies the fact that we'd like to return to a grander, sophisticated time.
In this year's Spring Preview, I decided to hone into what is happening now in what people are wearing and the colors, patterns, designs & textiles that will appear all year. Take a trip with me as I wander through found at blue / A GOODWILL BOUTIQUE / and show you what's in NOW. Hello 2020…
Let's dig RIGHT in !!!!!
SPRING SNEAK Peak & Trends for 2020
A HINT OF MINT… and tangerine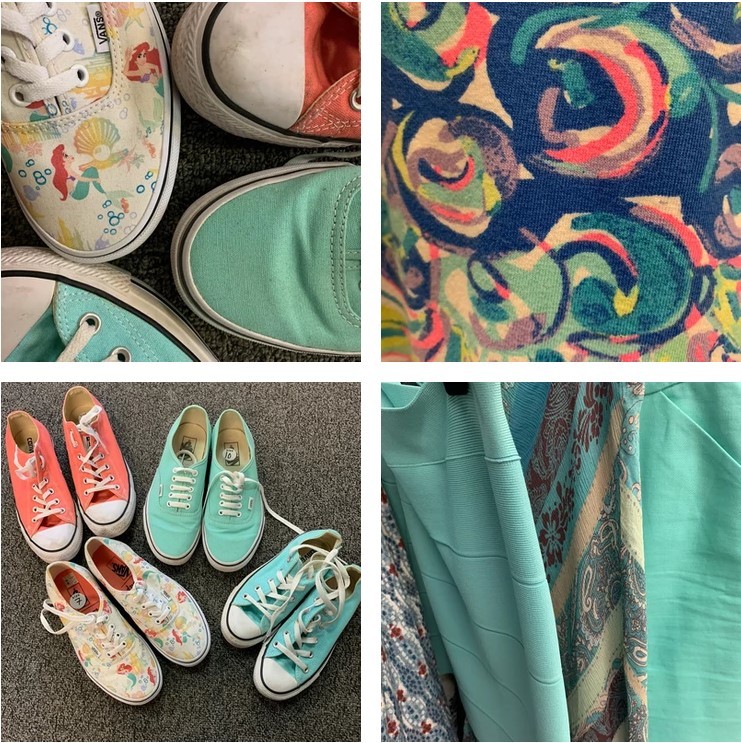 Freshness, cleanliness & youth-inspired, a color we will begin to see happily is a "hint of mint". Think of this as a way to add a bit of "cool" aspects to your look. Coming out of a dark winter that drags on and our eyes lost absorb the freshness in this spritely blue-green color. Wear this color in sparing ways however, not too over-do the mint sensation. At blue / A GOOD WILL BOUTIQUE / I found mint in modest ways via shoe color and in prints on clothing.
To emphasize the youthful playfulness, be on the lookout for small doses of Tangerine, a dehydrated orangey-pink color as it's a great way to look poppin' during the Spring Season!
Touches of … FUR

According to my research and observation, fur-inspired looks, along with animal print isn't going anywhere. In fact, we are starting to see prints of animals totally unexpected such as: white tiger, alpaca, giraffe, etc. The list really can go on!
One thing to note about the 'new way' to wear fur: ONLY in peekaboo styles, or small doses a.k.a skip the all-over fur and just let it peep it's self out & show itself in sublte ways! You're a lioness, but only can be seen by those paying attention!
NEVER-ending EMBELLISHMENTS:
Just like in the 'roaring' 1920s, no one wanted the party to stop. Well, as we reflect on what to expect during the 2020s, it is safe to say that we want that sort of care-free celebration all year! Can't we just hit the dance floor and forget about all our cares and commitment? This is why the embellishments are so satisfying…they are beautiful and never-ending and our sparkle and details can move better and longer than we can. Have little touches do your moving for you! Loving this trend!! <3
MOVE OVER Florals:
The current design that's fresh and Oh-SO-Popular
May I INTRODUCE: CHECKER-PRINTs!
Remember how 2019 was floral-this, floral-that? Well, it's not going anywhere soon, but there's another, younger gal coming along and it's checkered print!
Despite what you think you know about checkers, this square-focused design is giving us that structured-feel we've been wanting for some time.
Whether in the organization that 2020 promises to bring, we are loving vertical and horizontal straight lines that intersect. Keep on the lookout for patterns with beautiful colors and something "different" or unique going on with the classic print we know and love. Hello Checkers…it's nice to see you again : )
THE GREAT (great) GATSBY…
Speaking of 1920s, nothing will be more 2020 than Gatsby-inspired frocks! Think fringe, sparkle, flapper, drama and class. Whether it be a special occasion or a Friday-night out, adding some big pops of the glamour will be PERFECT!
Don't worry about being too costume-y with this look, the more dressy, the better. Besides, maybe there will be some fun comfort in just dressing up and playing pretend this year!
(want any of these items pictured? visit blue / A GOODWILL BOUTIQUE / in Akron, Ohio! )
>>>>>>BONUS:<<<<<<
DANCING Shoes: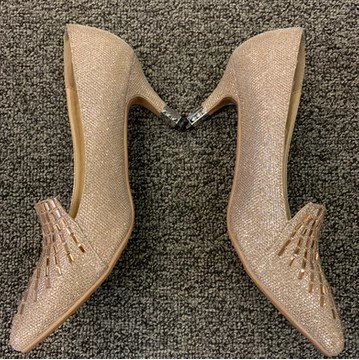 Sparkly shoes ALONG with the trend of DANCING is a refreshing trend for 2020. Look stylish when you let your inhibitions break loose on the dance-floor.
There's nothing more fresh-looking than someone who can feel and move to the beat!
Need inspiration? Check out one of my ALL time faves, Dirty Dancing! It was haaarrrddd not to get this record while shopping. Nobody puts Baby in the corner!
Special Thanks to blue / A GOODWILL BOUTIQUE

I always feel so inspired when I shop second-hand. You never know what you're going to find!
Something really fun that surprised me is how even taking pictures and working with pieces that inspired me fed my soul the same way purchasing the items! Consider getting lost in the styles and designs around you & I empower you to purchase items you only ABSOLUTELY love.
Thanks as well to these girls at blue / A GOODWILL BOUTIQUE. They each (Brittney, Melody & Acasha) have great style and are happy to help. When you visit this gem in Downtown Akron, tell them I sent you! (335 S. Main Street Akron, Ohio 44308)
Have an excellent, stylish SPRING!! >>>>
XOXO