So you may be saying – what does makeup have to do with thrifted style? I often think the same so I'm taking a little dive into my beauty routine.
This is my philosophy. It's important for me to take care of my body and to make choices that will have a positive impact on the planet. It's not a full-proof process and I'm not perfect in the choices I make. It's goal. Sometimes a success, sometimes miss.
I choose to purchase clothing that is re-purposed, lessening my carbon footprint and using what we have. The environmental impacts of the garment industry are grand so I choose to shop sustainably. Will I purchase new running shoes this spring? – YES. Will I eventually buy the new Spanx pants I've been wanting for a year – you betcha! Like I said, not full proof, but I strive to stay true to the reason at hand.
The second layer to my style, is my beauty and makeup routine. I have been a makeup artist for 7 years. The entire process from skin preparation to color application is an artistic experience for me and I love it! I can retain information about a new makeup products or skin care techniques better than I'll ever be able to recite a creed or equation. Recently, I've been reading Kevyn Aucoin's industry classic, "Face Forward," for inspiration and guidance.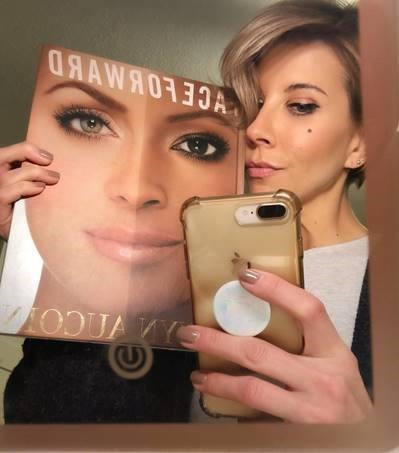 When I'm styling my outfit, I'm simultaneously thinking of the makeup that will coincide with the look. I ask myself what will pair well and set the tone. Sometimes I chose a bold look, maybe a red lip or a smokey eye. But most days my look is a palette of neutrals and a soft color on my lips.
I feel a thrifted wardrobe will look above and beyond polished by including a simple beauty routine for a complete look.
What do I mean by this?
Here's my morning beauty routine in preparation for my thrifted fashion gems.
Add a few steps to create a healthy complexion and your entire look will be complete.
1. Wash my face with a cream or gel cleanser.
2. Rinse my face with the coldest water I can get out of the faucet! This increases blood flow to your face, wakes you up, and makes your skin look amazing. Trust me. Viola – hello fresh face!
3. I may exfoliate in the a.m. too, but only a few times a week.
4. Tone the skin with Witch Hazel.
5. Apply a healthy dose of Vitamin C serum with Hyaluronic Acid – time to glow and plump!
6. Depending on my skin I may add a light moisturizer but typically my BB cream is emollient enough to hydrate my skin.
7. Apply a tinted BB cream with SPF to even skin tone, hydrate, and nourish the skin.
8. Apply a quality concealer only where you need it and blur out out with a foundation brush.
9. Add a swoosh of bronzer to each cheek, your chin, and temples.
10. Fill in brows.
11. The eyes! Choose 2-3 colors in a neutral palette and follow this guide:
12. Mascara
13. Add color to your lips. I PROMISE it does wonders for your complexion. I don't care what size your lips are – give them life!
Here is example of a Fresh Face makeup application I did on my dear friend Gina:
Now you're ready for an amazing thrifted outfit. Pull it all together. It's that simple. And some days we don't pull it all together…..and that's OK too. xo
Let's teach each other! What is your go-to beauty item or technique in your your morning routine?
*Most of the the products I choose are naturally based products. Not all, but most. I've found a enormous difference in my skin when I began using clean-beauty products. The products may be a little more pricey than your comfort zone, but I justify it for myself when I'm paying $30 or under for an outfit. Ya feel me?
Thrift on Fashion lovers!!
And Happy Makeup too!
With so much love,
Megan