Happy New Year fellow thrifters! Similar story as the beginning of 2019, long time, no craft – Abby here to share a craft to hopefully get those crafty vibes going for the New Year!
It's a new year and I'm looking to take full advantage of the resolving – I didn't craft enough last year so I'm hoping to do more of that this year. I'm also resolving to incorporate more green into our home – not just the color, but plants! And the craft I'm going to share today lives up to that resolution.
Remember last year when I taught you how to make t-shirt yarn? (This tutorial will show you how – www.goodwillakron.org/t-shirt-yarn-pom-poms-pt-1) Well, I'm keeping the t-shirt yarn craze going into a new decade! Today I'm going to use some of the t-shirt yarn we made in 2019 to make a hanging plant holder!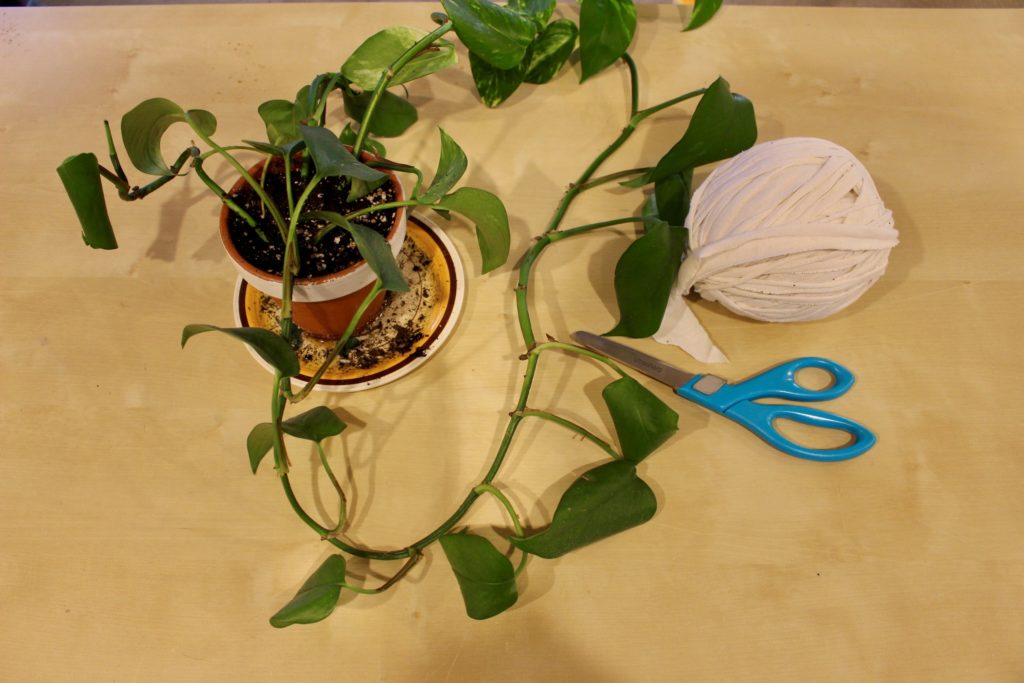 The plant holder I make in today's post is relatively simple, but you can go crazy with hanging plant holder designs, especially if you are good with square knots and macramé.
Supplies Needed:
T-shirt yarn
Scissors
Potted Plant
Beads (optional)
I cut four long pieces of t-shirt yarn (about two arm's lengths' worth or approximately 10 inches), folded them in half and tied a knot at the top to make a loop. I then hung the loop around my dress form to hold while I made the knots for my plant hanger.
Once my t-shirt yarn was hung on my dress form, I divided the yarn into pairs and tied an overhand knot a ways down (I didn't really measure, just eyeballed about where I wanted my design to start, as well as how much room I wanted above my plant to be able to put it in my hanger). I did this four times on my four pairs of yarn.
Next, I separated the yarn under each of my knots to make a second set of knots a bit farther down. These knots will be made with neighboring yarn. Again, you can eyeball where you want these knots, as they aren't really for function, just looks. You'll make four knots, with the last knot connecting the yarn into a closed loop.

The final "set" of knots, will be one big knot where you gather all of your yarn together. This knot is the important one. The second set of knots should hit in the middle of your pot when it sits on the bottom knot.
Along the way, you can add beads or other decorations. You can also make this hanger as elaborate, or as simple as you want. Like I said before, I've made some in the past incorporating square knots but wanted to keep it simple for this project to see how the s-shirt yarn held up. Like a champ is how.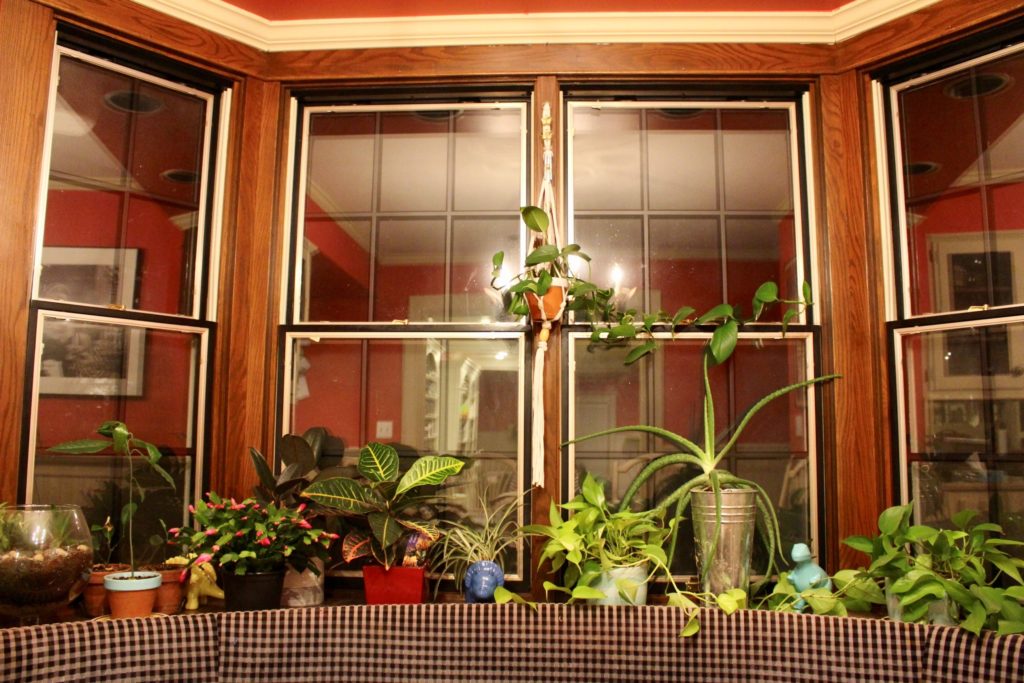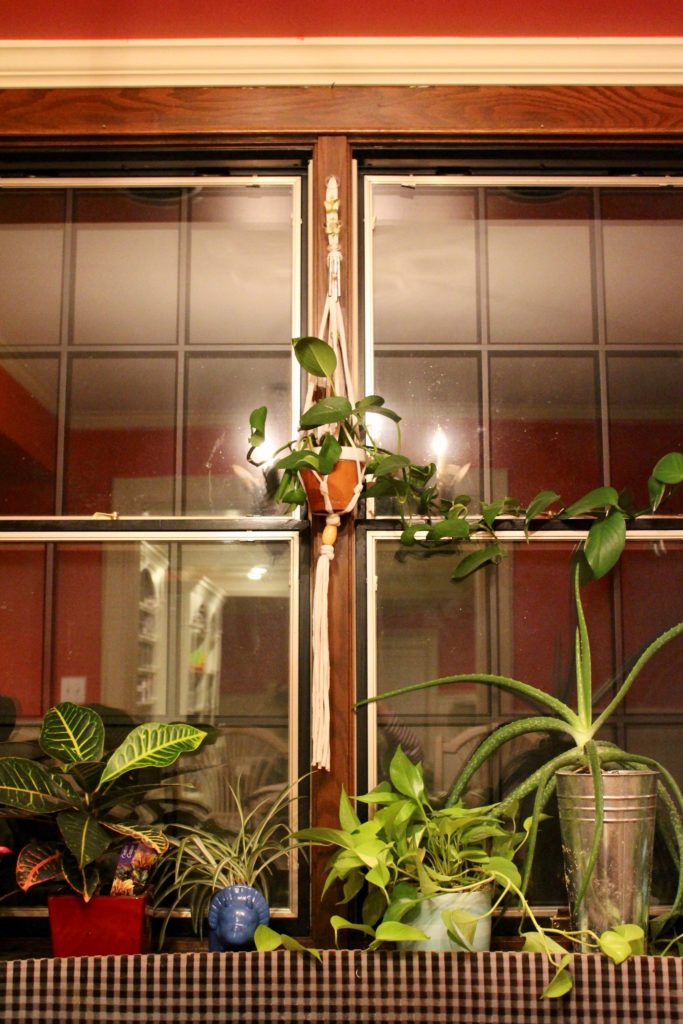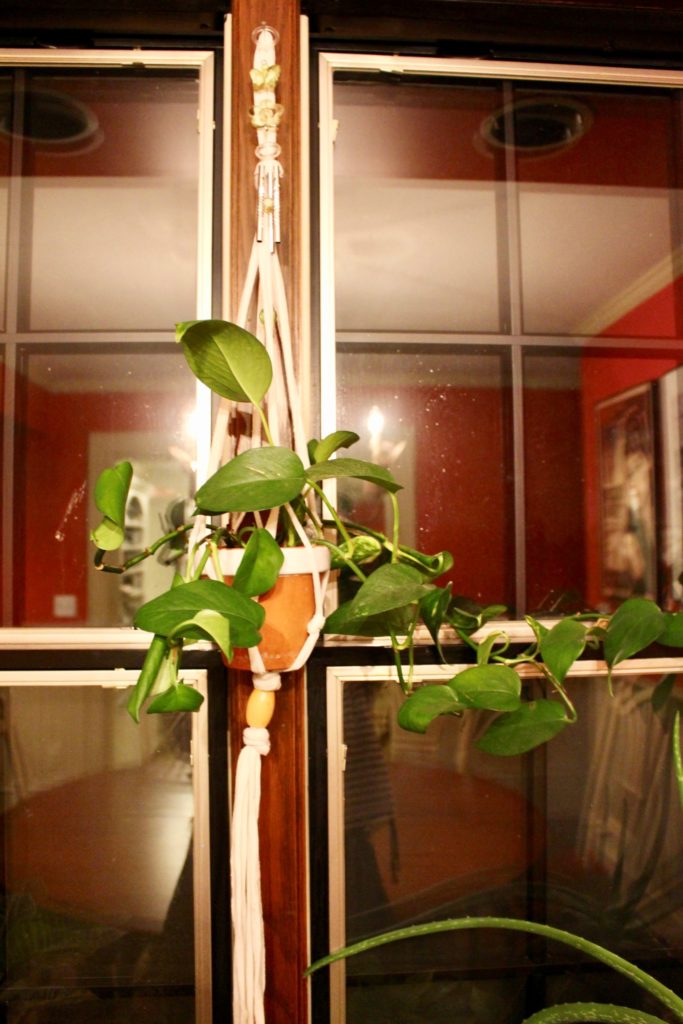 I think I say this every year, but I'm looking forward to more crafting and content creation this year, so look out for more posts here on the Goodwill Akron blog or over on my personal blog, Eleanor's Boots! bottesdeleanor.blogspot.com
Happy New Year!
Similar posts by Abby
T-shirt chandelier,
https://www.goodwillakron.org/t-shirt-chandelier/
T-shirt produce bag,
https://www.goodwillakron.org/12453-2/