AKRON, Ohio — Sept. 9, 2022 — Goodwill Industries serving Summit, Portage, Medina, Ashland and Richland Counties recognized outstanding employees in our community during its 21st Annual Employee of Distinction Awards Program on Sept. 7. The event provides employers a cost-effective way to publicly recognize outstanding employees. This year 55 employees were nominated for the Employee of Distinction Award.
Nominations for the Employee of Distinction Award are reviewed based on quality of work, dedication to the business, and extraordinary efforts with the honor going to the top nominations with the highest average rankings. Congratulations to the 2022 Employee of Distinction Award Winners:
• Elaine Bowen, RD, nutrition services manager, Hattie Larlham
Elaine has a superb work ethic. This has resulted in high quality care and commitment for persons served and those that she supervises.
• Community Support Services, Homeless Outreach Team
   – Zach Brown, team member
   – Jennifer Canfield, team member
   – Tina Clark, team member
   – Michael Harhager, team member
   – Stephanie Hylton, team member
   – Annaliese Russell, team member
   – Carl Slaton, team member
   – Kay Wirth, team member
The Homeless Outreach Team conducted in-person, face-to-face contact with our homeless clients and kept the dayroom open every single day of the pandemic.
• Cheryl Richards, office coordinator, Barberton Office, Child Guidance & Family Solutions
Cheryl is always willing to step up to help anywhere she is needed, especially with training new staff and being a part of process improvements.
• Adam Sharpless, maintenance worker, The Blick Center
Adam's kindness, work ethic, patience and commitment is second to none. He knows how important his job is and he does what he can to make sure our operations run smoothly.
• Richie Stefan, store crew member, Speedway Mogadore
Richie knows almost every customer by name and asks how their family is doing – and he knows the family members by name. He always has a nice word to say.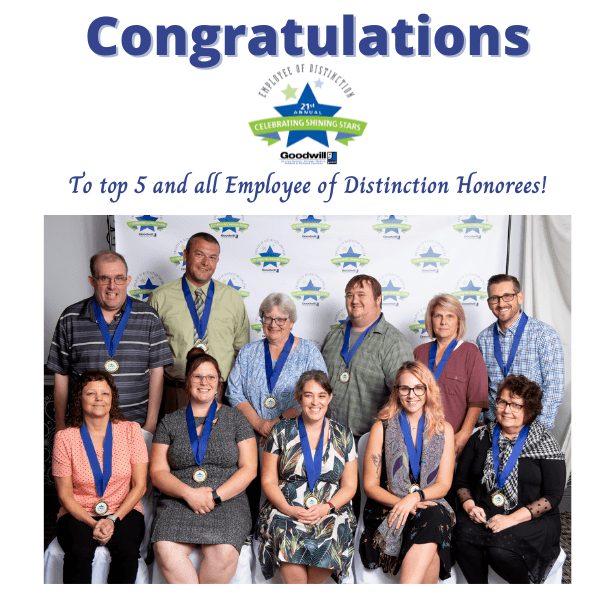 "It was inspiring to see how many people go above and beyond daily for the organizations they serve", stated Event Chairs Pamela Crombie, Jobs for Ohio's Graduates; and Chrissy Myers, AUI. "We were truly impressed by all the honorees!"
All honorees received a certificate and gift commemorating their nomination. In addition, the top winners received a medal and additional gift cards. The keynote address during the event was provided by Christine Fowler-Mack, superintendent, Akron Public Schools.
2022 Employee of Distinction Honorees
Akron Metropolitan Housing Authority Diversity Committee

Jason Colon
Clyde Elkins
Mike Gerzeny
Trent Gill
Melissa Haskins
Yvette Mahone
Amy Marsteller
Jenny Mehen
Crystal Neloms
Matt Odeh
Shary Page
Kathy Patton
Kevin Stone
Darrin Toney
Tammy Zents

Akron-Canton Regional Foodbank Major Gifts Team

Jo Dangel, major gifts officer
Debbie Hagarty, estate & planned giving officer

Rainy Boucher, sr. human resources generalist, Child Guidance & Family Solutions
Jada Garrison, UX- front end developer-accessibility specialist, Innovative Global Vision
Jon Hall, school van driver, Hudson Montessori School
Jackie Harvey, habilitation manager, Hattie Larlham Center for Children with Disabilities
Hattie Larlham Addventures Day Program Team

William "Brooks" Schuman, manager
Brenda Gardner, activity leader
Laura Gregory, quality manager
Kimberly Haywood, activity leader

Christine Justiss, division teacher of the year, Akron Public Schools
Christine Kovacich, bookstore supervisor, Northeast Ohio Medical University
Stacie Lockett, forensic assertive community rehabilitation specialist, Community Support Services
Sarah Lupsor, assistant vice president, financial center manager, Fifth Third Bank
Robin McNichol, executive assistant, Akron Metropolitan Housing Authority
Tiffany Mealy, career specialist, Jobs for Ohio's Graduates
Tracy Pittinger, respiratory therapist, Hattie Larlham
Amanda Rearick, manager, school-based services, Child Guidance & Family Solutions
LoriLee Stein, chief financial officer, Community Support Services
Alissa Strickland, career specialist, Jobs for Ohio's Graduates
Summit County Children Services Independent Living Unit Team

Sara Woolridge, supervisor
Cheyenne Boyd, caseworker
Jeannie Cargill, caseworker
Jennifer Cranston, caseworker
Patrice Henderson, caseworker

Maria Urick, insurance specialist, AUI
Michael Wiandt, admissions specialist, IBH Addiction Recovery
Danny Wyszynski, manager IT, Brennan, Manna & Diamond
Event Sponsors
Thank you to the event sponsors – Gold:  Clarity HR, Sonya & Tom Presper; Silver: Britton Gallagher; Eric & Nan McClenaghan; PNC Financial Services Group; W3 Financial Group; Bronze: Bober Markey Fedorovich; Brennan, Manna & Diamond; Fifth Third Bank; Marc Servodio CFP®, AIF® – Vita Advisors, LLC; Copper: S.A. Comunale; Honoree Sponsor: Doug Klein; Innovative Global Vision; Gold Program Partner: Akron Metropolitan Housing Authority; Hattie Larlham; Summit County Executive Ilene Shapiro's Department of Job and Family Services; Silver Program Partner: The Blick Center; Child Guidance & Family Solutions; Community Support Services; IBH Addiction Recovery; Summit County Children Services; Diamond Patron: Jennifer & Justin Bako; David & Kathleen Bucci; Dr. Pleas R. Chambers III; Chuck & Debbie Ducey; Bill & Mary Glaeser; William & Susan Hanlon; Danielle Kimmell; Platinum Patron: Charles & Leslie Zonfa; Gold Patron: Chip Clupper; Laura Judge; Mary Anne & C. Allen Nichols; Diane & Derek Smith; Patron: Michelle Mulhern; Media: akronlife; WAKR/WONE/WQMX/WNWV; In-Kind: Akron Civic Theatre; Akron Zoo; AUI; Jobs for Ohio's Graduates; The Peanut Shoppe.
About Goodwill Industries Serving Summit, Portage, Medina, Ashland & Richland Counties
The Goodwill Industries of Akron, Ohio, Inc., is a not-for-profit corporation that helps individuals prepare for, find and retain employment. Operating in the five-county region of Summit, Portage, Medina, Ashland & Richland, the agency was established in 1927. It is a private, independent organization, operating as an affiliate member of Goodwill Industries International. Goodwill helps to directly strengthen the region's workforce through its employment programs and indirectly through the net proceeds from its retail outlets and business services division. For more information about GIA, visit www.goodwillakron.org or call 800-989-8428.
Contact: Jolene Gordon
(330) 786-2519
jgordon@goodwillakron.org