I have a text group of friends and we only share our thrift finds with each other. I love that I have people in my life who love what I love and can get excited over fun thrifting treasures and shop for each other. A few months ago, some of those friends and I were talking about thrift stores we have not been to before but wanted to check out. We are all busy moms, but we looked at our schedules and picked a date about two months out. We decided to go on a Friday while our kids were in school, and one friend took a personal day off. As the time grew closer, we were talking about it and two more friends asked to come as well. One girl has never been to a thrift store before and was curious as to why we love thrifting so much. We could not wait to show her!
We are from the Wooster area and frequent a lot of thrift stores where we live, but I told the girls that Goodwill Akron has some amazing stores and we all decided on two stores none of us had shopped at before. We decided on the Twinsburg and Streetsboro stores and anxiously awaited our girl's day out.
That Friday, we met up after school drop-off and all 6 of us piled into my friend's Tahoe. We stopped and got coffee and pastries at a local coffee shop and headed north to our first destination. As we drove, we all shared our thrifting wish lists of things we hoped to find and things on our list that we wanted for our homes, clothing items, and even furniture to keep an eye out for.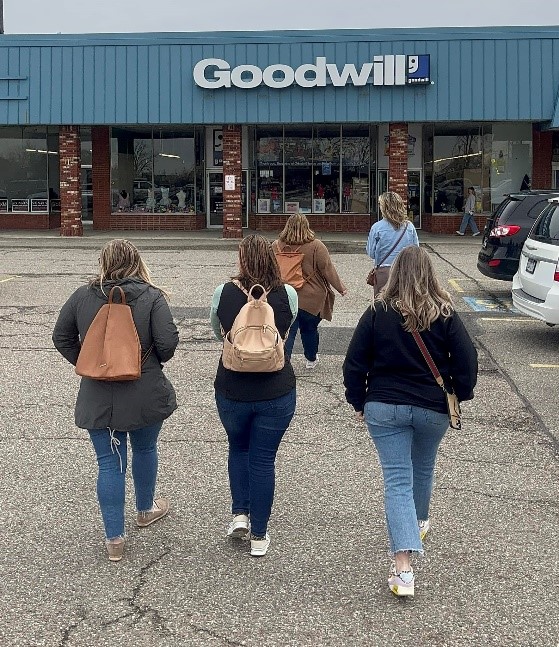 When we got to Twinsburg, we were excited about how big the store was. My friend Jenny, who had never been thrifting was a little overwhelmed at first, but as she scoured the kid's racks, she was finding brands she loved and items she needed in her kid's sizes and could not believe the price. We all split up at one point and went to different areas but then some grouped up and looked for kid's sizes and styles for each other. I knew a friend was looking for a basket for her dresser to organize some things in her room and I found the perfect basket and quickly put it in my cart to show her and she said it was perfect. One friend was looking for some board games and found a few that looked brand new for $3 a piece! We all walked out with big bags of clothes, home items, and toys.
Our next stop was to the Streetsboro store. While in the Twinsburg store, a lady who frequents there asked us what we were doing and told us her favorite store to shop at was the Streetsboro Goodwill, so we knew we had to go. The Streetsboro store is a little smaller but had some great kids' clothes and a few of us found some things on our list of summer clothing items we needed for our kids. We tried on clothes, came out to model them, laughed so hard, and advised on what we should buy and pass on. They had a great home section, and I found some kitchen items and a few clothing items for myself. By the end of shopping at this store we were famished and looked at the clock and knew as much as we wanted to hit up another store, we had to head back to Wooster for school pick up. We stopped and got some food quickly and the whole way home talked about how much fun we had had and what we were going to do with all our thrifted treasures we found that day.
To be honest, I like to thrift alone, but that day out was so much fun we already have another girl's day out on the books, and this time we want to plan to do a Saturday trip so we can spend more time and make a stop at the Goodwill Outlet store first. Since that day, my friend Jenny who was not so sure about thrift stores has now joined our thrifting group chat and has gone alone a few times and shares her excitement with us (and I think she is hooked)!
This month, I challenge you to think of friends, family, or a partner and plan a thrifting day out, even if it must be two months in the future. Look up some stores you have not been to and make a day of it. Plan a brunch or lunch at a place you have not been to and make a pit stop for some thrifting fuel at a local coffee shop. Thrifting is so much fun with friends and while you shop you can make memories and traditions too.
Happy Thrifting
Erin