From flowers to PRIDE celebrations, this month brings color in all forms. In honor of all the beauty summer brings, we're inviting you to thrift the colors of the rainbow for the 12 Months of Thrifting Challenge. New to the challenge? Each month we invite you to thrift or share a thrifted find on Instagram or Facebook using the tag #12MonthsofThrifting.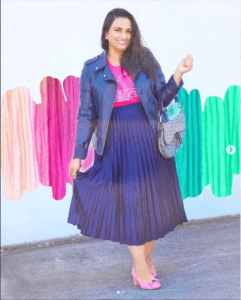 I've been a color enthusiast for as long as I can remember. My earliest memory dates back to my neon pink backpack for the first day of Kindergarten. Fast forward many decades later, and my love for colors remains as strong, if not stronger than it did on that day and I've channeled that passion by thrifting a colorful wardrobe from places like Goodwill Akron.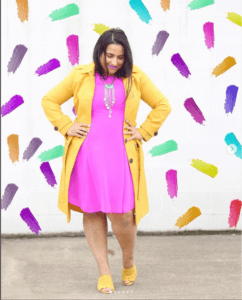 If you're still warming up to the idea of incorporating bright colors into your wardrobe, try these tips the next time you're thrifting at Goodwill:
● Choose a color you like. This is always a safe place to start. It's easy to get overwhelmed by all of the bright colors on a thrift store rack, but stick with a color you already love. You can always branch out later!
● Choose a shade that will pair well with the neutrals in your closet so you can make the most out of your colorful pieces.
● Start small. You definitely don't have to go from zero to monochromatic all at once. Start with a style within your comfort zone then branch out gradually. Like blazers? Try a colorful blazer. Love accessories? Start with a purse in your favorite color.
● Gradually create a color palette. Focusing on 2-3 accent colors that pair well with your overall wardrobe makes getting dressed so much easier. For example: my wardrobe palette consists of bright pink, yellow, black, and rust.
● Have fun! This sounds simple, right? But it's true. Colorful fashion is supposed to make us feel happy, bright, and cheerful. If the piece you thrifted doesn't make you feel that way, don't force it to work because that may lead to an aversion to color all together. Instead, try a new approach until you find something that makes you feel color confident!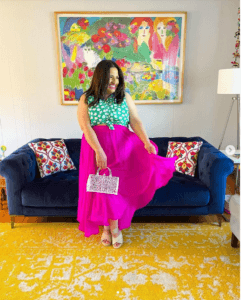 Share it!
We would love to see your outfits: use the tag #12MonthsofThrifting and tag @dinasdays and @goodwillakron on social media.