Hello everyone – Happy Spring! Abby back with another upcycle project for you all! Fashion Weeks have come and gone, but the inspiration never ends! I love fringe, and fringe is a big trend for Spring/Summer 2022, so I took some inspiration from some of the shows to upcycle a dress!
I love this summary of the Spring/Summer 2022 Fringe trend from Refinery29: "Perhaps inspired by months in lockdown, designers showcased party-inspired styles for spring 2022. Among them is the full-on fringe trend witnessed at Proenza Schouler, Chloé, Jonathan Simkai, and Altuzarra, with a frivolous but elegant feel that'll transform any outfit's mood instantly. Walk in a full fringe skirt once the temperatures turn for the warmer — the delightful effects of tassels and dancing trim will feel utterly joyous."
Additionally, I really really loved this fringe dress from Thebe Magugu, and I've been watching a lot of BluePrintDIY Youtube Videos, and she just upcycled a sweater with some fun swirly trim, so I kind of smashed the two inspirations together to upcyle my dress.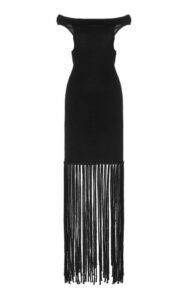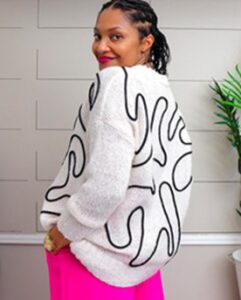 If you also like fringe and want to upcycle your own dress or skirt or shirt (or something else), read on for the how-to!
To make your own Upcycled Fringe Clothing item, you will need:
1. A dress, skirt, shirt, jacket, really anything that you want some fringe to dangle off of (if you don't have something on hand, your local thrift store will have lots of options!)
2. Tshirt yarn or ribbon
3. Scissors
4. Needle and Thread OR fabric glue
5. Straight pins
6. Inspiration!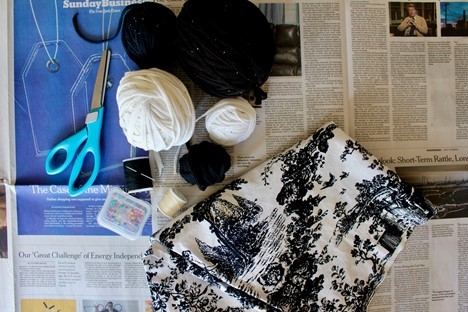 I didn't take a ton of pictures of the steps for this DIY, because there are only a few:
1. Lay your T-shirt yarn or ribbon on your clothing item, leaving as much or as little as you want hanging off the bottom for your fringe
2. Pin the T-shirt yarn/ribbon to your clothing item OR glue it down in whatever pattern/design/shapes you like
3. If you pinned your design to your clothing item, sew a running stitch to sew your T-shirt yarn to your clothing item (only sew through one side of your clothing item)
4. Repeat on the other side of your clothing item (or don't, maybe you only want fringe on the front or back)
5. Remove pins and style!
OR if you didn't want shapes/swirls on your clothing item, you could take a really long piece of T-shirt yarn, fold it in half and sew (or glue) it to the bottom of your clothing item, or cut a little hole in the bottom of your clothing item and loop the T-shirt yarn through there and tie a simple knot. If you have grommets on hand, you could reinforce your holes with grommets and thread your fringe through your grommets for a really cool effect.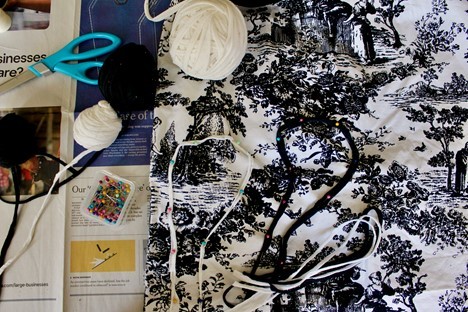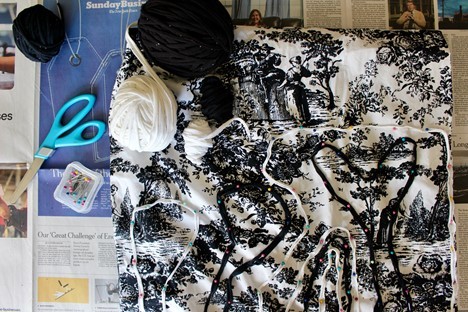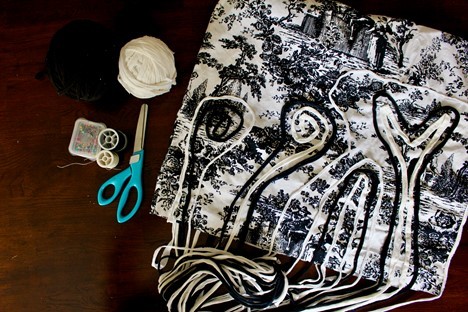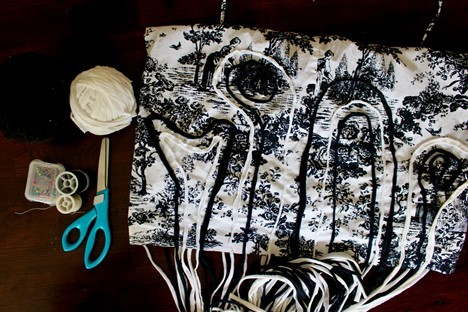 I was so in love with this project, that I immediately styled up a few ways to wear it:
(Almost) Biz Casual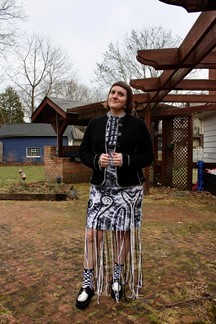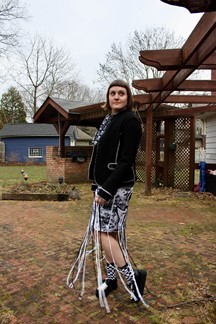 Sk8ter Gurl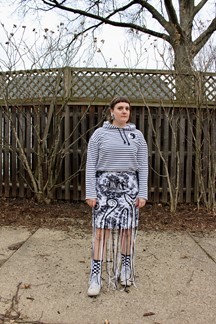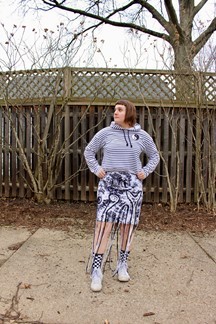 Street Style Star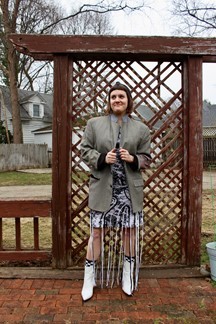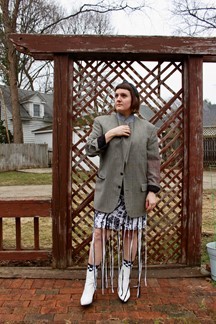 I highly encourage you to google "Spring/Summer 2022 trends" and see what you find and like and think about how you can upcycle something you already own or look for something similar at your local thrift store!
If you make your own upcycled fringe clothes, we'd love to see them! Share with us on social, @goodwillakron or @_abigaildrennen!
Happy trend-spotting!
_Abby