Hello thrifty pals – Happy February! Abby back with another upcycle project for you all! I've been inspired again by my pal Cassie over at Drift Market. She's been working on an upcyle collection, which inspired me to get around to a project I've had in the queue for a while.
I'm not sure about you all, but I have some jewelry laying around that I either LOVE, but don't wear, or just needs a little TLC. So I did a quick inventory of my stash, and found some pieces that had some really great elements, but just weren't cutting it (for me), as they were. SO I upcycled them!
To make your own Upcycled Jewelry, you will need:
Old jewelry – either random or things that go together – these can be things you have on hand, or find out at your local thrift store
Pliers
Wire or thread
Wire cutters (if you go the wire route) or Scissors
Various jewelry making things: jump rings, closures, clasps, etc.
Inspiration!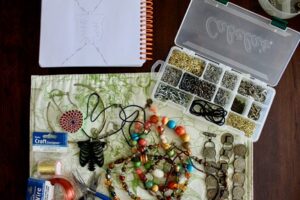 First things first, you'll want to deconstruct all of the pieces you've found. Take it all apart to see what's left. I had beads, closures, jump rings and some extra stuff I didn't end up using.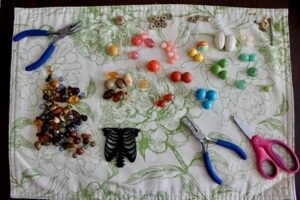 Next up, plan your piece! I had a vague idea of what I wanted to create: a body chain with this rib-cage piece at the center. I could have easily attached it to one of the necklaces I used, but wanted to complicate things a bit for myself.
Before I got going on the chain part of the body chain, I attached some bits from an old necklace I made for the Goodwill blog a few years ago (the below felt flower piece) to the centerpiece.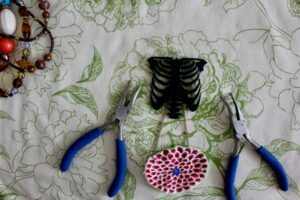 Next up, was my chain. I knew I wanted to make smaller pieces and link them all together for the larger chain, but I wasn't 100% sure how I wanted to do that. So I experimented. At first, I cut some wire I had available (really just eyed the length to where I wanted it), twisted it around the ends of my needle-nose pliers a few times and strung some beads on it. And then closed it with a similar twisting technique. This was fine, but not as a sturdy, as I would have liked.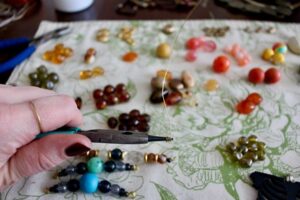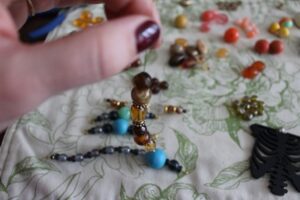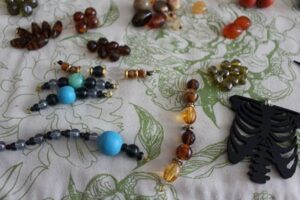 So I tried something different. I took the same wire, made a small hoop on the end, and then wrapped the extra wire around itself under the hoop. This made for a sturdier closure that I could hook a jump ring on to connect all the pieces. (Edit: I'm going to go back and rework these ends, so they all link together and I don't have to use jump rings.)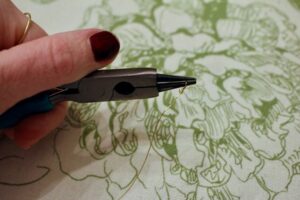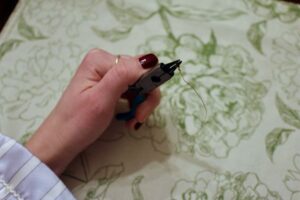 Then, once I had all my smaller beaded pieces, I laid them all out to see how I wanted them to line up. I messed with the pattern several times until I got it just right.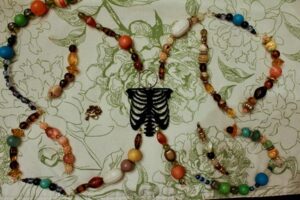 I tried on my creation to make sure it was the right length, then hung it up to make sure it looked right (but none of those pictures turned out how I wanted them to, so scroll down for a few ways I'd style my new body chain!).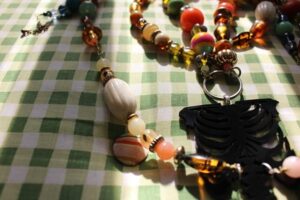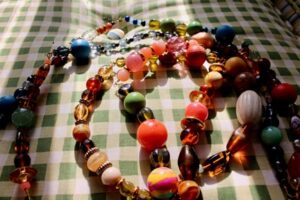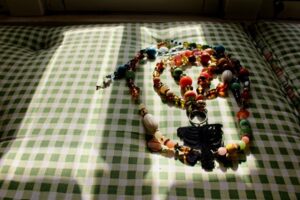 Here are some ways I'd wear my new up cycled jewelry!
With a suit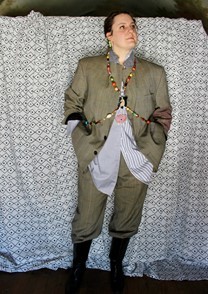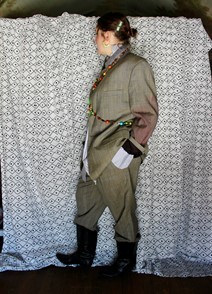 Going out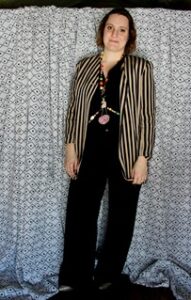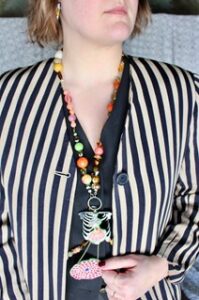 Super casual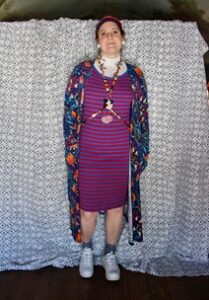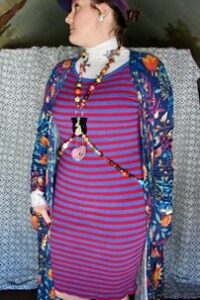 If you make your own upcycled jewelry, we'd love to see it! Share with us on social, @goodwillakron or @_abigaildrennen!
Happy recreating!
_Abby