AKRON, Ohio — Sept. 7, 2023 — Goodwill Industries serving Summit, Portage, Medina, Ashland and Richland Counties was very pleased to announce its 2023 "Making a Difference" award winners at the September 6th, Employee of Distinction Luncheon held at Guy's Party Center.
The director "Making a Difference" honoree is honorary board member, William Glaeser.  William "Bill" Glaeser graciously shared his time, talent and treasure with Goodwill Akron for over 19 years — 15 as a voting Director and 4 as an Honorary Director. He served as Goodwill's Board Chair from April 2008 to March 2010 and has chaired various committees. Since reaching his term limit in 2021, Bill has continued to be an active member of the Resources and Development Committee.   His calm and steadfast leadership and respectful, yet direct, insights were admired by many who have served with and learned from him.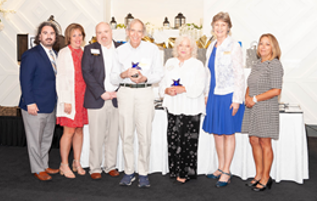 The first employee "Making a Difference" honoree is Jacqueline Walker. Jacqueline "Jacquie" Walker is a job placement specialist in Richland County. She strongly believes in Goodwill's mission — especially when it comes to individuals that are reentering the workforce after incarceration. In addition to helping those on her case load that are reentering the workforce, she serves as the coordinator for Richland County Citizens Circle, attends Reentry court, teaches classes at the Richland Correctional Institute, and participates in the Richland County Reentry Coalition. It should be noted that the State has proposed that Richland County offers a best practice for Citizen's Circles in other counties.
Goodwill's "Making a Difference Award" was created in honor of a longtime Goodwill Director and Honorary Director, Mary Beth Kluge, who served the agency as a volunteer leader for over two decades. She was posthumously recognized as the award's inaugural recipient in 2022. The award may be given annually to a Goodwill team member, director or key volunteer who has exhibited significant contributions of time, talent and or treasure to support Goodwill's mission.
Event Sponsors
Thank you to the event sponsors – Diamond: Clarity HR; Platinum: Synthomer Foundation; Gold:  Fifth Third Bank, Sonya & Tom Presper; Silver: Britton Gallagher; Eric & Nan McClenaghan; PNC Financial Services Group; W3 Financial Group; Bronze: Bober Markey Fedorovich; Brennan Manna & Diamond; Marc Servodio CFP®, AIF® – Vita Advisors, LLC; Table Sponsor: Akron Children's Hospital, Kastner Westman & Wilkins, LLC, Towpath Credit Union; Patron: Mekal Banyasz; Gold Program Partner: Akron Public Schools, The Blick Center, Summit County Executive Ilene Shapiro's Department of Job and Family Services; Silver Program Partner: Akron Metropolitan Housing Authority, Big Brothers Big Sisters of Summit, Medina and Stark Counties, Child Guidance & Family Solutions, Community Support Services, Hattie Larlham, IBH Addiction Recovery, Summit County Children Services; Bronze Program Partner: Akron-Canton Regional Foodbank, Choices; Diamond Patron: David & Kathleen Bucci; Dr. Pleas R. Chambers III; Chuck & Debbie Ducey; Bill & Mary Glaeser; William & Susan Hanlon; Danielle Kimmell, Charles & Leslie Zonfa; Gold Patron: Parker Berry II, Chip Clupper, Laura Judge, Diane & Derek Smith; Media: akronlife; WAKR/WONE/WQMX/WNWV; In-Kind: Akron Civic Theatre; Akron Zoo; AUI; Jobs for Ohio's Graduates; The Peanut Shoppe.
About Goodwill Industries Serving Summit, Portage, Medina, Ashland & Richland Counties
The Goodwill Industries of Akron, Ohio, Inc., is a not-for-profit corporation that helps individuals prepare for, find and retain employment. Operating in the five-county region of Summit, Portage, Medina, Ashland & Richland, the agency was established in 1927. It is a private, independent organization, operating as an affiliate member of Goodwill Industries International. Goodwill helps to directly strengthen the region's workforce through its employment programs and indirectly through the net proceeds from its retail outlets and business services division. For more information about GIA, visit www.goodwillakron.org or call 800-989-8428.
###
Contact: JoLene Gordon
(330) 786-2519
jgordon@goodwillakron.org